The bear market is oozing bad vibes and the NFT market is not escaping it either. The successful Bored Apes project has been accused of being based on Nazi symbolism. Yuga Labs, the company behind it, is not taking it lightly and is suing accuser Ryder Ripps. They also refute the accusations in detail.
Artist and Youtuber Ryder Ripps elaborated on the claim that has been circulating for some time that Bored Apes are racist caricatures and that the Bored Apes logo is inspired by the Nazi party's skull logo.
Ripps is an artist who has released his own NFT collection, which is a caricature of the Apes. He made good money on that mint: $1.8 million. 'Ill-gotten profit,' according to Yuga Labs. The company is suing him, writing in a Medium post:
"We've become the target of a crazy disinformation campaign accusing us — a group of Jewish, Turkish, Pakistani, and Cuban friends — of being super-secret Nazis."
The Accusation
The accusation claims that the team behind Bored Ape Yacht Club (BAYC) has, in fact, set up a huge troll campaign. All Apes buyers and fans would supposedly have been tricked: they don't realize that they are glorifying art that refers to Nazi symbolism. What references are involved?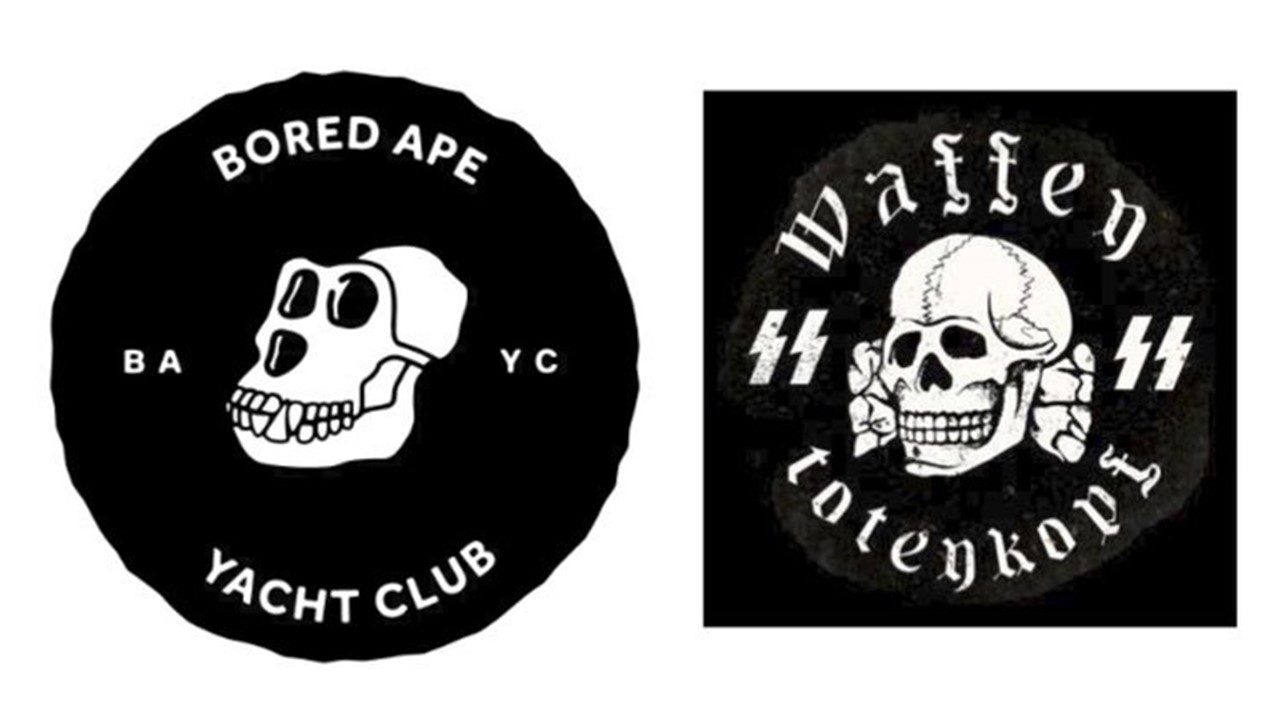 The logo is allegedly derived from the Nazi death knell emblem.
The name Yuga Labs is said to be derived from Kali Yuga, a term from Hinduism that refers to an epoch. The term reportedly plays a role in alt-right ideologies.
One of its founders has the pseudonym Gargamel, the arch-enemy of the smurfs and supposedly a caricature of a Jewish man.
And we could go on like this for a while. You get the idea.
The defense of Yuga Labs
According to Yuga, the fact that they chose monkeys has nothing to do with racism.
The choice for monkeys refers to the term "apeing in": in crypto an endearing way to indicate that investors behave like monkeys when they buy a new coin.
Getting rich off the coins, the monkeys hang out in a dilapidated yacht club: they are bored to death. Hence the monkey skull.
Yuga is a reference to the villain in the video game Zelda, who can transform himself and others into 2D art.
Snoop and Eminem are still in the Apes
At last week's NFT conference in New York, Eminem was also present. He and Snoop Dogg released a new single in the Bored Ape theme. Also, holders of Bored Apes and Mutant Apes got exclusive merchandise dropped. It is clear that Eminem and Snoop are not impressed by the allegations.