Yuga Labs, the 'Disney' of the NFT space, will launch an NFT collection on Bitcoin. The exact mint date is not yet known. The launch will be a fresh injection in the Ordinal NFT hype, that had died down a bit the past two weeks.
Yuga Labs is the company behind one of the most successful NFT collections, launched in 2021: the Bored Apes. These monkeys were minted on Ethereum, which is the chain which has by far the most NFT minting and trading activity. But since January, the most ancient of blockchains, Bitcoin, also has the option to mint NFT's: Ordinal inscriptions.
The collection Twelvefold
Called TwelveFold, Yuga's 300-piece collection, placed on a 12 by 12 grid, is a generative art collection. It serves as a "visual allegory for the cartography of data on the Bitcoin blockchain", according to Yuga. Fittingly with Bitcoins ethos, they are more austere and less playful than the crazy Bored Apes.
What to expect in terms of price? Believe it or not, but a rip-off collection the CryptoPunks on Bitcoin – the Ordinal Punks – already traded at 4 BTC per Punk. It's a matter of scarcity: the first few thousand minted NFT's on Bitcoin will forever and exclusively be just that: one of the first, minted on the most secure blockchain. That alone makes them valuable. Now that a heavyweight like Yuga enters the space, with a very limited-edition collection, these pieces might reach even higher prices.
Everything migrating to Bitcoin?
It used to be a belief of Bitcoin maximalists that every successful experiment on other chains would eventually return to Bitcoin. Now that this seems to be happening with NFT's they might have ambivalent feelings. After all, most hardcore Bitcoiners aren't fans of 'overpriced jpegs'. They think Bitcoin should stick to being money, plain and simple.
But proponents of Ordinal inscriptions argue that anyone can use Bitcoin in the way they see fit, as long as they stick to the protocol rules. Also, future adoption of Ordinals might mean that demand for Bitcoin blockspace will become much higher, creating a fee market that one day will have to replace the block subsidy, which trends to zero. We'll see if the Ordinals minting activity will gain steam again, after a spike in early February and a decline later on (see image below).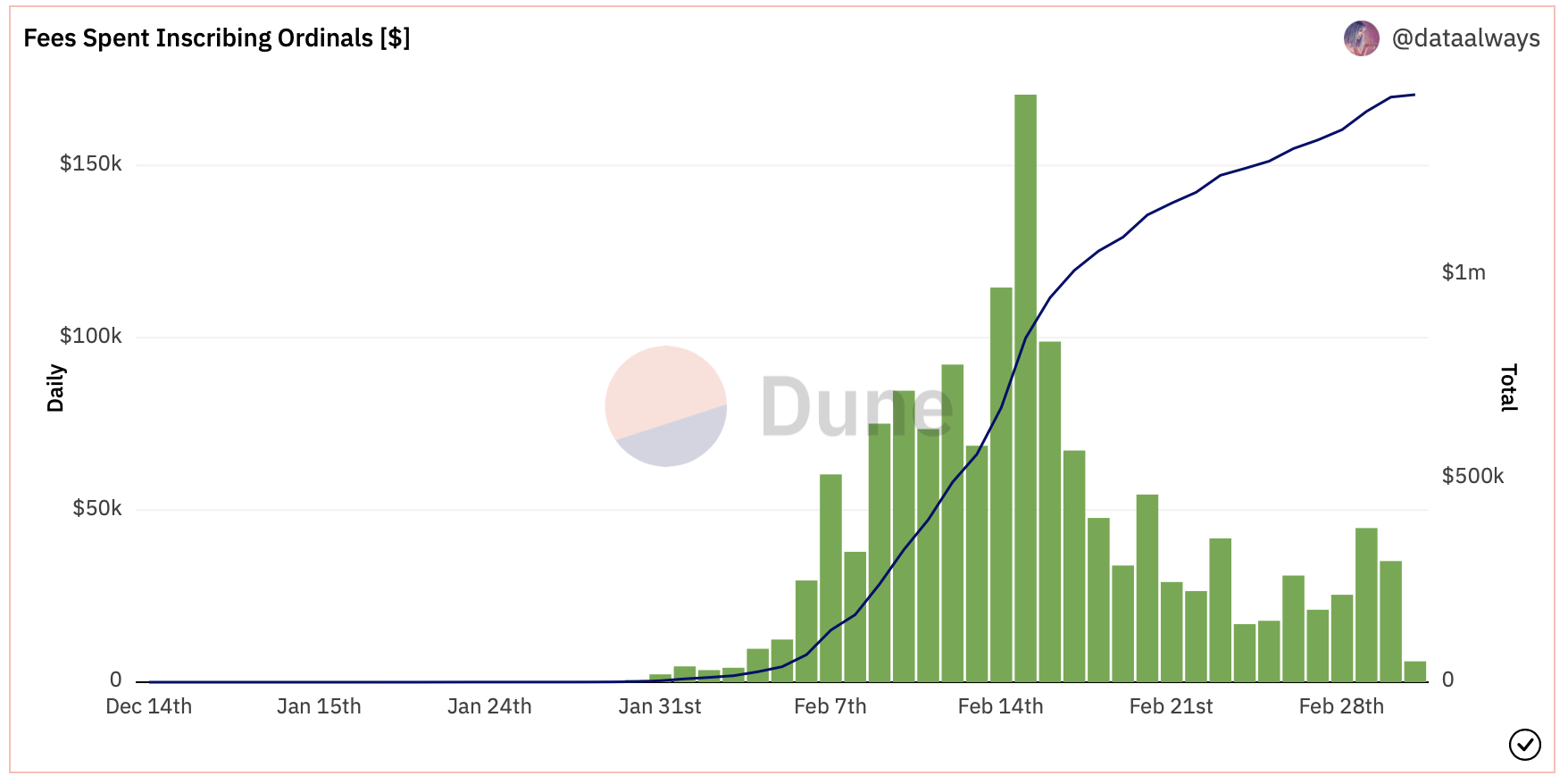 Fees spent on Ordinals since inception. Source image: Dune analytics