Behind closed doors, lending platform Celsius is trying to manage their dire situation. Both people from traditional finance and crypto have joined to look for a solution. Meanwhile, their coin CEL keeps pumping: the short squeeze continues.
When Celsius announced on Monday, June 13 that it was blocking all withdrawals, panic broke out on the crypto markets. Depositors at this platform all of a sudden could no longer access their funds. In the days that followed, it became clear what Celsius' problem is, namely that it does not have sufficient liquidity to meet all withdrawals. The question of whether it has sufficient assets at all has not yet been answered.
Is the latter the case? If so, the situation is reminiscent of that of crypto exchanges MtGox and Bitfinex, which were hacked in 2014 and 2016, respectively. That, too, led to a withdrawal stop: users could no longer access their Bitcoin. After endless litigation, MtGox users are still waiting for their money, while Bitfinex users were compensated within a year. What was the difference in approach and what might this mean for Celsius?
The promise to pay back as a crypto currency
At MtGox, a classic bankruptcy procedure was followed, which so far has only made lawyers rich. At Bitfinex, a different method was chosen.
The outstanding balances were distributed as "IOUs" in the form of crypto coins to users.
Behind this coin, BFX, was Bitfinex's promise to repay users in the future. So if Bitfinex owed you $1,000 worth of Bitcoin, you got 1000 BFX.
Were you confident that Bitfinex would get things right? Then you could hold onto your BFX Did you want to get rid of them? Then you could sell them immediately on the free market.
At first, the market reacted skeptically and BFX was only worth a few cents. But already within half a year the price rose to almost 1 dollar. In April 2017, Bitfinex managed to pay out $1 per BFX to all holders and the coin was taken out of circulation.
Simon Dixon and Citigroup
Could something similar happen at Celsius? Investor in Celsius and CEO of investment platform BnktotheFuture.com Simon Dixon made it public that he is helping Celsius look for a similar solution. His company has been active in crypto since 2010.
Meanwhile, Celsius has also engaged traditional Citigroup to come up with solutions. So it's not clear which route will be chosen. Either way, Celsius will have to regain some of its trust. Bitfinex succeeded in doing so in 2016 - whether Celsius will succeed now remains to be seen, as Celsius' failure is not the result of a hack but of poor risk management.
Short squeeze CEL seems to be succeeding
Meanwhile, something else is going on. The community of holders of the CEL token (unrelated to the above discussion) gathered on Twitter over the past week to try to get CEL back up. While large groups of shorters speculated on a total crash of the coin, the community started to buy back, putting the shorters at a loss by forcing them to buy. In the meantime, the coin is worth more than double what it was before last week's debacle.
The CEL short squeeze is largely unrelated to the above problem of insolvency of Celsius. Moreover, owners of CEL have little to gain from a price increase when their CEL is on Celsius: it is not available. However, CEL is also traded on other crypto exchanges, so they could benefit there.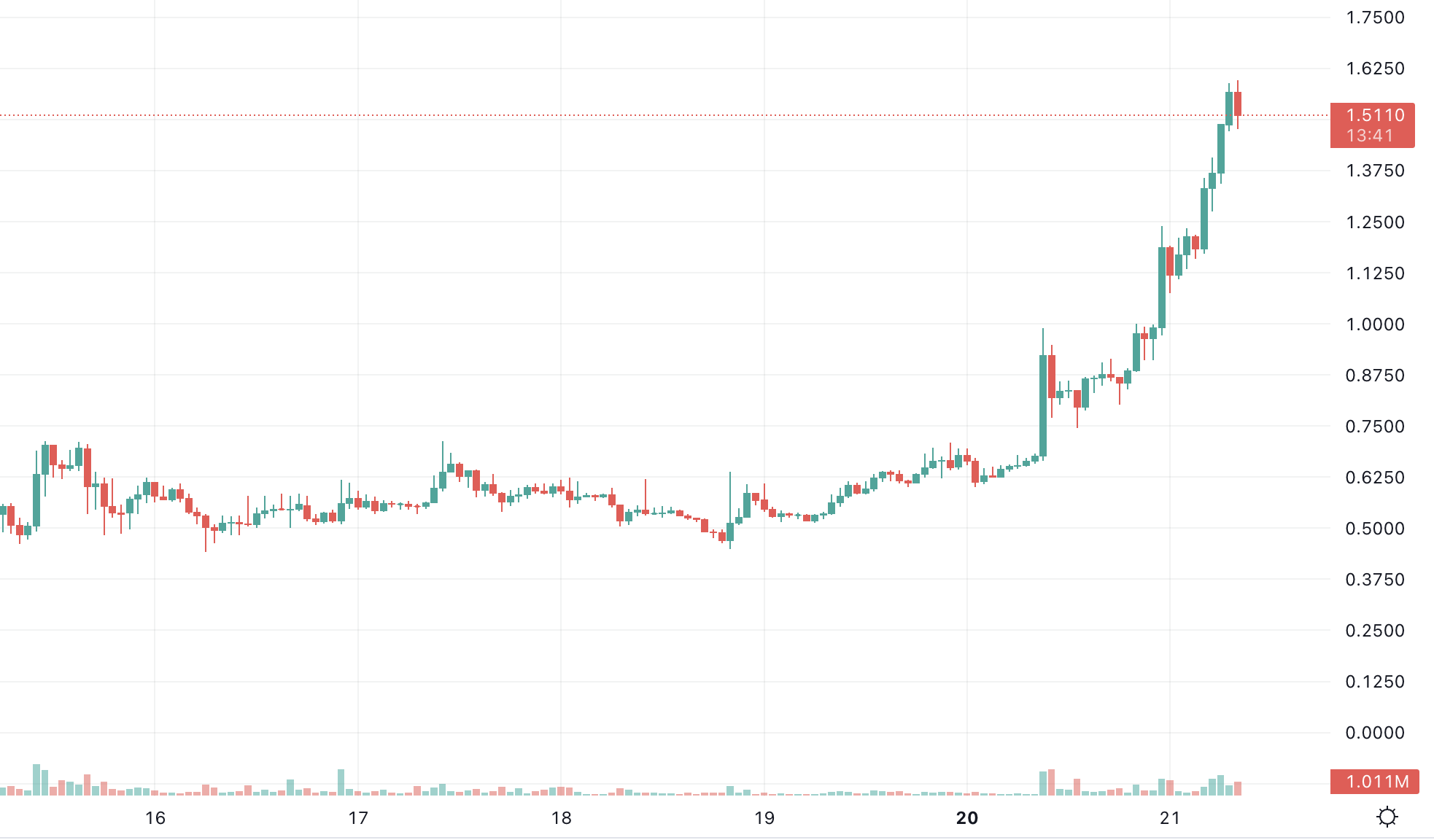 The price of CEL since June 16