Data analysts from PitchBook came with reassuring numbers about venture capital inflows into crypto over 2022, and more specifically the third quarter. Even though deal values and count declined more than 33% from Q2, investors still poured much more money into crypto than in 2020.
For crypto companies or organizations, it is vital to have funding. Many projects take years to develop and/or become profitable. That's why the future health of the crypto industry can be judged by the interest of current venture capital. (There is a flipside though. Recent revelations around funding of FTX have shown that venture capital funds often 'ape into' projects just like anyone else, without doing due diligence. This has funded the bad actors as well).
Comparing quarterly investments
PitchBook is a financial data and software company. It examined the state of capital funding crypto projects. From their data, it can be seen that the venture capital activity has been exponentially growing, with 2021 being a breakout year for VC invested into crypto startups globally. $21.2 billion was invested in that year.
The funds that invest are familiar names such as Andreessen Horowitz, Sequoia Capital and Tiger. The amount deployed in 2022 is set to surpass 2021's total, with $19.9 billion across 616 deals through the first nine months.
A slowdown
From the graph below can be seen that the activity is slowing down though. It looks as if funding totals lag the markets by one or two quarters, which is understandable: it takes longer to prepare a deal than for a price to go up or down.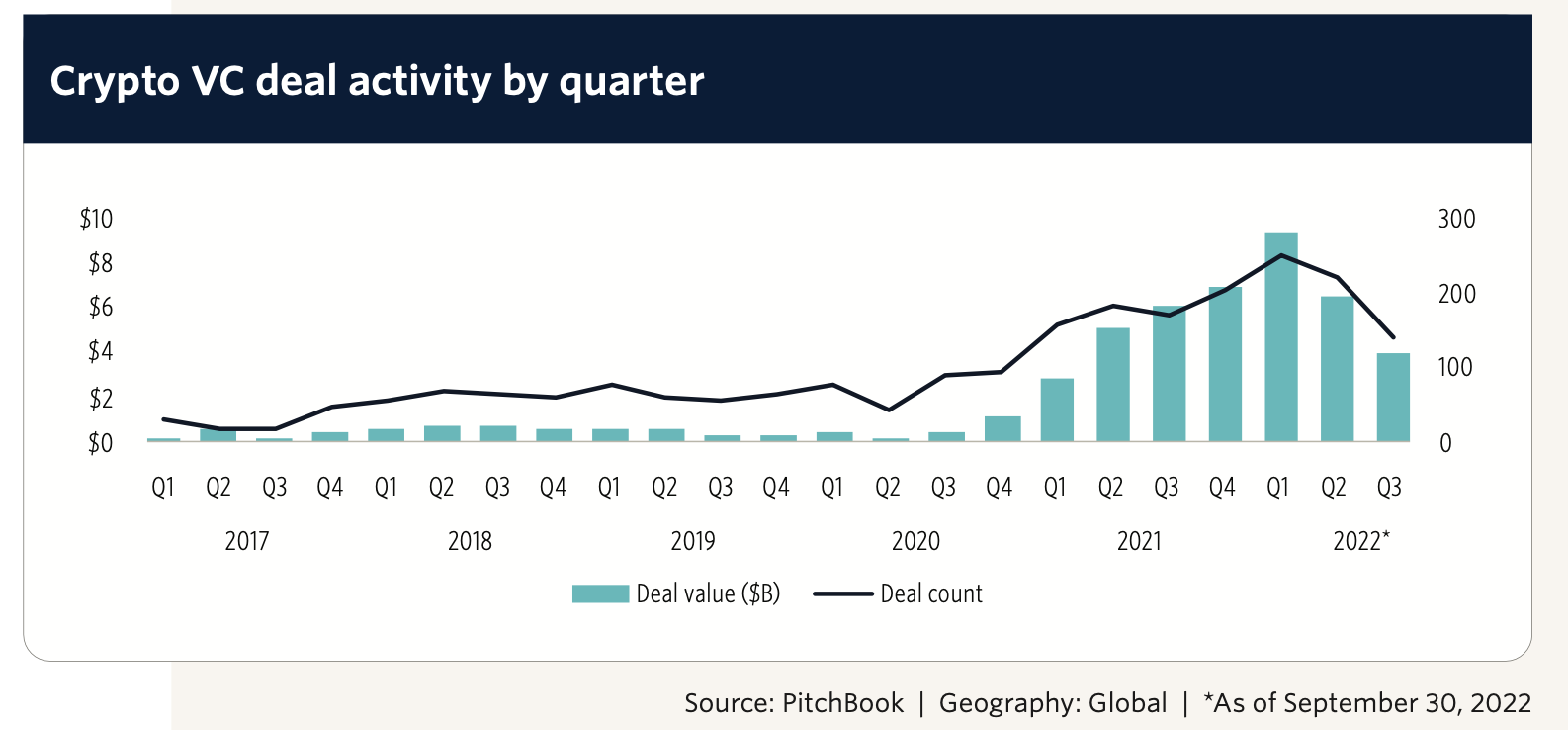 Top funded blockchain networks
The top 5 blockchains in terms of amount of funding they received:
Polygon (February 2022, 450 million dollars)

NEAR (April, 350 million)

Mysten Labs (August, 300 million)

Aptos (July, 200 million)

Aptos (March, 200 million)
Top 5 funded crypto companies
The top 5 funded crypto companies across all years:
Fireblocks (custodies crypto for institutions, 1.2 billion dollars)

Circle (issues stablecoin USDC, 1.1 billion)

Blockchain.com (a cryptocurrency financial services company, 975 million)
Conclusion: 'Crypto is far from done'
According to the PitchBook report: 'The long and short of it is crypto is far from done.' Provided they have runway (funds) left, now is the time for crypto companies to develop solutions for the centralized finance issues that arose in the last bull market. If usability of crypto wallets improves and if exchanges settle on a reliable type of proof of reserves, we hopefully never again will see a crash like FTX's.
In the meantime, big players are hunting for bargains. For example, traditional bank Goldman Sachs is apparently looking to buy or invest in distressed crypto companies.