Is USDT's years of dominance as the leading stablecoin coming to an end? A new indicator points in that direction. For the first time, the transaction volume of main competitor USDC is higher.
According to data from Messari, which aggregates transaction data from the largest crypto exchanges, the trading volume of USDC was double that of USDT on Tuesday, June 21, 2022. Both USDT and USDC are stablecoins backed by dollars or so-called dollar equivalents such as short-duration US government bonds.
USDT (USD Tether) has been the first and leading dollar stablecoin since 2015. The coin is one of the main pillars of the crypto markets. Tether was the first to realize that crypto traders need a currency that is stable against the dollar. This would allow them to put away profits in Bitcoin, for example, without pulling their money from crypto exchanges. Stablecoins also play an important role in Decentralized Finance (DeFi), for example in liquidity pools, where users earn interest on them.
The rise of USDC
USDC (USD Coin) has emerged as the main challenger to USDT since 2018. USDC is better regarded among investors and regulators. Unlike Tether, the company behind it - Circle - is fully transparent about the dollar reserves that cover their outstanding amount of USDC.
Currently, the total amount of USDT in circulation does still exceed the amount of USDC (67 billion compared to 56 billion). For comparison, in December 2020 it was 20 billion versus 3 billion.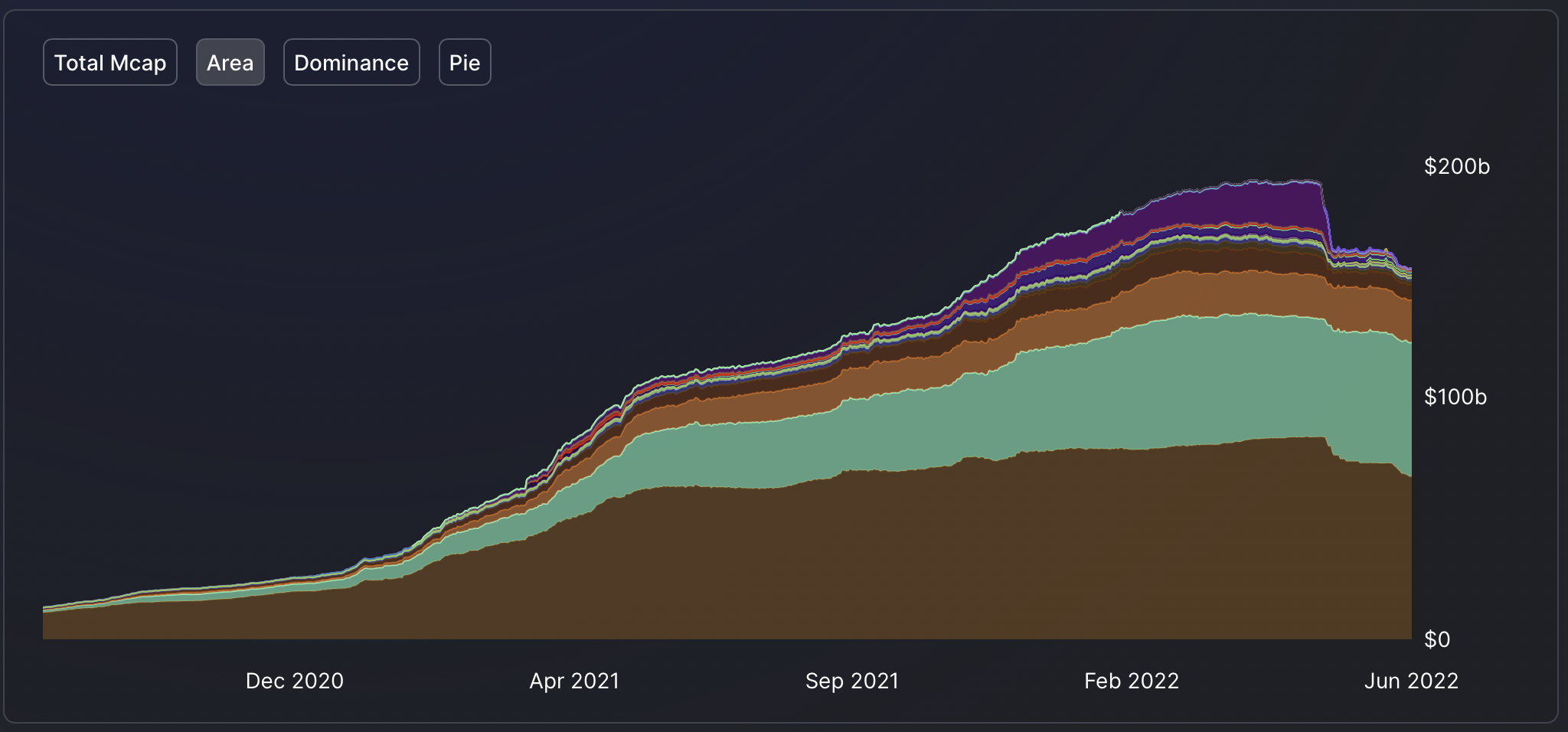 The total market cap for stablecoins (USDT brown, USDC green)
No love lost
It seems a matter of time until the final 'flippening' is there and USDC also exceeds USDT in market share. Most crypto investors will not be sorry. Ever since its inception, USDT has had hassles with regulators. There is no real satisfactory transparency about USDT's reserves.
That explained why after the market panic surrounding the (then) number 3 stablecoin UST (Terra), there was also a run on USDT. Tether managed to hand out dollars to everyone who asked for them. But due to the temporary lack of confidence, USDT lost the stable price of 1 dollar and even dropped to 94 cents. Since then, this peg has returned to near $1. A crisis that would have been much bigger than the Terra crisis was averted. But by now it is clear that users of USDT are switching to USDC.
Incidentally, Circle recently launched a euro stablecoin and Tether a Mexican peso stablecoin.