After the fall of UST on May 9, a shock wave went through the world of stablecoins. This led to a shift in the market value of the largest stablecoins. USDC gained market share, while USDT had to give up a similar percentage. What's at play here?
Since the painful fall of stablecoin UST, everyone in the crypto world has been taking a critical look at their portfolio. One buys stablecoins to reduce the risk in a crypto portfolio. But how risky are stablecoins on closer inspection? Which ones are the least risky when it comes to their stability? And what about risk of tighter regulation?
First, a few data points.
Since May 9, the total market value of stablecoins fell by about 2%.
USDT took the biggest hit in terms of absolute market value. USDC actually became more popular. The loss respectively gain in market share of these rival stablecoins was about 5%.
Algorithmic stablecoin DAI took the biggest hit among the major stablecoins: about 24% loss of DAI in circulation. It is likely that DAI received this hit because, like UST, it is an algorithmic stablecoin. This is not at all to say that DAI is as vulnerable as UST: DAI operates very differently. In fact, DAI has (on-chain) collateral, unlike UST.
The fall of UST has made Binance USD (BUSD) the undisputed number 3 again among stablecoins.
USDT under the microscope
USDT (Tether) is the first stablecoin and still the largest with about $75 billion in circulation. Tether has had hassles with regulators from its launch in 2015. A central question has always been the extent to which the company has liquidity to cover the number of USDTs in circulation. In 2021, it has claimed it has over 50% in US government bonds.
In the panicked mood after the fall of UST, USDT also briefly lost its peg. For a short time USDT was only exchangeable for 95 dollar cents. The dip did not last long. One day later, on May 13, USDT was worth 1 dollar again. In that 24-hour period, over 3 billion USDTs had been exchanged for dollars or the biggest competitor among stablecoins: USDC. Such a temporary and limited depeg has happened before and is not necessarily worrisome. It does indicate though that the market wanted to get rid of its USDTs.
Pretender to the throne USDC
USD Coin (USDC) experienced the opposite of USDT. On May 12, the price of USDC denominated in USDT rose to 1.09 on some exchanges - see image below. There was temporarily a considerable imbalance in supply and demand: many traders wanted to get rid of their USDT and exchange it for the safer considered USDC.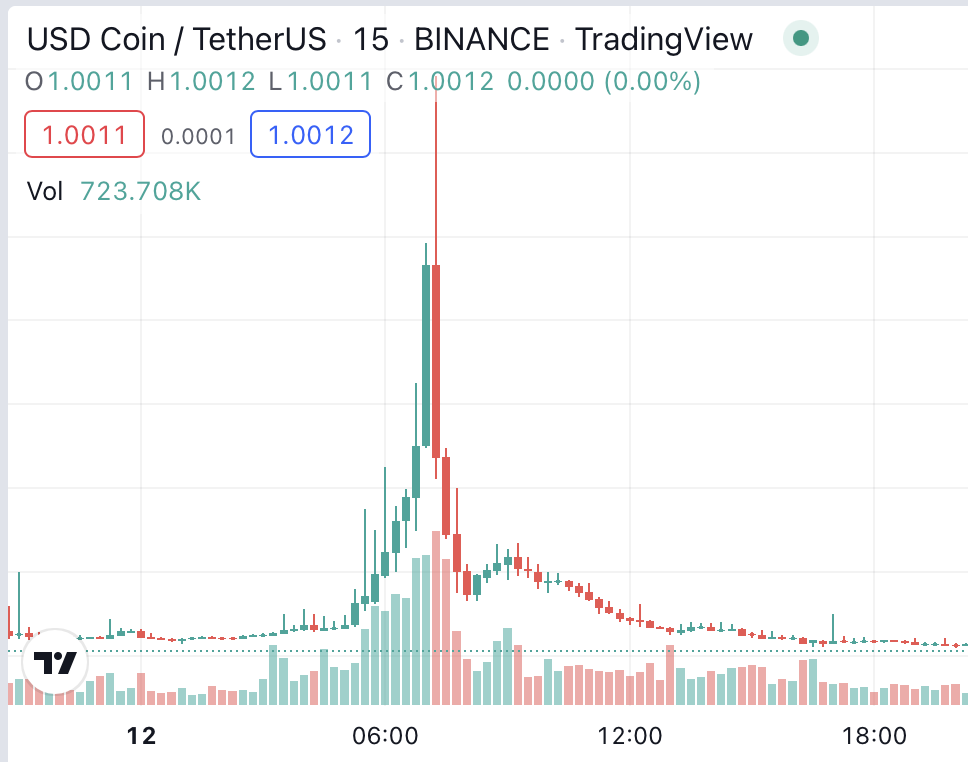 USDC has been around since 2018 and might be on its way to overtaking Tether when it comes to market dominance. It is known as the most reliable stablecoin, partly due to its relationship with regulators, which can be called good.