The cover of Time Magazine of March 2022 featured Vitalik Buterin, the founder of Ethereum. Vitalik's trademark awkward posture was mercilessly mocked on Twitter: 'Anyone else think he looks like if Tom Brady did meth?' It prompted Tom Brady to introduce himself to Buterin on Twitter, and express his admiration.
Tom Brady is possibly the best American Football player of all time and still immensely popular in the United States. The fact that he humbly introduced himself to Buterin, who by the way has a million more followers on Twitter than Brady, tells us a lot about the popularity of crypto among celebrities.
The lanky prince
The Time cover headline read: The Prince of Crypto has Concerns. In the interesting article, Buterin expresses his concerns about the lack of idealism of many current crypto projects and investors. His lanky appearanceand peculiar facial features provoked ridicule on the ever cheerful medium that we call Twitter. Buterin took it in good humor: "The quote tweets on the new time article about me are truly amazing. [...] Highly recommend scrolling.' And also: 'I didn't even know who Tom Brady is, had to ask people around me.'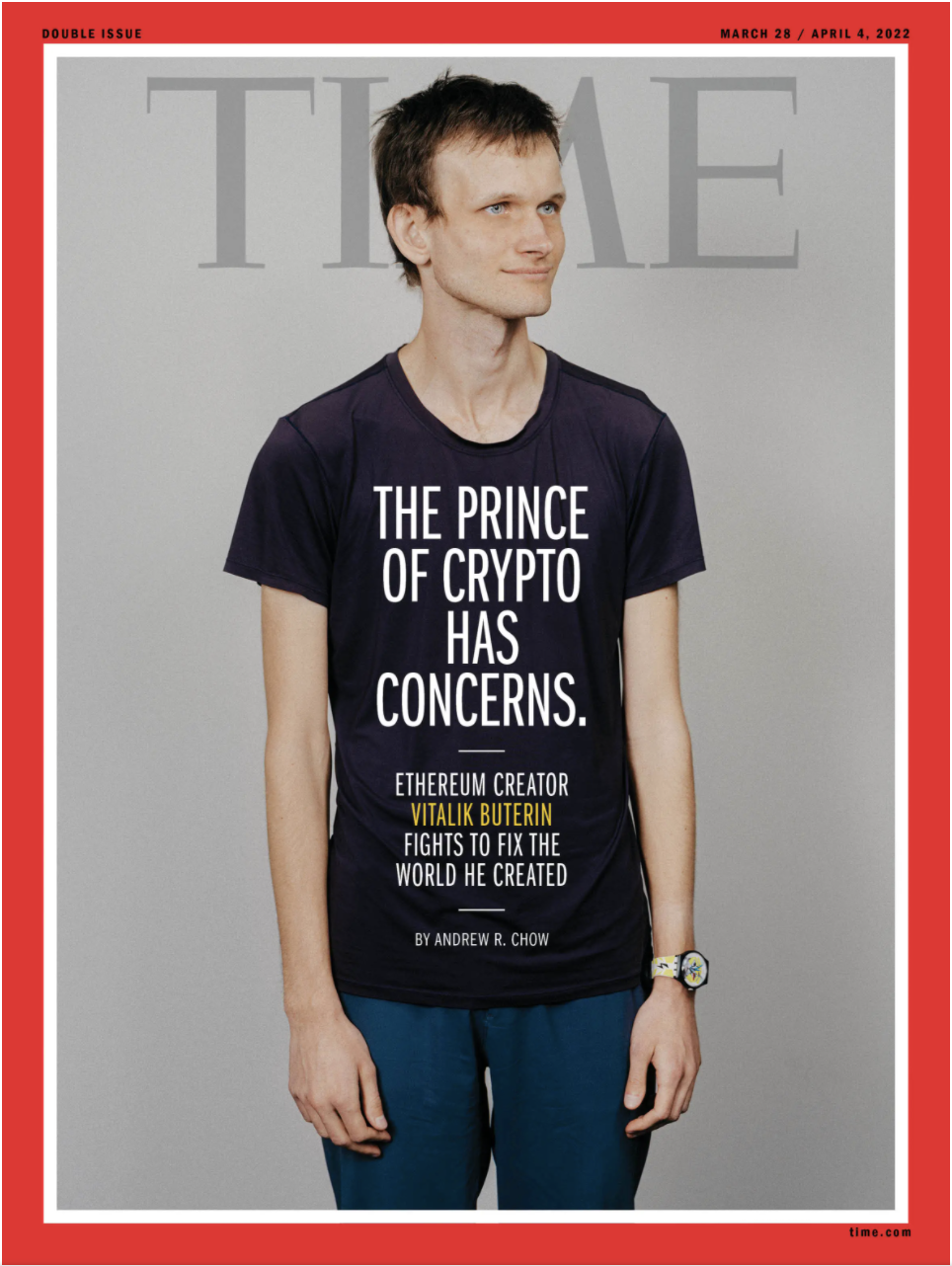 Brady seized the opportunity: 'What's up Vitalik! You may not know me but just wanted to say I'm a big fan of yours. [...] 'You're the goat'.
Brady is knee deep in crypto
Tom Brady is no stranger to the crypto world: in the spring of 2021, he added the laser eyes used by hardcore Bitcoin hodlers to his profile picture. Given his praise for Buterin, we can tell he is not a Bitcoin maximalist. That was already evident from the fact that he is the co-founder of Autograph, a new NFT platform where people can buy digital collectibles of famous athletes like (indeed) Tom Brady, Usain Bolt and Naomi Osaka. The Autograph marketplace runs on Polygon (MATIC), a Layer 2 platform compatible with Ethereum.
By the way, this is not the first time celebrities have introduced themselves to Vitalik. For example, he has already been hosted by Ashton Kutcher and Mila Kunis. The couple has been investing in crypto since as early as 2013.
For the occasion of the Buterin edition, Time will release the issue as an NFT. It will be coined on Wednesday, March 23.