Ethereum had only one topic for the last 8 weeks or so: The Merge. During this fateful event, the Ethereum beacon chain will merge with the current Ethereum blockchain. Once that is done Ethereum will switch its consensus from proof of work to proof of stake. The whole act requires a lot of testing and careful consideration. Now that the testing has been done, the Merge is entering a stage where things are getting interesting.
What is the Bellatrix upgrade and what are the next steps to proceed with the Merge?
Two upgrades are needed
Since there are two blockchains involved in merging into one, there are also two upgrades needed that will be commenced separately. The first one is called Bellatrix which will start on the beacon chain at epoche 144896 and it determines the start of Bellatrix on September 6.
The second upgrade is called Paris and will be triggered upon hitting a terminal total difficulty value of 58750000000000000000000 on the execution layer. This value is to be expected between September 10 and September 20. With the execution layer still depending on the hash rate of the network, the due date will fall in this period and can vary. It is estimated that this event is most likely to happen between September 14 and 15.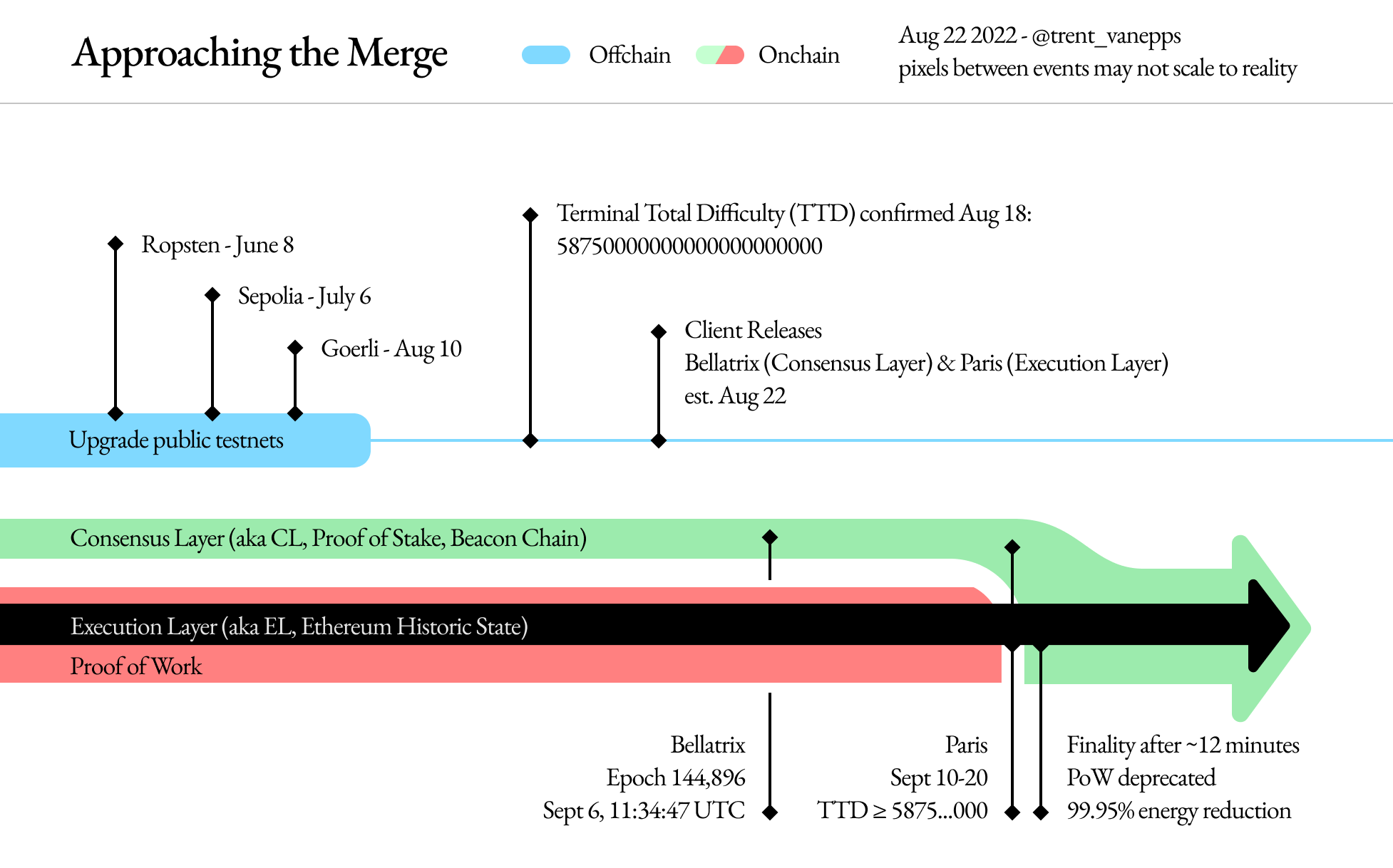 Source: Ethereum Foundation | blog.ethereum.org
Once the event is triggered on the execution layer the Merge will be completed and Ethereum will effectively shift to proof of stake approximately 13 minutes after.
Ethereum is still up +94 % from the yearly low
The market highly anticipated the Merge and unlike Bitcoin, Ethereum managed to rally since June after the crash of Terra, a lending crisis, and a brutal sell-off. This has sparked the hope that cryptocurrencies can make a difference despite a looming recession that holds the economy in a tight grip.
Ethereum failed to breakout above $2.000 and it remains to be seen how the Merge will play out in terms of price. Some analysts believe that Ethereum is facing a typical "buy the rumor, sell the news" event. Others are placing their bets that the Merge along with EIP-1559 will introduce scarcity to Ethereum and drive the price up long-term.
Another factor is the Fed that has still to fight inflation and is aiming for a so-called soft landing while raising interest rates after each FOMC meeting. Perhaps the US CPI for August will give a signal in early September about how things are going to play out.