The guys who self-identify as the Taproot Wizards - Eric Wall and Udi Wertheimer - entered the main stage of Bitcoin Miami to loud cheers. After their short and silly wizard dance, the panel discussion started in earnest. But not everyone in the Bitcoin community is a fan of their quirky attitude and projects.
Bitcoin Miami is the biggest Bitcoin conference. Speakers like Michael Saylor, Max Keiser and Greg Foss speak of Bitcoin in the terms of the highest possible praise. They view it as a tool to liberate us from financial slavery. Presidential candidate Robert Kennedy Junior took the stage and spoke glowingly about what he believes should become a constitutional right: owning Bitcoin.
So maybe it's understandable that some people have issues with the 'clowns' or 'udiots' (after Udi Wertheimer) being granted a spot in the limelight after Kennedy Junior. But make no mistake: these wizard guys have more knowledge of Bitcoin in their right toe than most Bitcoin maximalists in their entire body. They are Bitcoin OG's and know how to code. They how to leverage the functionality made possible by the Taproot upgrade.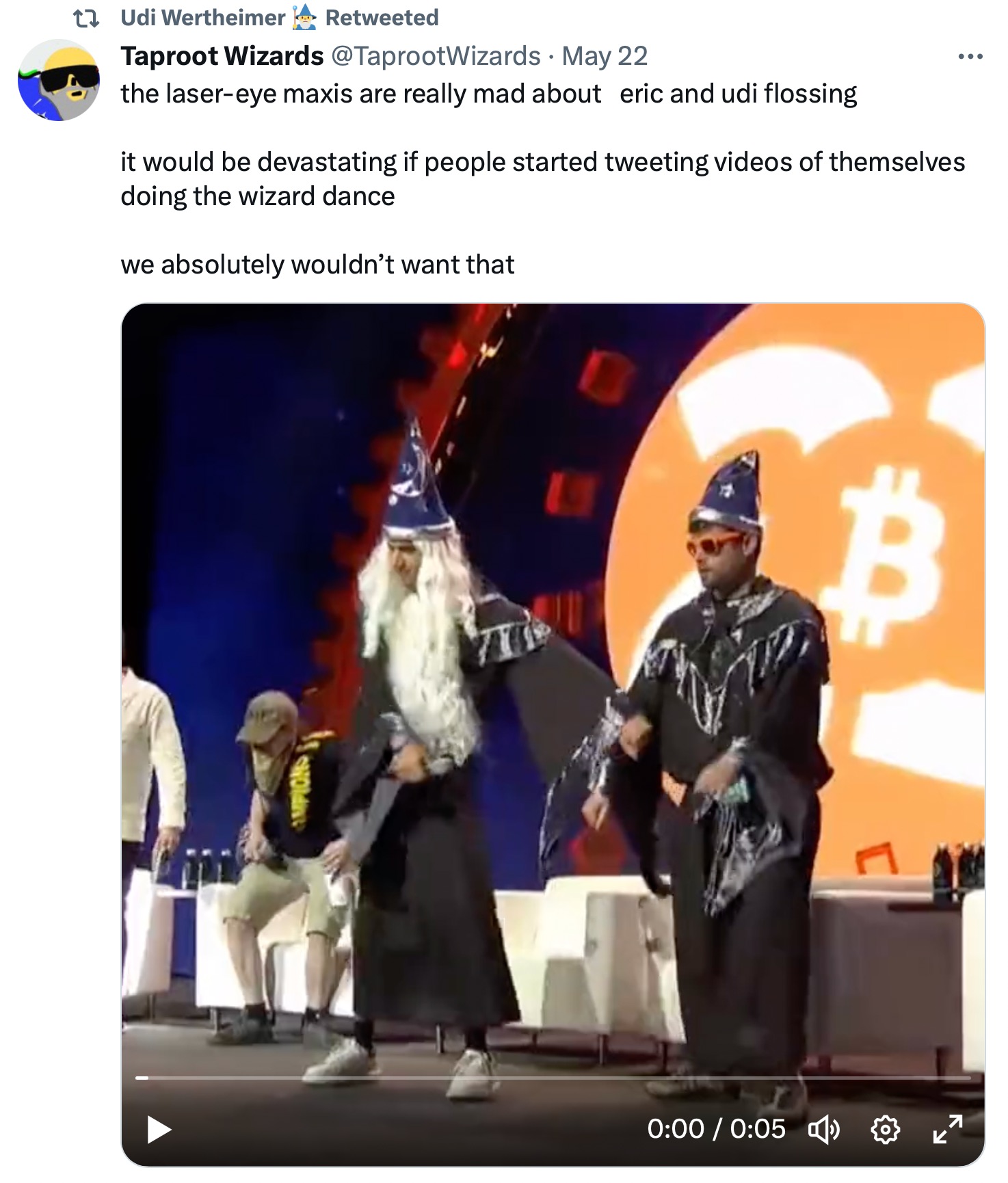 But their Issuance of NFT collections on Bitcoin - the Taproot wizards being one of the first - has rubbed some people the wrong way: they think Bitcoin should only be used for monetary transactions, not for silly memes. They believe the spike in BTC transactions needed to create these Ordinal NFT's (and recently, also fungible tokens) will crowd out normal transactions.
Greg Foss going ballistic
Greg Foss, a former derivative trader turned Bitcoiner views Bitcoin as an insurance against a crumbling monetary system. He went ballistic in a recorded audio to the editors of Bitcoin Magazine. In a tweet after his rant, Foss clarified that he doesn't have an issue with ordinals. But it's unclear in that case what his problem is: the guys acting silly? As Eric Wall pointed out: Bitcoin is supposed to be resistant against nation state attacks. And some people worry that a few guys in silly suits will harm it?
A serious message
Beneath the silly posturing of the Taproot Wizards are a serious message and a genuine disappointment with Bitcoin culture. Around 10 years ago, they got into Bitcoin because it was the 'intellectual center' of the world. But according to them, the Bitcoin maximalist community has reverted to cultish behavior.
Also, the wizards are not immune to the dilemma of transactions used for NFT's clogging up the chain. Eric Wall warns that Bitcoin will have to start looking at solutions with MEV that will start popping up in a crowded mempool.
Do the test: Are you a Bitcoin maximalist?