Of the many NFT projects that are trending, two are worth contrasting. They are trending for different reasons. The one that is in the spotlight for the wrong reasons is the aborted Porsche mint. The one that is gaining traction, is the Punk6529 meme collection. What makes their approaches different?
The failed Porsche mint
On Monday, Porsche made their NFT collection open for minting. Buyers could mint 7.500 jpegs of Porsches for 0.911 ETH each. Only 1.818 were minted before Porsche decided to halt the sale. The pause came after lack of interest and backlash from collectors. Some NFT experts went as far as to offer brands help with their NFT strategy. Others called the mint a clueless attempt at a cash grab:
'Porsche really tried to sell $11 million worth of uncreative NFTs with low effort'.
The Porsche NFTs were identical images of their iconic 911 model. Owning an NFT would allow holders access to events and exclusive merchandise. Alas, launching this uninspired collection, in a bear market, for steep prices, has damaged the Porsche brand.
Gaining traction: the Punk6529 memes collection
A different, more successful angle of launching NFTs comes from Punk6529. This anonymous CryptoPunk owner has set himself a mission: to make sure that the metaverse(s) will be an open source platform and not owned by tech companies such as Facebook or Apple. He is building OM (Open Metaverse) with that goal in mind. One of his beliefs is that people will use metaverse spaces to do productive work, not to just hang out there. He deliberately hasn't sold 'land' in this metaverse, as he didn't want it to become an object of speculation.
Punk6529 posts elaborate tweet threads on his philosophy, but he realizes that one won't win over the masses by debates over fundamentals. So, in the spring of 2022, he launched The memes by 6529, which are minted on Ethereum. Why memes? Well, memes have a great potential to go viral. One of the battle cries is: Seize the memes of production! Another meme is Don't let the institutions steal your jpegs! Indeed, everyone who believes in this, can share the memes on their social profiles: there are no copyright limitations.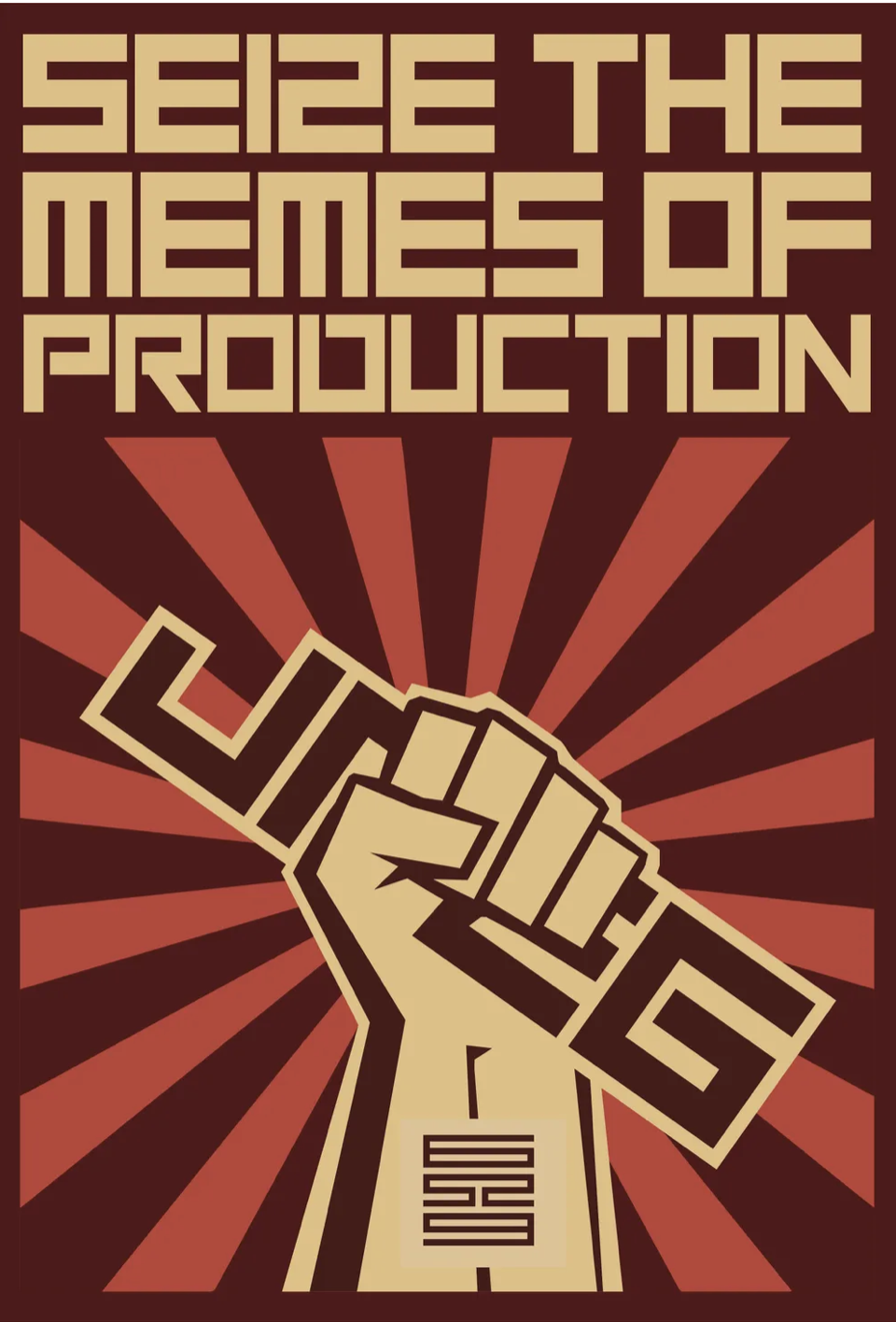 One of the meme cards
Meme cards like these are continued to be launched on a regular basis, in big numbers and at low mint prices. After the collection experienced a slowly receding activity in the bear market, transaction volumes on OpenSea have surged since the fall of 2022 and are currently at all-time highs.
Conclusion
Although there are companies who have launched successful NFT-projects (such as Nike and Reddit), they can learn from the idealistic, grassroots approach. If a company wants to launch a Web 3 project, it should at the very least try to make sure that it resonates with their fans: it should never come across as a cash grab.