The current bearmarket is turning out to be a nice opportunity for Bitcoin believers who aren't wealthy. For many, the goal of becoming a wholecoiner, is a worthy endeavour. According to data from Glassnode, they are buying at a record pace.
You have probably heard of the term Bitcoin (or Ethereum) whale, or simply: whale. A nice maritime term for the big players with the big money. There are specialized bots that track occurrences of whales moving large amounts of Bitcoin or another coin. These movements of large volume can influence the price.
Did you know there are also names for smaller holders? Shrimps, for example, are investors who hold less than 1 Bitcoin. Besides the shrimps and the whales, this is the entire aquarium:
Shrimp: less than 1 BTC

Crab: 1 to 10 BTC

Octopus: 10 to 50 BTC

Fish: 50 to 100 BTC

Dolphin: 100 to 500 BTC

Shark: 500 to 1000 BTC

Whale: >1000 BTC

Humpback: >5000 BTC
Shrimps and crabs have added
According to Glassnode, Shrimps have added 96,200 BTC (1.5 billion dollars worth of BTC) to their collective holdings since FTX imploded earlier this November. As a collective, shrimps own 1.21 million BTC: 6% of the total supply.
The crabs have added more than 190,000 BTC over the past 30 days. For both shrimps and crabs, the recent accumulation marked all-time-high increases in balances.
Record number of wholecoiners
Also, the number of BTC addresses that hold 1 BTC or more has hit a new all-time high.
Glassnode determined that this number is now close to 950,000. Caveat: people can use more than one address, so these numbers don't add up to as many people.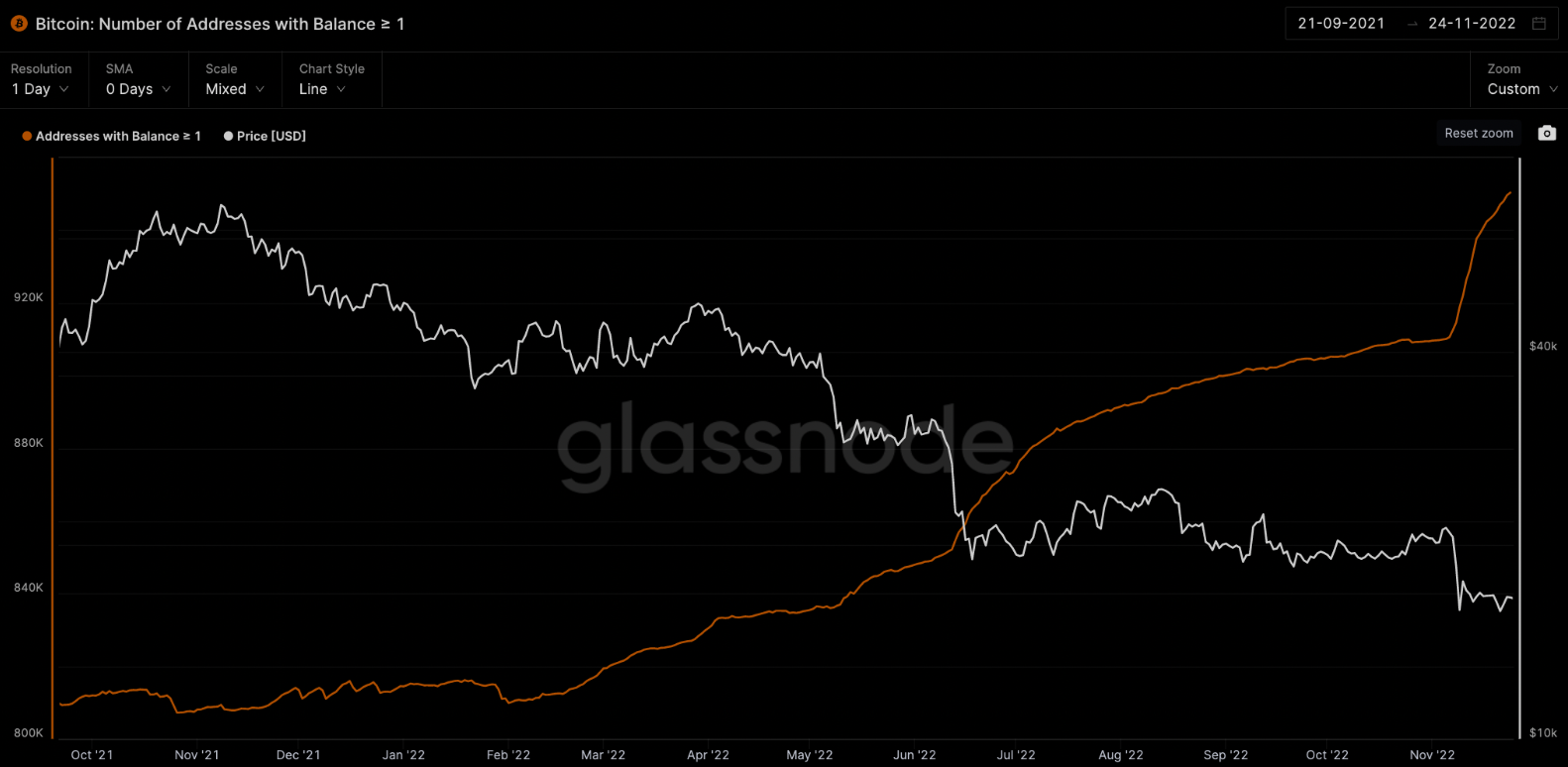 Conclusion
As the big institutions lack the trust or have even been forced to sell in recent months because of excessive risk-taking, the plebs (pet name for retail investors) are seizing the opportunity. Many analysts see this redistribution as a good thing. What good would Bitcoin the asset be if a few large holders control almost all the supply? A monetary network can only scale if many people own some money.
Long live the plebs! Normal folks who have informed themselves about the fundamentals. Apparently, the don't buy the mainstream media's takes that crypto is dead. Stacking sats is what they do, at an increasing pace.