Is the bottom in? This question is not only on the minds of crypto investors. Also traditional investors are looking for signs that the worst is behind us. Let's look at some indicators in both macroeconomics and crypto that could guide us.
Macro bottom signal: turn of global money supply
The global money supply (roughly, the amount of money in circulation worldwide) ebbs and flows as a function of central bank policies. If monetary policy is tight, the tide is low and money flows away from stock and crypto markets. If the proverbial printing press is switched back on, the new liquidity makes asset prices go higher. This is not just a cute metaphor: there is a clear correlation between the global money supply and crypto prices. It's no coincidence that the latest bull market coincided with an explosion of global money supply, in response to Covid.
According to macro investor Raoul Pal, after almost a year of tight monetary policy, we're probably close to the point where the global money supply will start rising again. In China, which apparently has traditionally been a leading indicator, it is already rising. Raoul Pal: 'When liquidity changes, everything changes.'
Crypto bottom signals
Currently, we see some signals that in previous bear markets indicated – in hindsight – the bottom. Bitcoin miner capitulation is one of them.
Miner capitulation
Previous market cycle lows have come in when Bitcoin miners started to become unprofitable. At current energy and Bitcoin prices, many miners struggle to break even, even with relatively new Antminer 19 machines. In other words, it costs them more money to mine a Bitcoin than the current price of Bitcoin. Bitcoin miner Core Scientific has gotten close to bankruptcy. Across the board, Bitcoin miners have been aggressively selling their Bitcoin - unfortunately for them, at bear market prices. You can see that in the graph below. Red means that miners have been selling.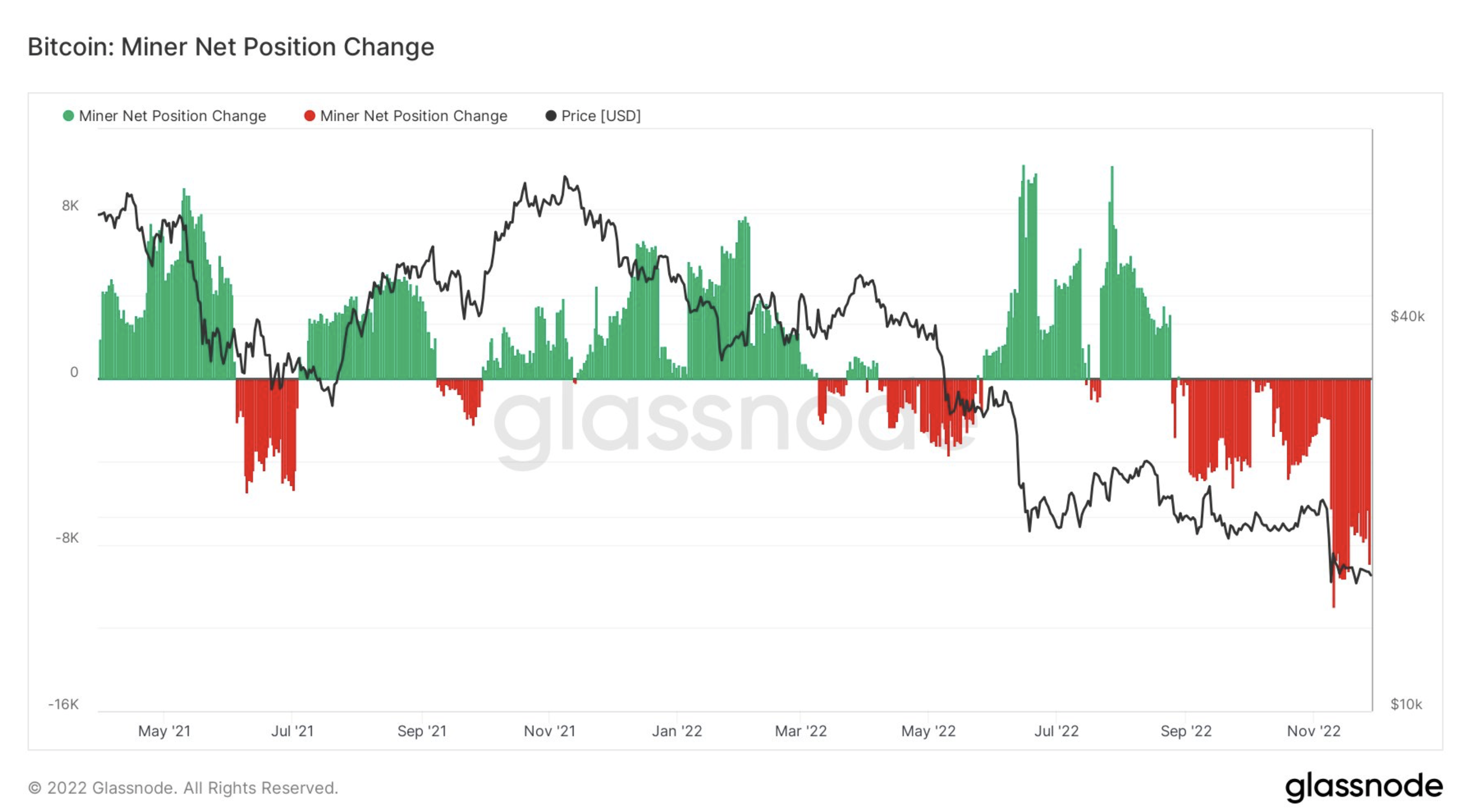 Traditional media: 'Bitcoin is dead'
Even though the victory calls from crypto haters are less numerous than in previous bear markets, they are back. People like Paul Krugman can be heard claiming that this is not just a crypto winter, but an 'endless winter'. The ECB claimed: Bitcoin is on its way to irrelevance. Traditionally the emergence of 'Bitcoin is dead' battle cries has been a good time to load up the truck.
At the same time, crypto veterans like Chris Burniske, Eric Wall and Phil Bonello have been calling the bottom. Bonello:
'Everyone that could be broken, has been. There is nobody left to sell and no margin left to liquidate. The risk/reward has not been this attractive in four years. It's not easy, but right now it pays to be an optimist among pessimists.'
Is there no margin left to liquidate? That remains to be seen, of course. It is yet unclear, for example, how bad the situation of crypto broker Genesis and its parent company DCG exactly is. It could be a big domino to fall.
Conclusion
When Bitcoin reached 69.000 a year ago, most people were shouting that it would go to 100 thousand. Now that Bitcoin has dropped below 20 thousand, many people are calling for prices below 10 thousand. Who knows, and this is not investment advice. It is just to say that it can pay to be a pessimist when everyone is an optimist, and an optimist when most people are pessimists.