More and more details emerge of what appears to be the malpractice behind the scenes of bankrupt exchange FTX. That is why many people in crypto are baffled that former CEO Sam Bankman-Fried (SBF) has not been arrested yet. To them, it is even more inexplicable that he will be one of the guests of the prestigious New York Times DealBook summit next week.
The fall of exchange FTX was big news in mainstream media across the Western world. Billions of customer funds are most likely lost (there is on-chain evidence that suggests customer funds were used to backstop losses from sister trading firm Alameda). FTX was not regulated in the USA: it was registered in The Bahamas. Maybe this explains why the American legal system seems slow to respond. In any case, American citizens were the victims: roughly a million, mostly American customers, lost a chunk of their savings.
SBF had to step down, and a CEO was hired to clean up FTX's mess: veteran John Ray. In the early 2000's he oversaw the cleanup of the fraudulent energy company Enron. He wrote about what he found at FTX in no uncertain terms:
'Never in my career have I seen such a complete failure of corporate controls. From compromised systems integrity and faulty regulatory oversight abroad, to the concentration of control in the hands of a very small group of inexperienced, unsophisticated and potentially compromised individuals, this situation is unprecedented.'
New York Times is incredibly mild
SBF has donated tens of millions to the American Democratic Party. Without putting on tinfoil hats, it is remarkable that SBF gets treated generously by media outlets like The New York Times. In the week after the collapse, the newspaper published a mild interview article. Reading it, one could be left with the idea that SBF and his crew just made some errors of judgment and were caught off-guard by a bankrun. Looking at John Ray's earlier statement, however, that seems unlikely to have been the sole cause.
While the article's writer acknowledges some of the key facts of FTX's downfall, it lets SBF get away with things like: "He said his other commitments had led him to miss signs that FTX was running into trouble." And: 'Mr. Bankman-Fried said he wished "we'd bitten off a lot less." That seems to be quite the understatement compared to what appears to be, from other accounts, flat-out criminal behaviour. The majority of the crypto community reacted with outrage (see Zooko's reaction, the founder of privacy coin Zcash).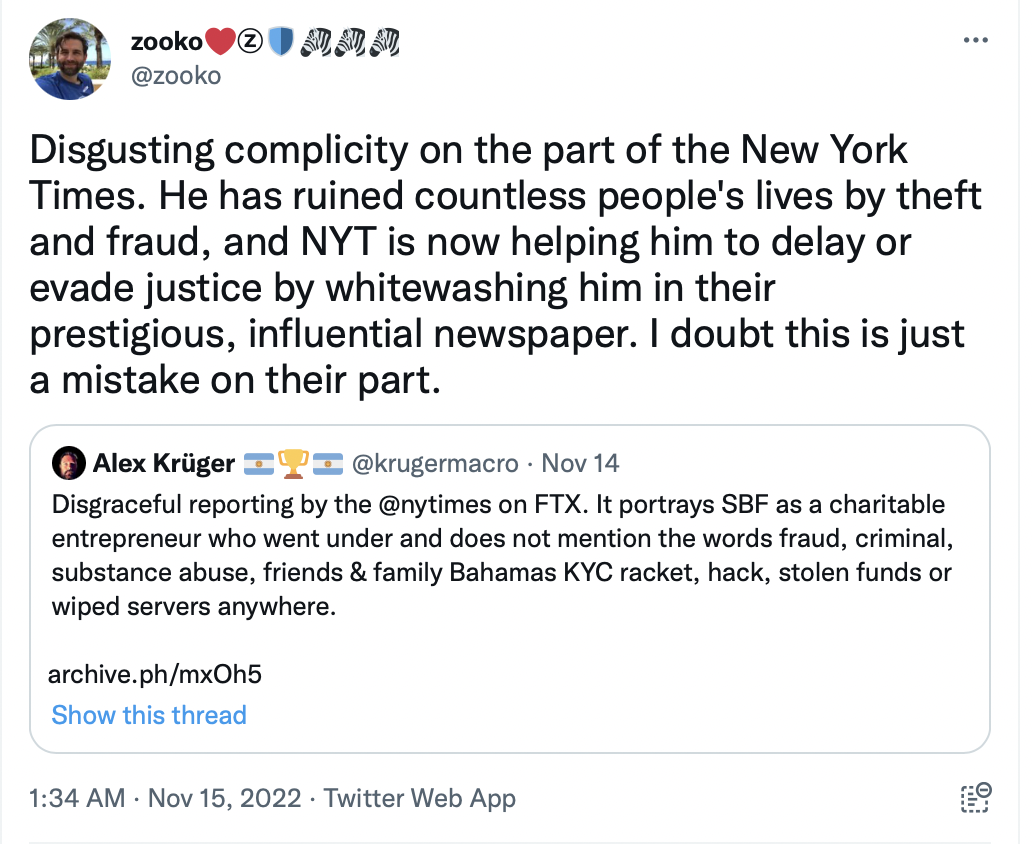 Guest at the NYT DealBook summit
And so, it can happen that SBF confirmed he will speak at the NYT DealBook Summit on November 30th. Alongside people like Treasury Secretary Janet Yellen, Mark Zuckerberg and Ukrainian prime minister Zelensky.


Photo: Sam Bankman-Fried portrayed among some of the other guests
Please note this is a rapidly developing story, this post is from Nov 24. Not all information may be up to date.