Until recently, there were over 129,200 Bitcoin in MicroStrategy's coffers. As of today, they have 480 more. It's a testament to the faith of CEO Michael Saylor, who doesn't flinch during these difficult market conditions.
The purchase shows that MicroStrategy is continuing their strategy of acquiring as much BTC as possible. Come rain or come shine. It's reassuring for all hodl'ers: they are not alone in their belief that the bear market is not going to last forever.
Stay humble, stack sats
The price per Bitcoin for which Saylor and co. were able to secure their new shipment of BTC was $20,800. That's the lowest price since December 2020. In the meantime, the company has made purchases on eighteen different occasions. The current value of their total lot of BTC is now about 34% lower than the average purchase price. See saylortracker.com.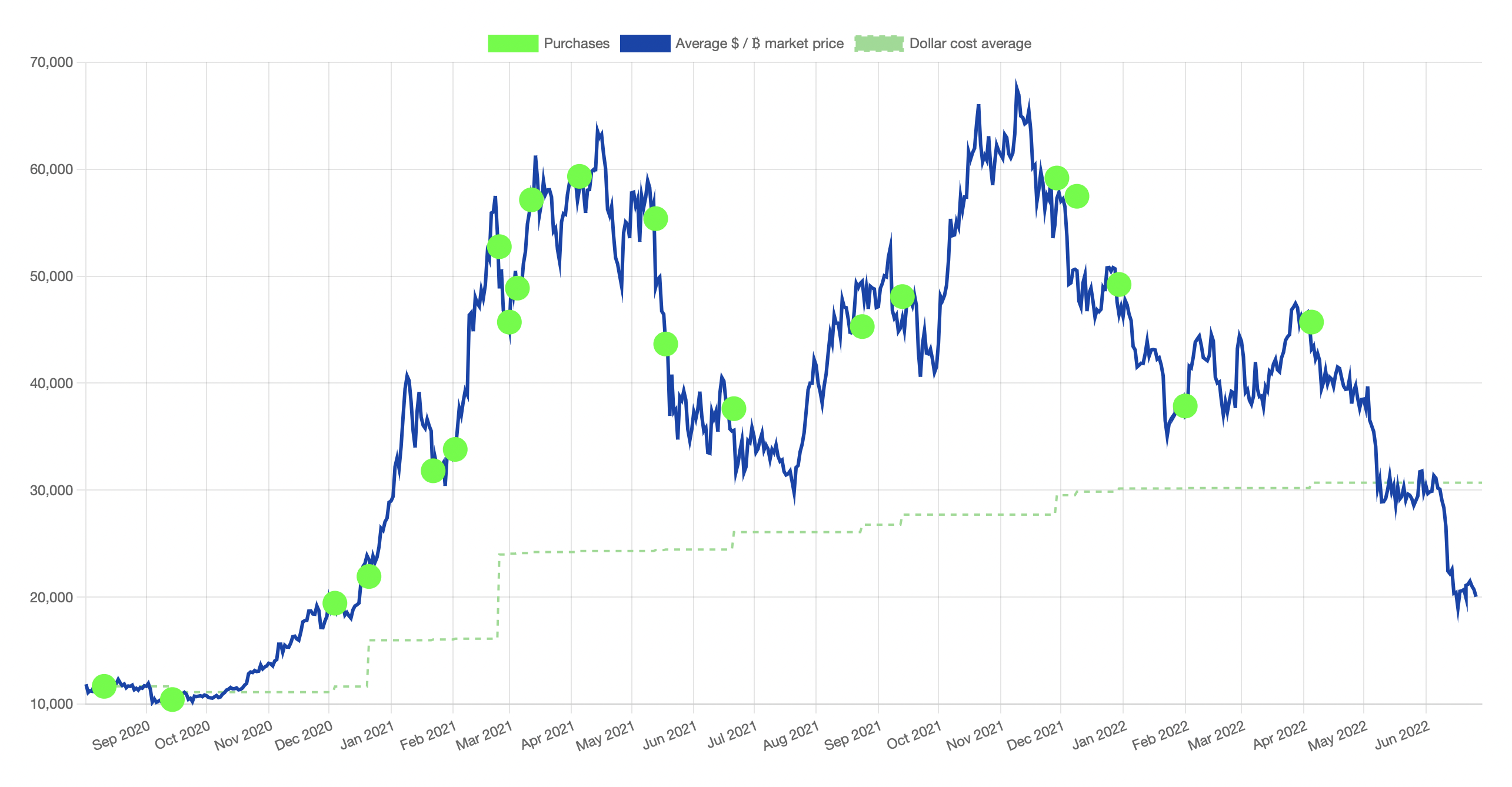 Can MicroStrategy survive this bear market?
MicroStrategy, through Saylor, has often let it be known that they will never sell their Bitcoin. But is there a chance that the company will be forced to sell (part of) their BTC? It is not inconceivable. The reason is that a significant portion of the money with which it
financed the purchases comes from issued bonds. In part, these are so-called zero-coupon bonds, but there are also loans on which an interest rate of 6% must be paid. The maturities of the bonds are all around five years.
Interest burden
Adding up the bond coupons, for MicroStrategy this means an interest burden of $43 million per year. This can be paid from their profits: the annual figures for the last few years show a similar operating result. Also, MSTR still has a hefty war chest of dollars. So, while there is no acute problem, it is clear that MicroStrategy must continue to run well in order to keep paying their interest.
Suppose a major recession throws a wrench in the works of the company. Then it is not inconceivable that the company will have to sell some of its Bitcoin at some point to continue meeting their payment obligations.
There is also a 205 million loan outstanding with Bitcoin as collateral. If MicroStrategy's total treasury of BTC falls below 200% of this amount (i.e. $410 million), it will have to sell Bitcoin. Since MSTR's mountain of BTC is so huge, this will only happen when the price of BTC drops below $3562.
Considering their current purchase, Saylor and co. don't seem to be too worried about it.