The votes are in: just over half of the ten thousand buyers of an item of The Currency collection chose to keep the physical artwork. As part of the deal, they will lose their NFT. The other half chose to keep their NFT. Starting in September, artist Damien Hirst will burn their canvases.
What would you do if you had to choose? If you opt for the NFT, you might forever pass on the opportunity to show off a real Hirst in your home. If you choose the "real" Hirst, you miss the chance of owning an 'NFT Hirst' in the online world where trading is much easier... and showing off as well, in a sense. After all, more people see your profile picture on Twitter than the art in your living room...
Renowned British artist Damien Hirst created the canvases back in 2016. Only recently did he come up with the idea of creating a digital counterpart to the canvases: the twin NFT, so to speak. Only after each canvas was paired with an NFT, the owners had to pick one and lose the other.
Burn 'em
After the votes were counted in late July, it turned out that 5.149 of the ten thousand buyers had decided to keep their physical artwork and give up their NFT. In other words, the count was almost exactly 50/50. Hirst himself says he hesitated for a long time about what to do with the copies that he owned himself. After much deliberation, he decided to keep the NFTs.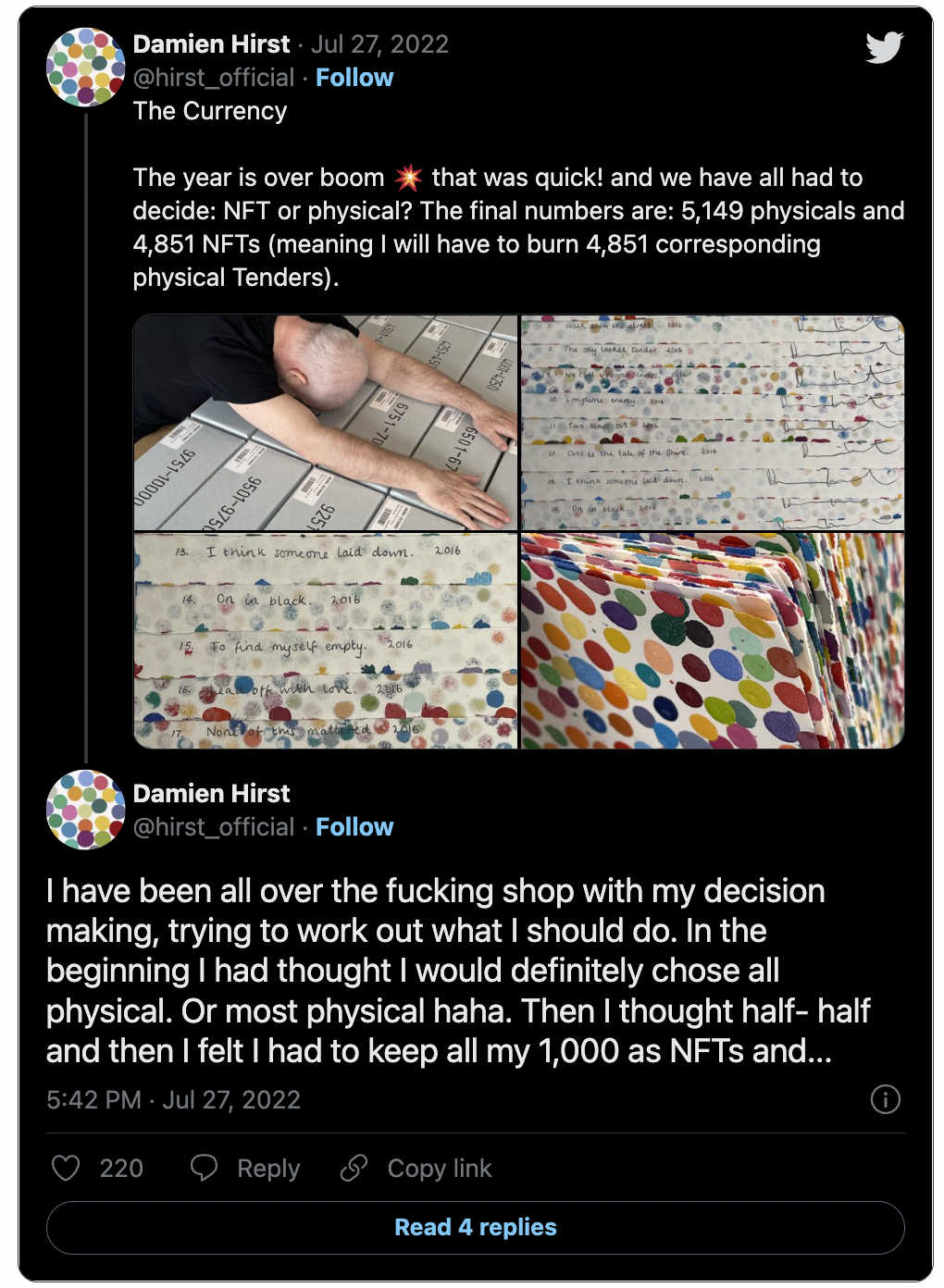 Starting September 9, he will daily set fire to the oil works of himself and his customers who chose to do so. Hirst sees the whole thing as a kind of collective artwork, of which the buyers' choices are a part.
Twin NFTs
Pairing NFTs with real-world objects is a trend. In most cases, it's not an either-or, but the buyer keeps both. Consider the CryptoPunk pendants from luxury brand Tiffany's. In doing so, the NFT and the pendant are inextricably linked: in order to buy the pendant, one must own a CryptoPunk NFT. Also, the two can only be sold together.