Both Bitcoin's Lightning Network and the new decentralized social media platform Nostr are showing nice growth figures. A new catalyst is the integration in Nostr of zaps: Lightning payments that are tied to posts on Nostr.
Nostr growth figures
Nostr users have trended up. In January 2023, around 5 thousand per day. In early February, around 40 thousand per day. And currently about 60 thousand per day. The total number of profiles with a bio is currently approaching 800 thousand. These are still rookie numbers if Nostr wants to be a decentralized challenger to Twitter.
Quick recap: Nostr is an open source platform on which Twitter or Telegram-like apps can be built, but where you own your account (your messages, and your social graph). No centralized entity can throw you off Nostr, as you sign in with a private key and your messages are sent to multiple relays instead of a central server. The most popular destktop app for MacOs is currently Damus.
The state of Bitcoin Lightning
The Lightning Network has now over 5.300 BTC embedded, compared to 3.400 BTC a year ago. The number of transactions is at an all-time high. But the percentage of successful transaction is still not high enough to satisfy all users. Even though success rate of a transaction is now close to 99%, that is still not good enough. It's the reason that former Twitter CEO Jack Dorsey's Block released a service provider to improve liquidity and routing on the Lightning Network, called c=. But there are other candidates that can take care of extra liquidity: the integration between Lightning and Nostr.
Zaps: the integration between Nostr and Lightning
Nostr clients (applications) and relays ('nodes') integrate with the Bitcoin Lightning network in interesting ways. It was already possible for Nostr users to easily send each other payments using the Lightning network.
Since mid February 2023, Nostr client apps have integrated "zaps": a new note type which is a Lightning payment. You can send Nostr users tips, and also tip specific posts of those users. The zaps are displayed on a post in a similar way that "likes" are. In three weeks' time, more than 130.000 zaps have been sent.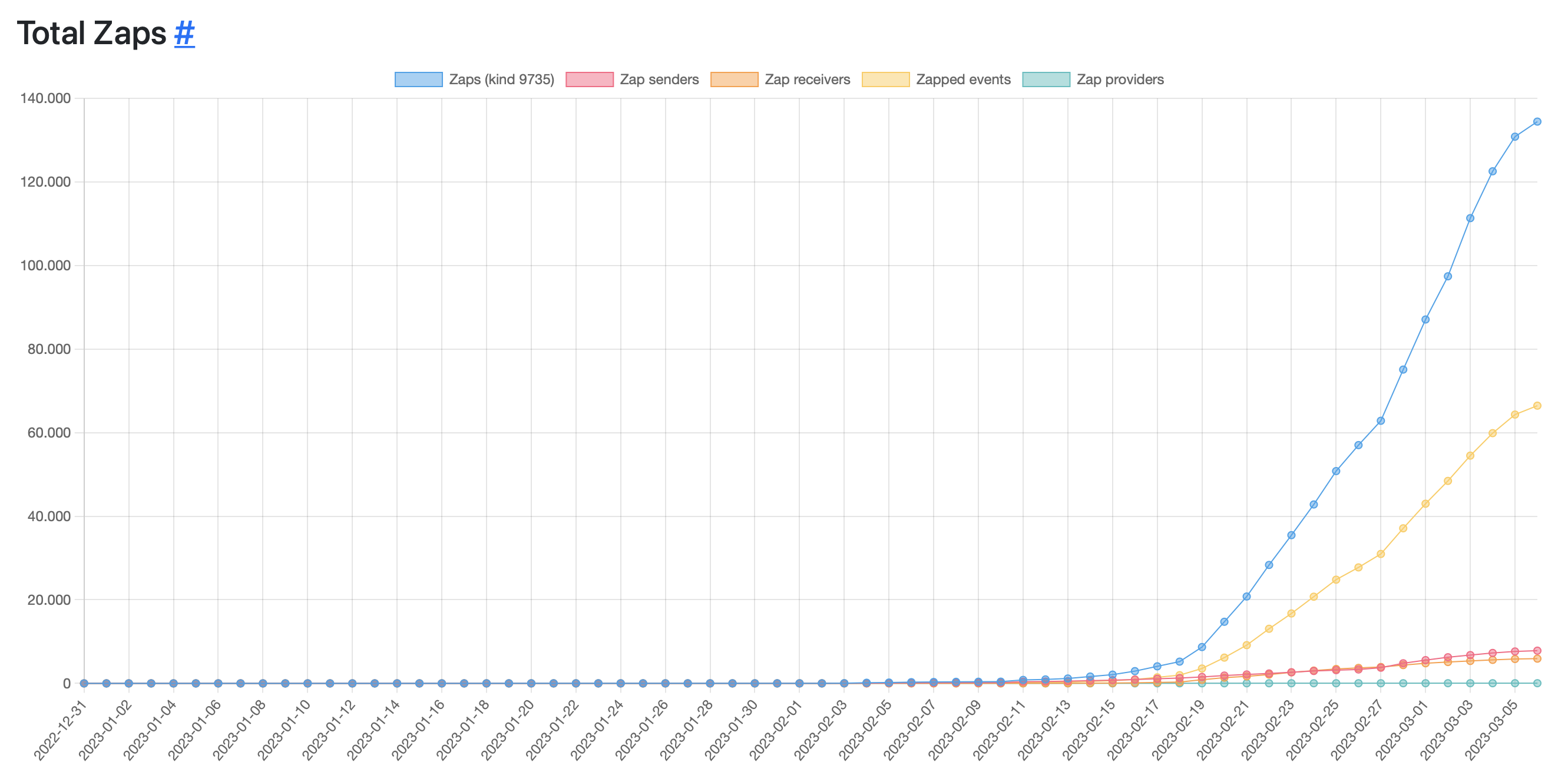 Both the Lightning Network and Nostr are far from truly challenging the incumbent systems, but we are witnessing a promising synergy between the two soulmates of decentralization!