OpenSea, the largest NFT marketplace, has migrated to their Seaport protocol a week ago. It was a long-awaited and fundamental upgrade, which has practical advantages for users. Meanwhile, NFTs too are in a bear market, but there is still room for new entrants that become winners.
With the migration to the opensource protocol Seaport, OpenSea issued an invitation to the competition: anyone can now build NFT marketplaces. OpenSea chose to be the party that is known for making innovation possible in the NFT marketplace space.
Users mainly reap the benefits of the practical upgrades. First, the transaction costs (gas fees) are reduced by 35%. Second, there are two upgrades that should make the NFT market more liquid:
NFTs can be traded for more than just crypto. For example, you can compose your bid on an NFT as a combination of an NFT and crypto in your wallet.
You can bid on all NFTs from a collection (e.g. "I want any Punk for this maximum price"). You can also bid on specimens from the collection that have certain characteristics. For example, bidding on any Moonbird with headgear.
Soon it will also be possible to buy several NFTs in one transaction: so-called bulk listings.
Bear market in NFTs: still successful new projects
The prices of NFTs have also fallen hard in recent weeks. The floor price of a Bored Ape went from 135 ETH to 89 ETH since May 1. At first glance, that doesn't seem too bad, until you realize that the price of Ether dropped from $2800 to $1100 during that time.
The success of Goblintown
Even in the bear market, there are projects that catch on. After the Rektguy collection (bottom price currently 0.4 ETH) it was Goblintown that struck a nerve (current bottom price 4 ETH). Goblintown is a term that was used in cryptocurrency circles as a synonym for the bear market.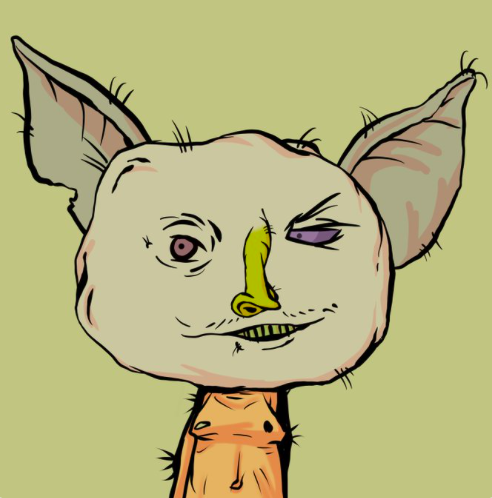 Example of a Goblintown NFT
The smart person who based an NFT collection on this term obviously understood the importance of the prevailing sentiment. It is perhaps a question to ask yourself when investing in an NFT: does the project have a chance to go viral in the current market sentiment? Goblintown clearly succeeded in doing so. It also distinguished itself from the average profile picture NFT project in a number of ways:
The mint was free.
The team of founders, by their own admission, is lazy and does nothing for the community
The community emerged organically and on Twitter had the peculiar habit of using their own (ugly) font. On Twitter Spaces, they talked in 'Goblin voices'.
The success of Goblintown shows that success does not necessarily depend on how 'beautiful' the jpegs are, but on how much the community enjoys putting themselves in the shoes of the characters. Again, that is an aspect of what is contagious ('viral').
What's next with NFTs?
The fact that prices are falling may be painful when you look at your NFT portfolio. But it also presents opportunities. Especially now that NFTs are becoming the object of ridicule at family gatherings and recent entrants are leaving the space, it is an opportunity to orient yourself on the market and perhaps cautiously enter.