A researcher and former climate activist has established a new methodology to determine the percentage of the Bitcoin mining energy that comes from renewable sources. By including so-called off-grid mining, he estimates Bitcoin's total energy generation at 52% from zero-emission sources.
With his new methodology, which included a lot of field research, Daniel Batten (ironically, a former climate activist) wants to find an answer to the different numbers that different researchers have come up with. The Bitcoin Mining Council (BMC) estimates that the Bitcoin network uses 59.4% zero-emission power sources, whereas as a report from the Cambridge Centre for Alternative Finance (CCAF) arrives at the much lower figure of 37.6%.
The more negative CCAF data are more widely cited in mainstream media, compared to the BMC data. As a lot of policy surrounding Bitcoin mining is to be drafted the coming years, the numbers are politically important. Bitcoin's energy usage is widely seen as a problem. Greenpeace recently launched a large campaign questioning Bitcoin's dirty energy usage (spicy detail: this campaign was funded by Bitcoin 'competitor' Ripple, which is why it got Greenpeace a lot of contempt).
What is off-grid Bitcoin mining?
The term off-grid means using energy that is not connected to traditional power sources like coal or gas. Bitcoin miners want to avoid peak energy prices and thus are incentivized to go hunt for cheap energy sources that are not connected to the grid. Examples:
Sources of flared gas near oil fields

Unused solar and wind park outputs
It's not that Bitcoin miners are the most ethical people on earth: it's just that renewable sources are the cheapest. Even more so, mining on the traditional grid isn't profitable anymore: only at prices of around 3 cents per kWh, is mining becomes profitable in current market conditions (this depends on the type of machine that is used).
On the contrary, flared gas, for example, is free. It's 'waste energy' that's just blown in the air without anyone using it. It's a byproduct of oil production. And fields with solar panels in some locations can have overcapacity at peak sunshine hours. An example of the latter, off-grid mining is Tesla, Block and Blockstream are teaming up in Texas to mine Bitcoin with solar power.
The estimates
The research of Daniel Batten and his team estimates
the percentage of mining that happens off-grid at 52%

the percentage zero-emission of off-grid mining to be 65%

Now we can see why the CCAF arrived at lower numbers sustainable: it didn't the huge off-grid component.
The trend is in the good direction
Another crucial finding from the report is that mining has been trending towards more zero-emissions.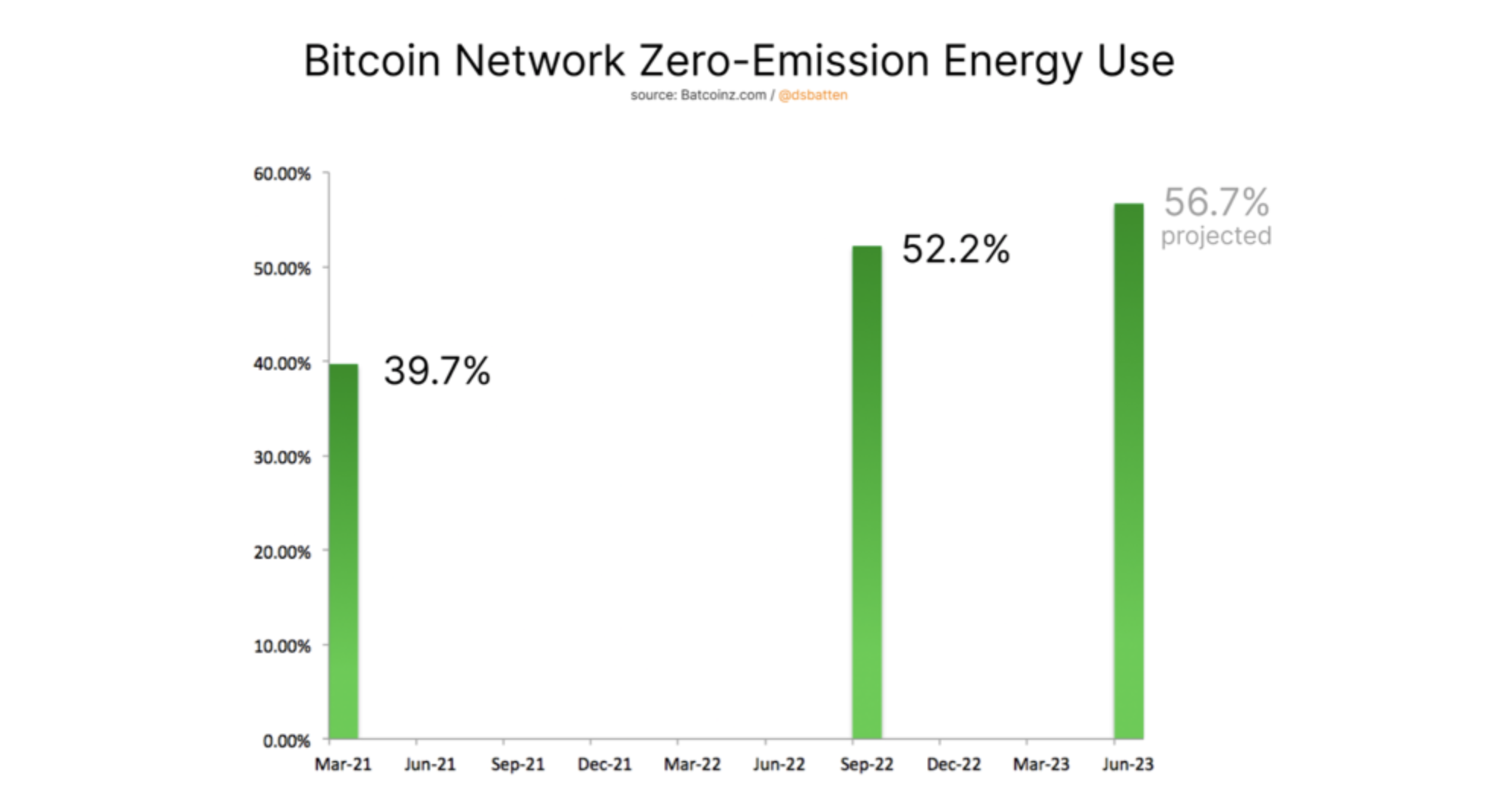 You can read the report: A more complete picture of Bitcoin's energy usage.