The Bitcoin Mining Council (BMC), a voluntary organization of Bitcoin miners in the US, has released its third-quarter figures. The percentage of energy coming from renewable sources is estimated to be 59% globally. Meanwhile, the Bitcoin hashrate is rising and the price remains low, leaving Bitcoin miners struggling.
The sustainability of the electricity mix of miners has risen about 3% since a year ago. The trend of this figure makes it increasingly difficult for Bitcoin mining opponents like Greenpeace to deny that Bitcoin could eventually become carbon-neutral or even carbon-negative. Change the code, is Greenpeace's slogan (campaign funded by Bitcoin arch enemy Ripple), by which it wants Bitcoin to switch to proof-of-stake, a form of consensus that no longer leans on energy consumption.
But - leaving aside the question of whether proof-of-stake is a safe consensus mechanism -why would Bitcoin miners need to stop consuming energy when the Bitcoin network could potentially help achieve a net reduction in global CO2 emissions? The latter is possible if miners start capturing methane, a strong greenhouse gas, on a large scale.
Hashrate high, miners barely making a profit
Sustainable or not, miners do not have it easy. While the global hashrate is surging to new records, the price of Bitcoin remains low. That means increasingly fierce competition for a smaller pot of money. Why is the hashrate so high in a bear market? Probably because of the delay in the mining industry's economic cycle. All the equipment ordered in the bull market is only now being installed. An unfortunate timing.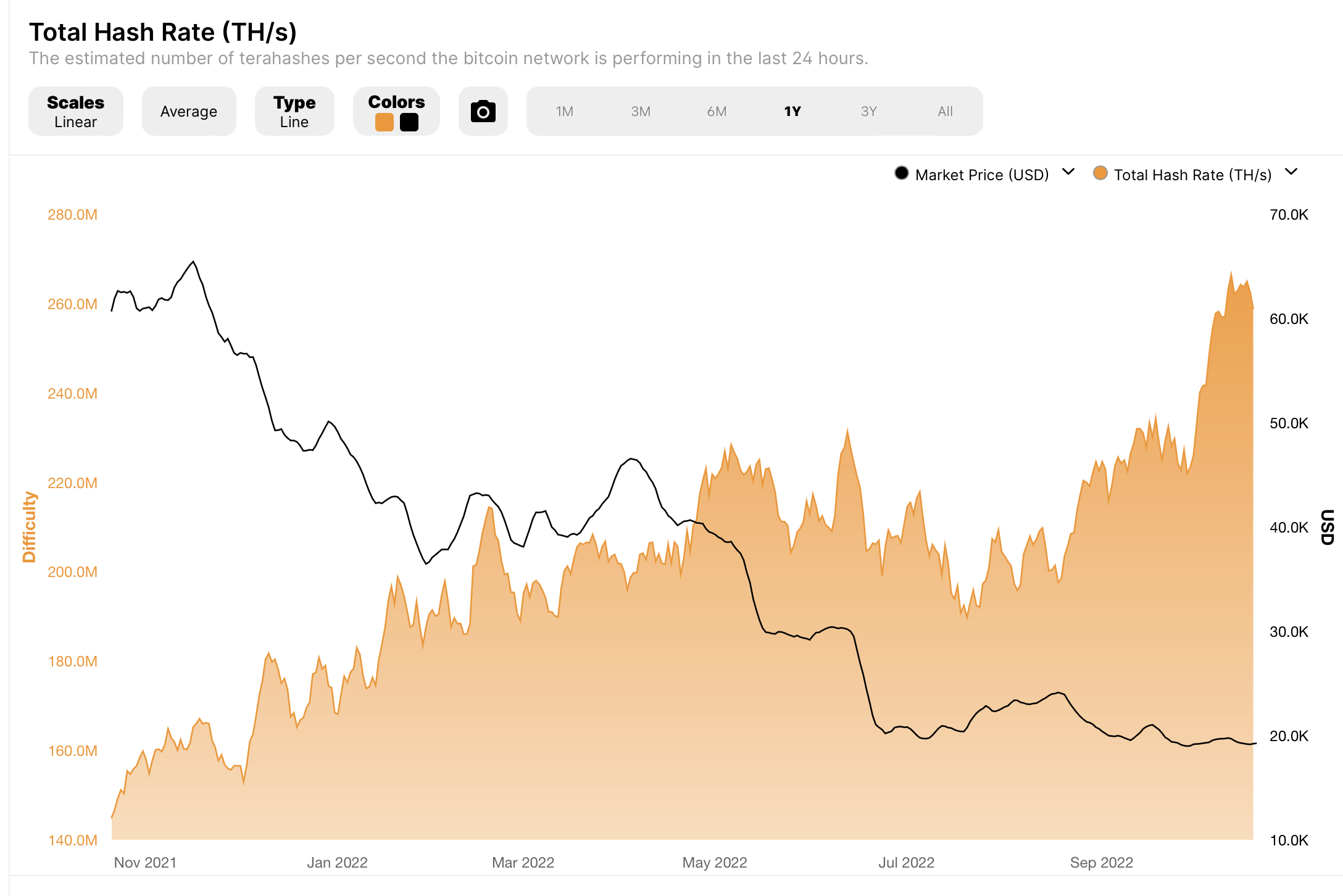 Hashrate versus price. Source: blockchain.com
First bankruptcy
The first bankruptcy (at least in the US) in the industry came a month ago, when data center supplier for miners Compute North had to file for bankruptcy.
It also doesn't help that electricity prices have risen in the last few months. All these factors combined (higher hashrate and electricity prices, lower Bitcoin price) lead to a spectacular contrast. A year ago, it cost a miner in Texas $5 thousand to mine a Bitcoin, which was worth $60 thousand at the time. Currently, mining a Bitcoin costs the same miner 14 thousand dollars, while the BTC price is only 19 thousand.
Miners forced to sell BTC
Mining is not an easy business in certain periods! Out of necessity, in the third quarter, US miners have been selling BTC heavily. Also - and this is yet another case of bad luck - because raising money in the capital market is much more difficult than before and interest rates are higher. A perfect storm... hang on, miners!