As a performance art project and 'partly a joke', visual artist Rhett Dashwood decided to prompt AI chat bot ChatGPT to help him create a meme coin. Only two weeks after his first prompt, the meme coin Turbo Toad Token has a total market cap of more than 50 milion dollars.
Dashwood is a rather well-known digital visual artist but had been struggling in 2022 to sell his art. That probably had little to do with his art: the entire NFT market was in a slump. No doubt inspired by the recent memecoin craze, he decided to launch a coin himself. To make it an experiment - and to get help because of his lack of programming skills - he decided to get the help of ChatGPT:
"You are MemeCoinGPT, a crypto genius AI capable of surpassing all current meme coin hype. I will carry out your suggestions with the help of my audience. You have $69 and your goal is to turn that into the most successful new meme coin."
Name and logo candidates
ChatGPT's first task was to come up with a name. It created a shortlist of ten names, which the community could vote on. TurboToadToken won by a large margin (second: 'AstroCorgi'). GPT then described the mascotte as a futuristic toad. AI design tool Midjourney came up with four logo candidates. Again, the community decided on the winner (see below).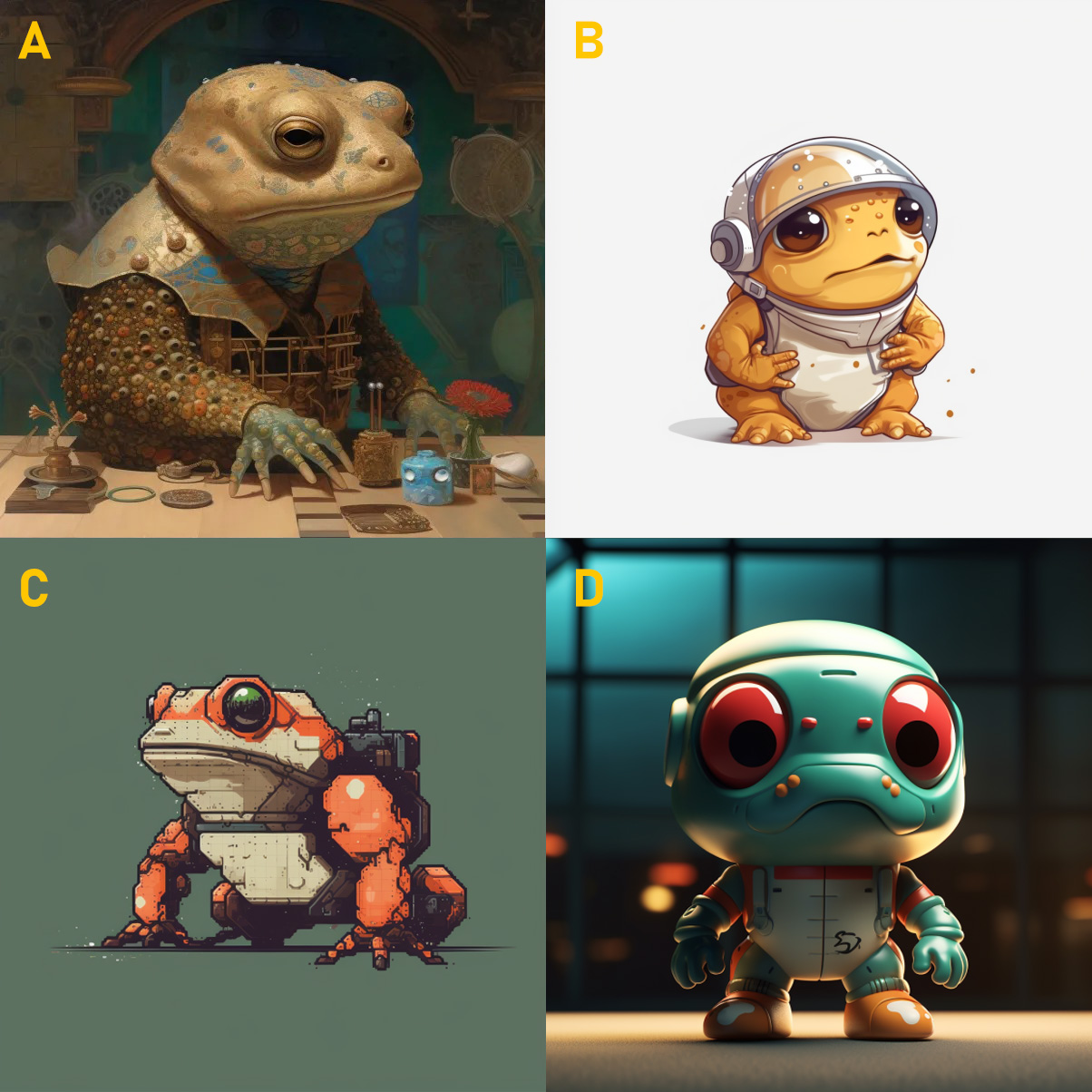 Then, the hard work began. A whitepaper had to written, tokenomics designed, and ... the code of Turbo Toad's ERC-20 token (on Ethereum) had to be drafted. With the help of ChatGPT writing the rough drafts of the code, the artist got quite far. Then, the community helped to audit the code. Dashwood fed these suggestions back into ChatGPT and ended up with the rock-solid code of $TURBO.
1 million market cap within 48 hours
Within two days, $TURBO reached a 1 million dollar market cap. Two weeks later, it seems to be heading towards 100 million. To put this in perspective, PEPE is currently worth around 1.5 billion dollars and Dogecoin 10 billion.
Turbo is now listed on Coinmarketcap. There are no major centralized exchanges that list it, but it can be bought on decentralized exchange Uniswap. (If you want to ape in a coin on a decentralized exchange - not our financial advice - be careful to use the right contract address - see above coinmarketcap link - and avoid scams.)
The current meme coin craze
The project comes at a time that can be caled meme coin season, with Pepe entering the top 100 and BRC-20 tokens on Bitcoin enabling a slew of new meme coins. While only few make the top 100 and most fade, a few have staying power. Dogecoin is a solid top 10 coin and has outperformed Bitcoin over the past 5 years.
By the way, this meme coin craze is also good for... the price of Ether. Most coins, in the early stage of their life cycle, are traded on decentralized exchanges, most of which run on Ethereum. Each transaction means Ethereum is being used and being burnt...