Crypto markets are plummeting against the backdrop of what seems to be a feud between the CEO's of two giant crypto exchanges: Binance and FTX. We list the rather worrying developments and discuss the possible implications of this new war within crypto.
It all started with Coindesk's report on November 2, suggesting that Alameda had a bad balance sheet. Alameda is the crypto trading firm that has close and opaque ties with crypto exchange FTX. And that is precisely the (alleged) problem: Alameda owns a lot of FTT, a coin launched by sister company FTX.
Bank run on FTX
An Alameda spokesperson was quick to dismiss the information, claiming that the leaked data underestimated the asset side of the balance sheet. Sam Bankman-Fried, CEO of FTX, tried to minimize the damage, claiming:
'FTX is fine. Assets are fine'.
But of course, rumors are never good, no matter how casually or hard you try to dispel them. The price of FTX' own token FTT started slipping. A bank run on FTX started unfolding. This means that FTX has two problems on its hands: deploying capital to defend the FTT price and providing funds that allow their clients to withdraw in this bank run.
Dangerous token flywheel
What makes this situation so dangerous to Alameda/FTX, is that a sliding FTT price further weakens its balance sheet. Alameda has a lot of FTT on its balance. If the price drops too far, Alameda might get insolvent. It all worked so well in the bull market: launching a token, witnessing (or manipulating) the price go up, lending against these tokens...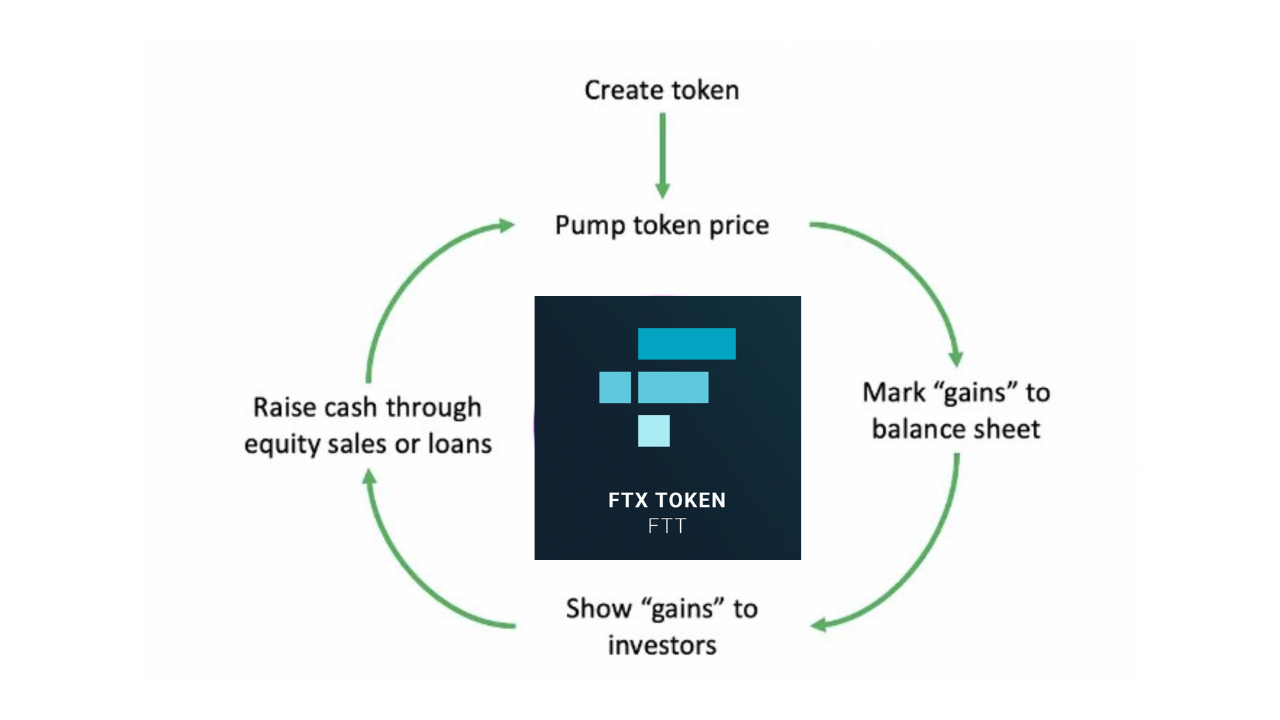 Bad blood
Who leaked these balance sheet data that caused the market panic? Leaking financial data of hedge funds is a big no-no in traditional financial markets. A likely candidate is rival exchange Binance. This became especially likely when Binance's CEO, nicknamed 'CZ', stated on Twitter that they would sell their 500 million dollar worth stash of FTX, 'due to recent revelations that came to light'. Binance had been an early investor in FTX. Had its little sibling exchange maybe grown a bit too fast to CZ's liking? This is speculation, of course.

CZ and SBF in better times (source: Twitter)
The world of crypto exchanges maybe a growing industry, but not during this bear market. Also, it's generally believed that there is only place for a few large ones in the United States. Increasing regulatory demands make starting up a new exchange a 100 million expense. That's why becoming and staying part of that select group, is a cut-throat business.
So, was this simply a calculated move to weaken a rival? Possibly. But there appears to be more. It is rumored that FTX was behind the news that Binance facilitated crypto trading in sanctioned Iran. The two CEO's have a longer history of personal grapples. Meanwhile, CZ denies he is in a fight and claims he posted about selling FTT for transparency reasons. There may be truth to that: the community had already spotted large on-chain activity for FTT in Binance accounts - so there was no real hiding. CZ: 'Sorry to disappoint, but I spend my energy building, not fighting.'
Conclusion
The story may be juicy but, depending how it plays out, the effects could be nasty. For market participants, it's impossible to know what is exactly going on in the background. What are Alameda's liabilities? What exposure to Alameda does exchange FTX have? That alone make prices drop. Should huge market players Alameda and/or FTX go under, it will be comparable or worse to what happened to the market crash when Celsius and 3AC went under in June 2022. It will be a new blow the crypto industry, attracting even more scrutiny or even repression from regulators.