We have a big week for markets ahead. On Wednesday, the Fed will announce their interest rate decision for February. Also this week: the major tech companies will announce their earnings, and on Friday, US job reports will be released. All these events will be valuable input for the stock and crypto markets to reassess price levels.
Hawks and doves
What will the Federal Reserve announce coming Wednesday? Will the doves or the hawks prevail? To be more specific, will the new interest rates be increased by 0.25% or 0.50%? The markets expect 0.25%, which means that a 0.50% hike would send markets down. The latter is considered the (far) less like scenario though.
According to 'Fed watcher' Danielle DiMartino Booth, the voters on the Fed committee are divided - but chairman Jay Powell is the boss and considered a hawk: he seems to want to 'tighten' financial conditions as much as possible: gone are the times of easy money, at least for short term future! Powell keeps hinting that he will punish risk taking by the markets until inflation is down.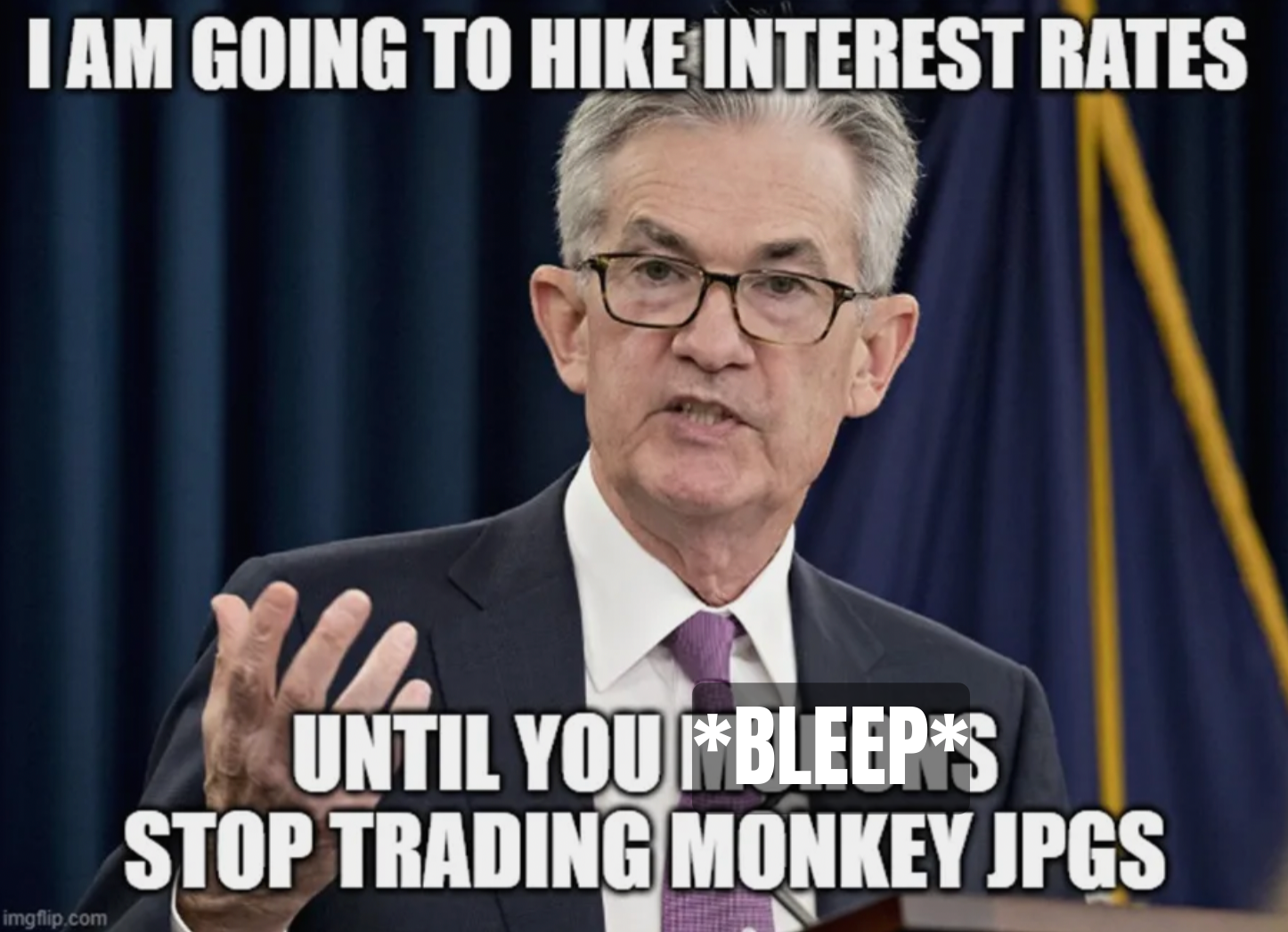 Source meme: Andreas Steno-Larsen
A complicated puzzle
It's not an easy puzzle that the Fed members have to lay. Their dual mandate is to get inflation down to 2% and keep Americans employed. As long as employment numbers are ok, they will feel no need to bring interest rates down. Still, high interest rates will make companies less profitable as it becomes more expensive to loan money and invest. And that will be bad for the economy and employment.
Also keep in mind that interest rates of around 5% mean that the interest payments alone of the US government will surpass 1 trillion dollars. This is another big reason why the markets have priced in that the Fed might be bluffing when it hints at sustained higher interest rates: the burden will be too high to carry for the current debt-ridden economy, even for the government. But we'll see. In the end, it's the Fed's the decision to suck on their straw and extract dollars from the system or not.
Why is this tightrope of an interest rate decision relevant to us? Remember that stock and crypto assets don't like high interest rates: after all, if people can earn 5% a year on American Treasuries, this will draw some money away from the stock and crypto market.
Conclusion
After expected rate hikes of 0.25% in the coming months, the financial markets expect the Fed to start pausing interest rate increases later this year. This has already been reflected in higher stock and crypto prices of recent weeks. But we won't be surprised to see some turmoil in the markets around the Fed meeting. We have seen on many prior occasions that the Fed chairman doesn't like to see stocks and crypto moon before inflation is down - so expect some tough language to warn the markets.
If you're feeling all shaken by these kinds of uncertainty in the markets, maybe take a step back. Only short to medium term traders should really bother about these events. Whereas if you have a multi-year time frame for your (crypto) investments, the main thing to look at is adoption: do people actually use these coins? Does crypto get widespread adoption? Then prices will probably go up sooner or later, even though they can get temporarily caught up in macro-economic storms.