The old hands among Bitcoin owners, the long-term holders, are beginning to sell cautiously. This is according to data from Glassnode. This may sound worrisome but in previous times there was no need to fret. From Glassnode data, one can see a rapid decline in the Bitcoin holdings of old-timers was usually the beginning of a period of Bitcoin price appreciation.
The last time the so-called long-term holder net position change flipped negative was in November 2020 (see the left circle in the first chart). This marked the beginning of months of price appreciation. Does green change to red on the charts? This means that the total amount of bitcoin held by long-term holders is decreasing.
Old hand, by the way, is a relative term: Glassnode uses the 155-day limit: if a bitcoin (or a fraction of it) has not changed addresses for 155 days or more, it is considered to be in the possession of a long-term holder. About two-thirds of all issued bitcoin is held by long-term holders: roughly 12.5 million (which incidentally includes coins that have been lost and no one can access anymore). In the left y-axis of the graphs, we can see that number fluctuates by about 500 thousand Bitcoin.
We see this pattern if we go back years in time (second chart). In most cases, a rapid drop in the number of coins held by hodlers meant an increase in the price in the period thereafter.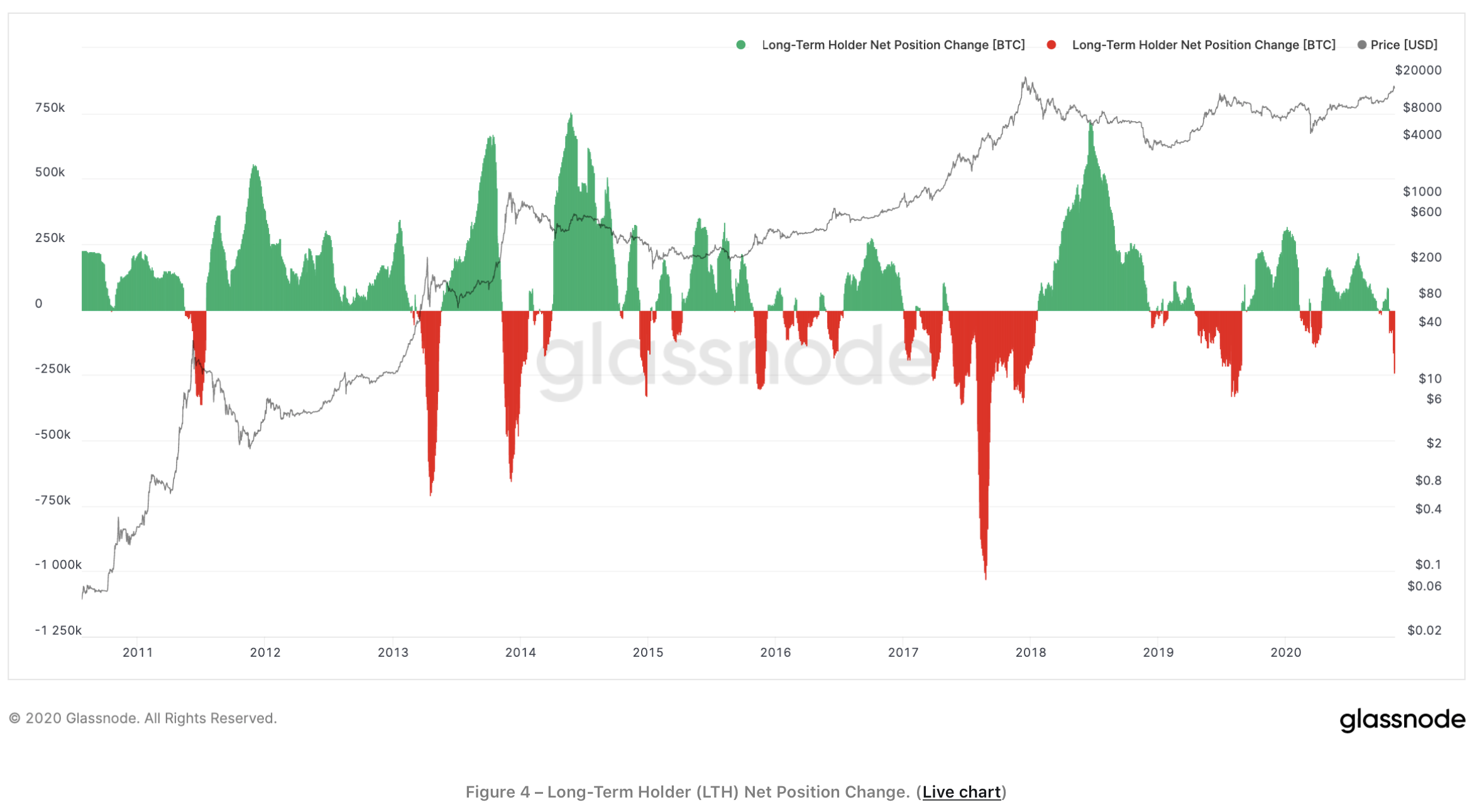 Isn't this strange? Shouldn't it be the other way around, that the price starts to fall when the more experienced Bitcoiners start selling? Not really. Because the experienced players, more than the newbies, are used to buying the dips and selling when the market is healthy: they 'sell into strength'.
What will the price do?
The LTH (long-term holder) net position change is only one of many indicators and is of course by no means 100% reliable. But it tells us something about the market sentiment and what we can roughly expect for the months ahead. Judging by the graph, the old-timers don't seem to mind the dip.