Do you like cats? If the answer is yes and you always had planned to pet a feline fellow your moment has come. The best part is that it involves Bitcoin and the Lightning Network. What are the Lightning Cats all about and how can you pet them?
Feed Juri and Kala
Juri and Kala are two cats living in Zurich, Switzerland and visitors of their website can donate via the Lighting Network to give both cats a treat. To prevent both of them from getting fat by overly enthusiastic Bitcoiners donating, there is a timer implemented that limits the number of food donations to the animals.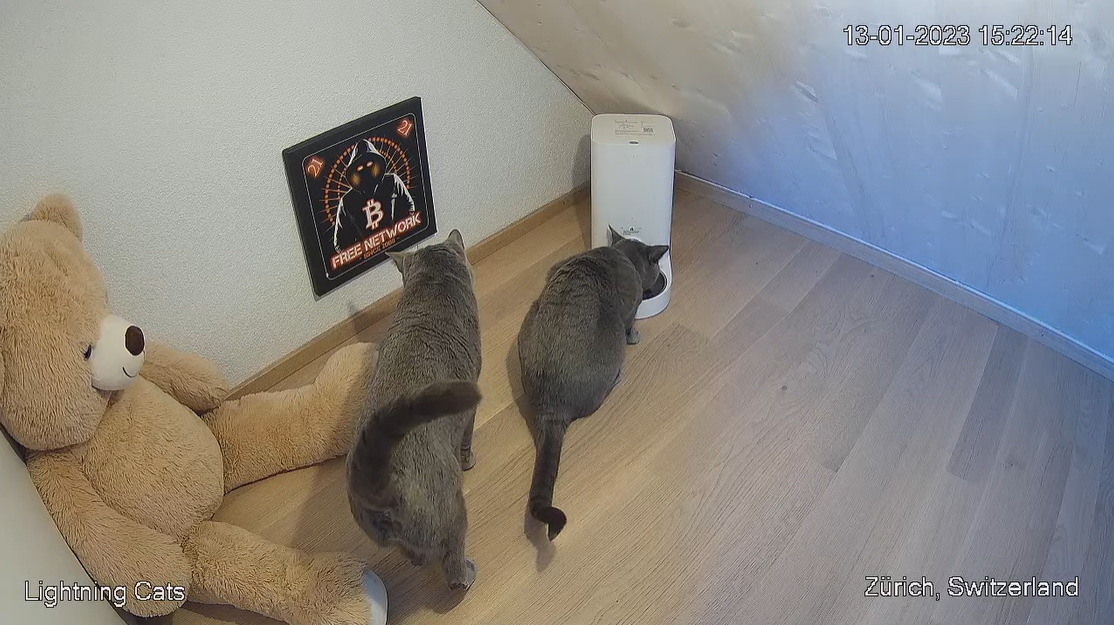 Image source: Lightning Cats via YouTube
The Lightning Network allows almost instant transactions and is the biggest hope for Bitcoin to become a monetary network that can scale to billions of users. While critics claim that the adoption is still relatively small, the Bitcoin community keeps on building on top of Lightning. Lightning Cats is based on LNbits, a software that offers a free account system with its own extensions framework.
How to feed the cats?
To feed the cats and lure them in front of the camera, you'll need to buy some Bitcoin, which is directly available on LiteBit. Once the BTC has appeared on your wallet, preferably a wallet that already supports Lightning, you can donate on the website once the timer is reset. Please note that setting up a non-custodial Lightning Wallet requires a few extra steps.
Donating to the Lightning Cats is possible without feeding them to support their mission. The project showcases how the Lightning Network works and what type of benefits it offers over on-chain transactions. Should the masses pick up on the idea of receiving and sending Bitcoin rather than accepting cash in their everyday lives, Lightning would provide the technology that is needed. This is not only about Bitcoin donations. One could as easily pay for a snack or grocery shopping by using a Bitcoin Lightning Wallet.
It remains to be seen if merchants are keen to adopt Bitcoin and use Lightning. Most experts believe that countries with a weak or no payment infrastructure are most likely to choose that path. In this context, El Salvador's Bitcoin adoption is the most important field test. The country adopted Bitcoin as a currency in 2021 and plans even to build a whole city integrating Bitcoin's technology.