Ethereum's Shanghai upgrade, expected next month, will finally allow people to withdraw staked ETH. Ethereum developers have been working around the clock to complete the upgrade. In anticipation, liquid staking solutions like Lido are doing well. Let's find out why.
It has felt a bit strange to investors that neither the interest nor the principal of their staked ETH could be withdrawn for years. Even though such a financial product isn't unheard of in the traditional financial system (think locked savings accounts), many expect that the market will breathe a sigh of relief when they can finally withdraw their staked ETH.
Will the ETH price dump because of the sell pressure? It's possible but not highly likely. While everyone is allowed to 'skim' their staking yields, full withdrawals of the principal deposited ETH are not allowed all at once. So, there won't be sudden massive sell pressure.
In the long term, many analysts are bullish on Ethereum. The reason is that traditional investment funds generally invest in financial products that generate yield, which is what Ethereum will offer post-Shanghai. Ethereum is the most used and most trusted proof-of-stake coin. This will make staked ETH to the other coins like what American Treasuries are to the international bond market: the benchmark, most reliable yield product.
Liquid staking
What is even more important to traditional investors is the fact that Ether is no longer locked while staking. And this is where liquid staking pools like Lido come into play. Already, they offer investors a token in exchange for depositing their Ether in the staking pool. This stEth represents 1 ETH and can be traded. This means that Ethereum staking in this sense is already liquid - provided that you trust the pools to handle their users' Ether in the proper way.
The expectation is that liquid staking tokens will become even more closely tied to Ether's price post Shanghai. The reason is that the time gap will disappear: everyone can exchange their staked ETH tokens for real ETH. But why would there even still be a demand for liquid staking at a time when users can also withdraw their Eth? Well, liquid staking protocols are in the unique position that they can give provide withdrawals much quicker than the Ethereum protocol processes validator withdrawals. Lido estimates withdrawal processing in a window of 28 to 48 hours - unlike the Ethereum protocol which could take several weeks.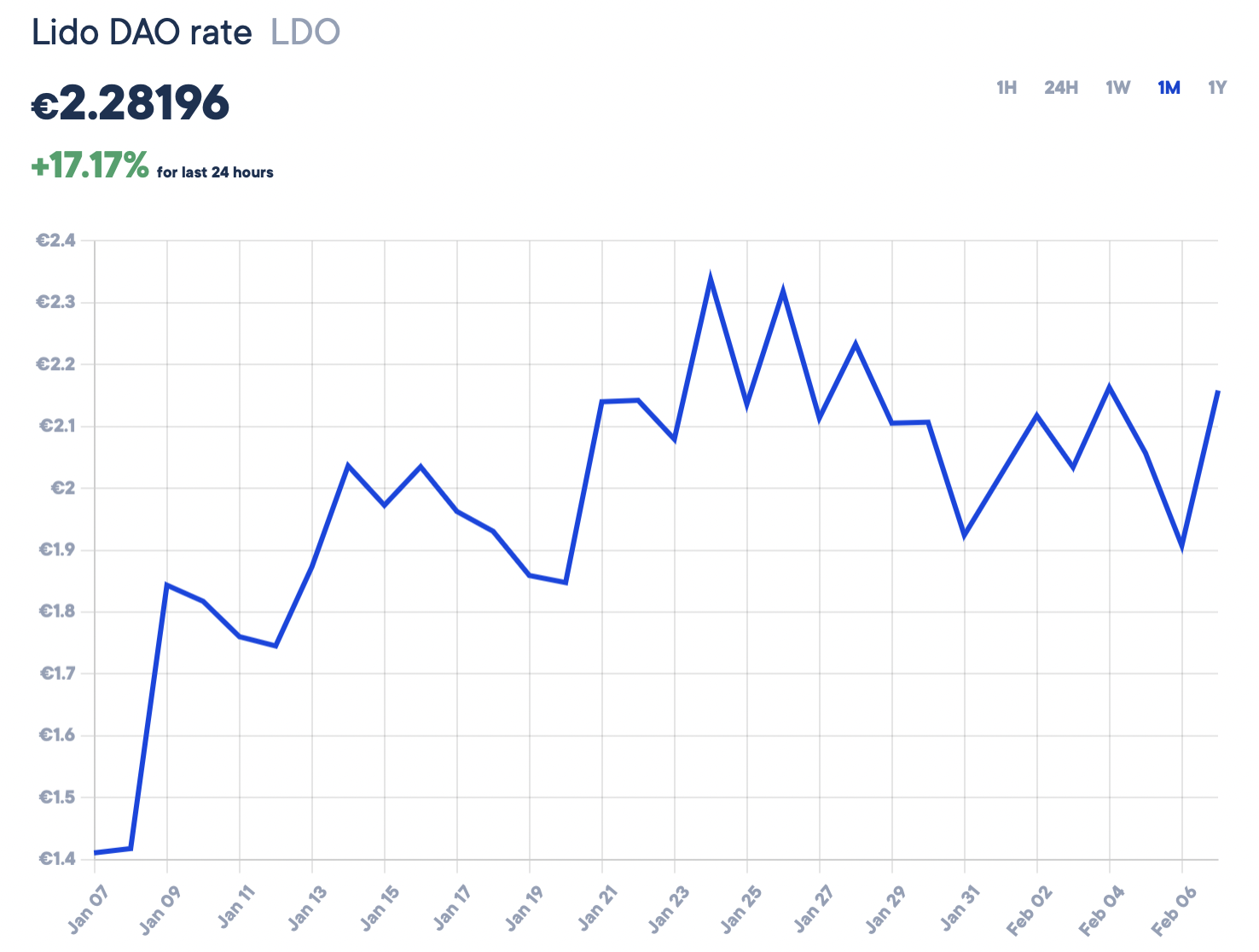 LDO up
To sum up, even after staked Ethereum can be withdrawn, liquid staking still offers benefits. The market for liquid staking reflects this: it has grown 5% since the start of 2023. This explains why Lido DAO (LDO) is up so much. In December of last year, it was still under 1 euro. Just like its competitors like for example Rocket Pool, it benefits from the hype of the upcoming Shanghai upgrade. It is of course worth asking yourself if this will become a 'buy the rumor, sell the news event'. After the launch of Shanghai, there won't be hype, and the price of LDO might (temporarily) suffer.