Source: Business AM 03 February 2021 by Sofie Van Waeyenberghe
Did you find this Bitcoin rally impressive? Then something is waiting for you. According to trend watcher Tom Palmaerts and LiteBit CEO Olivier Van Duijn, the future of Bitcoin is turning millennial pink. "We have not yet seen what crypto can do."
What does the future of Bitcoin and blockchain look like? According to futurist and trend watcher Tom Palmaerts, we are only at the beginning of the crypto revolution. In a whitepaper about crypto coins, he predicts strong growth for the largest crypto coin.
Palmaerts has good reason to believe that crypto will move forward. LiteBit, the crypto broker for whom he compiled the whitepaper vision for the future, saw the number of customers in Belgium grow by 62 percent in the past year. And not all of them are success supporters. According to Palmaerts, in conversation with LiteBit CEO Olivier Van Duijn, the crypto market has only now broken open.
A million dollars per Bitcoin
But a million dollars each, is that really realistic? "Based on the past years, some predictions can be made for the future," says Palmaerts. "We see cycles of approximately 4 years in which the cryptocurrencies evolve. This is mainly due to the halving of the most popular cryptocurrency Bitcoin, whereby the rewards for miners who approve the transactions are halved. The year following this halving is usually a peak year for crypto investors. We saw this in 2017 (after the halving of 2016) and we also saw this after the halving of 2020. After all, this keeps the scarcity of BTC increasing."
Bitcoin is sometimes called the new gold. There is a finite amount, the government hardly interferes with it and it counts as an investment, not as a means of payment. By the way, there is a comparison with the gold standard that would also justify the price of 1 million dollars.
"According to the Stock-to-flow model of crypto analyst PlanB, that is feasible, if not everything," says Palmaerts. "That model compares the curve of the gold price with the series of existing curve of the Bitcoin price. PlanB noticed that they matched. According to that analysis, Bitcoin does indeed hit $1 million."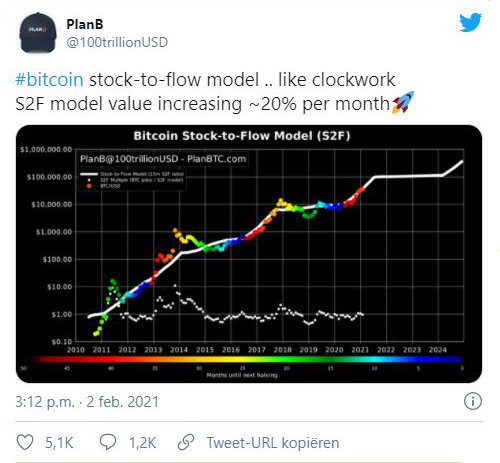 But of course the comparison is not 1-on-1, Palmaerts explains. "Gold is still being mined, there are still plenty of stocks. You know in advance that there is a limited amount of Bitcoin. That increases the scarcity."
Bitcoin, the new gold. Or almost ...
And that it is not exactly gold, that also attracts other investors, more than the rather philosophical miners who first stood behind Satoshi Nakamoto's whitepaper. "Bitcoin will become big by Generation Z," says Palmaerts.
Crypto is coming of age. That is obvious. They are also seeing a shift at LiteBit. About five ago, these were mainly customers from one younger target group, but now we see a shift in portfolio, with more and more experienced entrepreneurs signing up. They are 30 to 45 years old, rational and well-informed," says Van Duijn. "They already make up 26 percent of our customer base today, where the group under 30 is 34 percent today. The latter are less experienced investors who just want to make money with it."
The big investors have arrived
Major investors are also gradually becoming involved. JP Morgan Chase has its own crypto. An intermediary such as Grayscale now also offers options and derivatives for investors who want familiar concepts in a new world. And oh, right. You can now also pay with Bitcoin on Paypal. But that's Bitcoin. Because then with those other coins?
"We also see a completely different profile there," says Palmaerts. "On the one hand you have to invest in Bitcoin. But you can also delve into the entire crypto world. Then you end up with smart contracts, which can simplify so much administratively. Or Decentralized Finance, which will allow banks to reinvent themselves."
Apps, not coins
That's where those other coins come in. Because most crypto applications run on the blockchain of Ethereum, the world's second largest cryptocurrency. The value of Ethereum is therefore not in the currency as a means of payment, but in the blockchain as a value, and the applications that run on it. "Then maybe you just invest in what interests you," says Palmaerts. "Such as food, or technology."
"Ultimately, we do not know at all at this point which coins will be valuable and which ultimately not," Van Duijn agrees. "It is all very early for that. You can't predict that either. There are pearls among them, fantastic examples that have a link with the real world too. And then there are others. But I dare not predict that."
Rules, rules, rules
Much depends on how crypto will be regulated. "We are already in favor of more regulation," says Van Duijn. "That will separate the wheat from the chaff and boost the reputation of crypto a bit, because it wasn't nearly as good. But thanks to brokers like LiteBit that has improved. Our motto is: make it safe." He means it too. Van Duijn earned his stripes at, for example, Marktplaats.nl. That set the tone for e-commerce in the Netherlands.
"Whether it's a platform for bicycles or crypto, you have to make it safe and attractive to people. They need to be able to find you, they need to know that there is a help desk to assist them," he explains. "That is now also penetrating the market. We hope to have European overarching legislation within two years."
"But people now know," Van Duijn added. "That it can be done safely."
"Crypto investors, the new rich"
More regulation is also a good thing, according to Palmaerts. "That seems to go against the anarchist reasoning behind crypto, but those first investors are now finding their way to other places anyway. We are now seeing a new economy thriving. We now just have to be careful not to incentivize on the one hand and to control on the other.
Getting that on the right track is not going to be easy, but according to Palmaerts it is clear that crypto is only at the beginning of the path. "Five years from now, crypto investors will be the new rich."