During a debate at the IMF Spring Meeting, Managing Director of the IMF Kristalina Giorgieva made notable statements about irresponsible monetary policy by governments: 'We were like eight-year-olds chasing the ball.'
She made the statements during a panel that included President of the European Central Bank Christine Lagarde and head of the Federal Reserve Jerome Powell. The gist of Giorgieva's argument was that the current inflation is not only due to external events like the war in Ukraine. Governments and financial institutions are also to blame. Nothing new to people who follow the news, but a surprising plea of guilt by an institution like the IMF.
Giorgieva, who as a Bulgarian experienced hyperinflation in that country in the late 1990s, begins by raising the problem of skyrocketing government debt: "the largest increase since World War II." She continues with the pressing problem that many emerging economies face, namely high debt, rising interest rates and capital flight. They are in danger of going bankrupt. The global bond market is under great pressure.
Eight-year-olds chasing the ball
Giorgieva: "Not all problems are exogenous. Some are the result of poor judgment, bad governance, corruption. When Christine was the managing director here in the good days of 2018/2019, she would say, 'When the sun is shining, fix the roof.' We are discovering now that many countries did not fix their roofs. Now it's pouring."
She concludes, "We make decisions and are not paying enough attention to the law of unintended consequences. Then we wrestle the impact of it. Take the decision to support the economy [during Covid]. [...] We act sometimes like eight-year-olds playing soccer. We all chase the ball and don't cover the rest of the field."
Financial journalists have been shouting this for years and for Bitcoiners, Money printer go brrr is a familiar meme. The U.S. Central Bank's balance sheet has increased by $4,000 billion since March 2020. With the issuance of new money, the Central Bank financed new government debt on an unprecedented scale.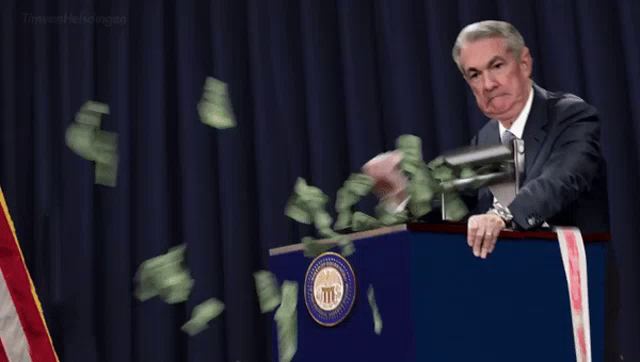 The Jerome Powell meme: printer go brrr
So the increasing disruption of the traditional financial system is now also admitted by insiders. Crypto fans had already drawn that conclusion and parked their money in Bitcoin, a financial system in which the issuance of new money cannot be influenced by any policymaker.