With a solid 3% gains for Bitcoin over the past week, the king of crypto has finally risen above a multi week trading range. Ethereum had an even more solid week, putting a 9% gain on the board. What is happening? And can we speculate that the bottom is in?
Right around the time when many crypto onlookers were joking that the CEO of stablecoin Bitcoin did an excellent job keeping the peg at 16.800 thousand dollars, the price jumped. For the better part of three weeks, BTC had been trading between 16.400 and 16.900. On Sunday morning, it jumped to 17.200 dollars. Should BTC manage to close today above 17.225, this would mean the highest daily close since December 15th.
Why is Bitcoin moving? Possibly, traders are betting on a relief rally for both crypto and stocks. Such a rally could happen if the inflation data that will be published on January 12th will turn out lower than expected. Lower inflation rates would make it more likely that the American Central Bank will ease its high interest rates targets. Lower rates are better for risk assets such as crypto.
Some big gainers
As mentioned, Ethereum outperformed Bitcoin the past week. But of course, some more risky altcoins took center stage. Most notably Lido, a liquid staking solution for Ethereum.
Here are two coins with remarkable gains over the past week:
Lido (LDO) +74%: has since last week more total value locked than MakerDAO, Aave and Curve. Benefits from Ethereum's successful merge.
Solana (SOL): +62%: relief bounce after the catastrophic plunge all the way below 10 dollars? Many were shouting 'Solana is dead!' and such max bearish episodes are often good buying opportunities.
Bottom
in
, or not so soon?
A staggering 12 percent of all traded Bitcoin has traded in the price band around 16.500 dollars. As can be seen in the graph made by trader Rational Root, this is much more than the volume of comparable price bands. Interestingly, the bottom of the previous bear market could also be spotted from such a high-volume peak.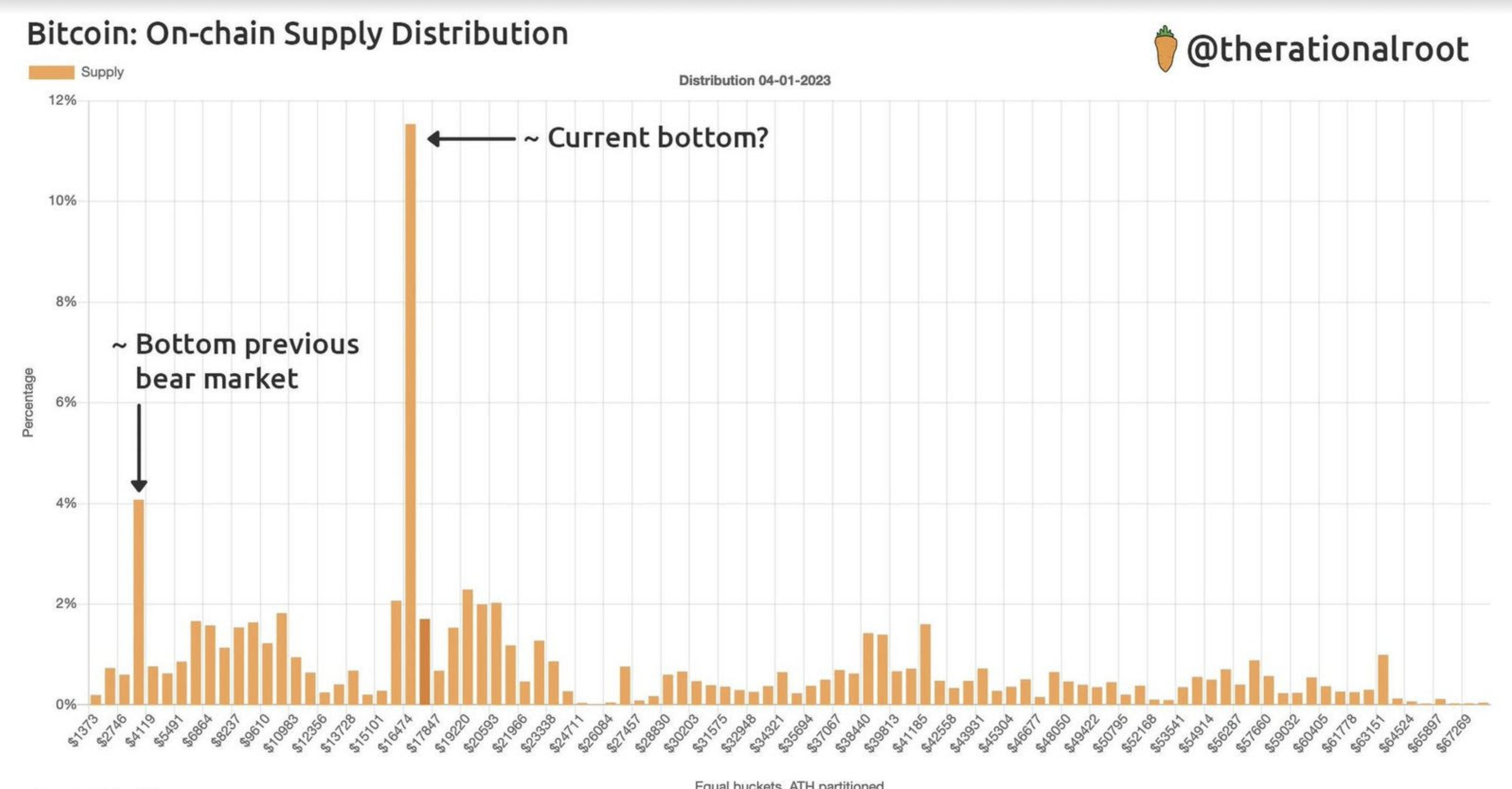 Will it be the same this time? In other words, is the bottom in, cemented by a solid 'buy wall' around 16.500? That's too soon to tell, unfortunately. Firstly, there's still a lot of insecurity around inflation and the state of the economy in 2023. Not to mention the risks that still linger in the crypto space itself, such as the Grayscale/DCG situation. One or more crypto companies could still go bankrupt and drag prices further down.
Let alone if the bottom is in or not, a bear market can last a while. A new narrative is necessary to kick of the next bull market. Narratives of the previous bull market centered around Bitcoin as an inflation hedge and DeFi to get yield that the traditional financial system couldn't provide. We'll see what new narratives will emerge.