On Google, you can now enter an Ethereum address in the search field and you will see the balance of ETH held at that address. It is one of the signs that Google is getting more and more into crypto.
Until now, Google has by no means been a frontrunner when it comes to crypto services. Co-founder Sergey Brin admitted as much back in 2018. But in early 2022, parent company Alphabet made a move with the announced integration of NFTs into YouTube. This could be an additional source of revenue for content creators. Incidentally, nothing has been heard of this plan since then.
When Ethereum moved from proof-of-work to proof-of-stake last September, it also became clear that there were Ethereum fanatics at Google: they built a dedicated countdown timer and doodle.
And so now there is the integration of Ethereum addresses into the Google search field. How does this work? Google gets the data from Etherscan. So if you want to know the balance of an Ethereum address, you no longer need to go to Etherscan: it is visible in the Google search result. Still, you can retrieve much more data on Etherscan than in Google, for example the transaction history of an address and the applications with which it has interacted.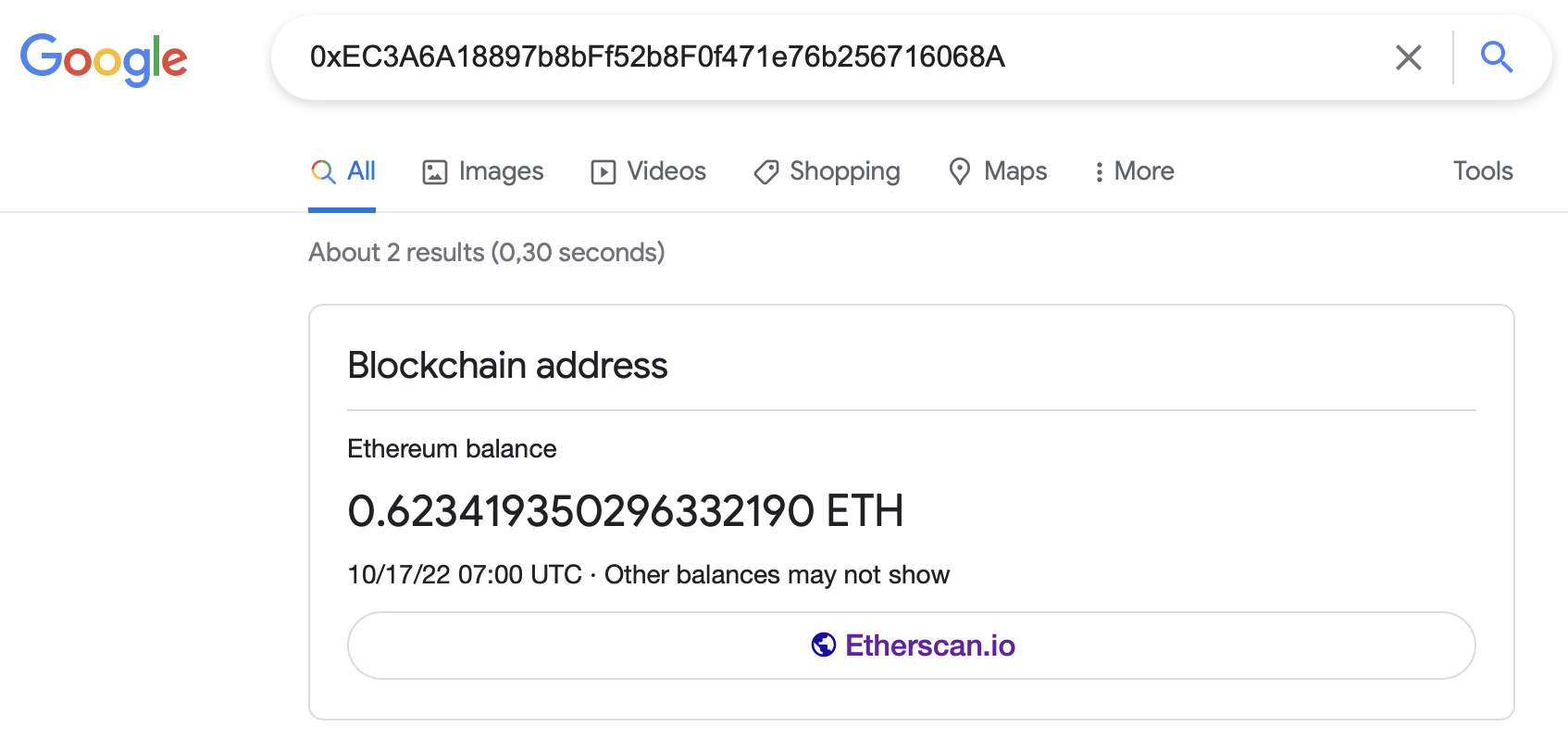 Incidentally, it seems that the search function does not work for every address. Possibly there is a delay in the transfer of data from Etherscan to Google.
Accepting crypto for cloud services
There are more developments indicating that Google is moving towards web3. For example, Google announced a few days ago that it will launch a pilot to let users of cloud services pay with crypto if they wish. These cloud services account for 10% of the tech giant's revenue. Google will start in 2023 to enable crypto payments for a small group of cloud customers.
To enable these crypto payments, Google is partnering with Coinbase, more specifically Coinbase Commerce. That is a business blockchain service that enables crypto transactions between customers and service providers. For example, through integrations with online payment software WooCommerce and Shopify. The coins Coinbase Commerce accepts are Bitcoin, Bitcoin Cash, DAI, Dogecoin, Ethereum, Litecoin, USDC, USDT, ApeCoin and Shiba Inu.
Nodes in Google's cloud
The reason that cloud services in particular are getting the scoop on paying in crypto is probably because blockchain companies are buyers of cloud services. Blockchain technology eats up bandwidth and gigabytes. Google makes it possible to run nodes in their cloud. This will not please the purists among crypto developers, by the way. Those don't want to make the operation of their chain dependent on a company.