El Salvador is the first country that has become publicly known for buying Bitcoin as an investment. Recently, a German member of parliament made an official request asking questions about the German government involvement with cryptocurrencies.
Is Germany a crypto whale, and why is the country holding Bitcoin among other cryptos?
Germany holds Bitcoin
The background for those questions was to find out if the German government was somehow involved in crypto donations to Ukraine. In this context, MP Jan Wenzel Schmidt asked several questions that revealed interesting answers.
According to the response, selected federal authorities hold more than 31.4 BTC. The first time that they acquired Bitcoin was in 2015 and the last time that they bought was in 2021. What is even more intriguing is that there is no information provided which authorities were involved. In this context, a long statement was given that the foreign intelligence service BND cannot and will not answer this question to protect its best interest.
Of course, we can only speculate why this statement has been made, but it seems only to be reasonable to believe that the German Secret Service is actively using crypto.
No crypto donations were made to Ukraine
Other crypto holdings were seized by federal authorities investigating cybercrime, and the German government even provided a comprehensive list. With a little more than 38 BTC, 14 ETH, 7 ETC and 269 XMR, and a few other cryptos in its pocket, Germany is far from retaining the status as a crypto whale. According to the statement, Germany is not using or holding any of the funds for investment purposes.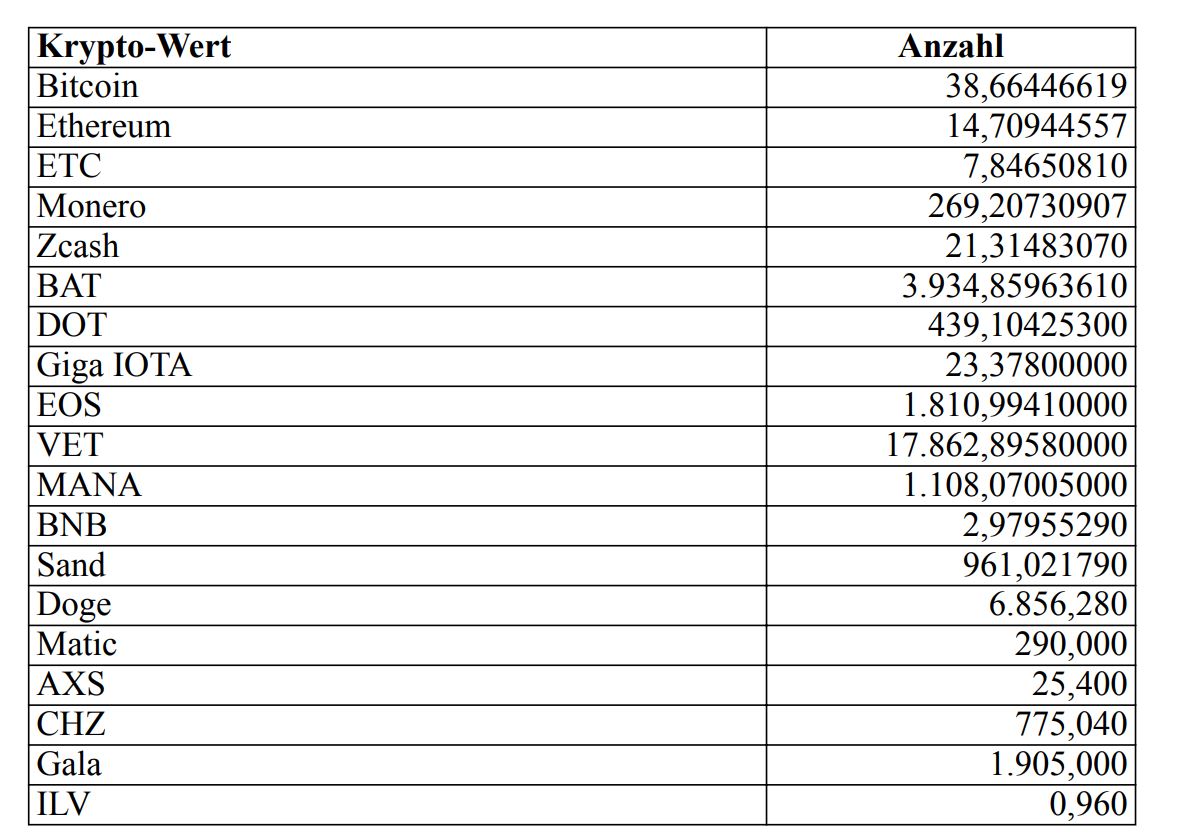 Source: German Federal Parliament
The government also denied any involvement in crypto donations to Ukraine nor to any other party or country for that matter. This comes to no surprise, as the German support to Ukraine's war effort is very different in nature. Germany is training Ukrainian troops in its facilities and has also delivered weapons systems like the "Panzerhaubitze 2000". More weapons will be delivered in the future, even though chancellor Scholz remains hesitant to deliver the "Leopard 2", Germany's marveled heavy tank.
It appears that both Germany and Ukraine have other matters to discuss. While the war between Russia and Ukraine was the first war that was directly funded with crypto, Germany was not involved transmitting money over the blockchain.