Last week a report from Coindesk raised concern in the crypto community. According to that report, Alameda research has billions of Dollars' worth of illiquid assets in its balance sheet and took out loans using them as collateral. This is very similar to what we have witnessed during the lending crisis involving Terra, Celsius, Voyager and BlockFi. The price for FTT started tanking yesterday when the CEO of Binance announced that his company would sell about 23 million FTT which was worth $585 million at that time.
Is FTX is broke, is this the next catastrophe, and how could this possibly play out for the crypto market?
The drama about Alameda and FTX
Alameda Research is a quant trading firm that is also heavily invested into several crypto projects, its companies as well as its tokens. In June, this year the company held $12.5 billion in assets. Most of them were tokens like FIDA, Solana, Serum, or Oxygen. However, the vast majority of funds was invested in FTT which is the exchange token that powers FTX and offers rebates for customers locking the tokens on the platform.
The report from Coindesk suggested that Alameda had $8 billion in liabilities from which $7.4 billion were loans borrowed against those assets.
While this is not a problem, the market for these tokens is not as liquid as it seems. Should the creditors demand their back at once, Alameda would have to sell all those assets against illiquid order books and could face bankruptcy. While some believed that this is only FUD other took those findings very seriously.
Binance is about to dump FTT
Things got out of control yesterday when about 23 million FTT were moved to Binance 24 hours prior. It was when Binance CEO Changpeng "CZ" Zhao made an announcement that these funds belong to Binance and that the exchange is aiming to liquidate them over the coming months. Binance was initially invested in FTX and acquired the tokens after exiting the partnership last year.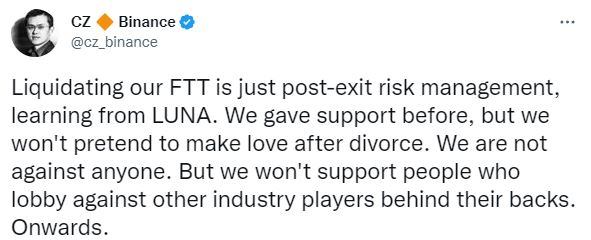 According to CZ, this is part of the risk management and a lesson that Binance learned from LUNA. This suggests that he takes the rumors of a possible insolvency seriously and fuels even more speculation that Alameda and FTX could prepare the next stage for a catastrophe.
It is important to keep in mind that both billionaires and their companies are competitors. Therefore, every public statement should be taken with a grain of salt. Unfortunately, this statement did a lot of damage to FTX, Alameda and the whole market. In effect, the price for FTT tanked from $25 down to $22 within 48 hours after the statements that were made last weekend.
Sam Bankman-Fried addresses the concerns
The first statement addressing the concern came from Caroline Ellison the CEO of Alameda. According to her, the company has over $10 billion of assets that weren't included in the leaked balance sheet that was used for the Coindesk report. Furthermore, the company hedged their long position even though we cannot tell what that means in terms of numbers. She also pointed out that the balance sheet is from June and that Alameda already paid back most of the loans due to the unfavorable market conditions.
It was only 8 hours ago, when Sam Bankman-Fried addressed the rumors personally via Twitter. He confirmed that FTX is experiencing a high load of out flowing funds and that spam protection is reducing the pace of withdrawals. He also pointed out that FTX is highly regulated and that some assumptions about Alameda and FTX are not true, pointing to the statement previously made by Ellison. Not only that, but he acknowledged that his companies are taking a blow but remained positive towards the future and promised that FTX and Alameda will keep on building this industry. It remains to be seen, if FTT and FTX will survive this clash between two billionaires who are fighting over a substantial amount of market share. FTX is one of the few remaining competitors big enough to stand up against Binance in the field of derivatives trading. With that being said, both are making business moves against each other.