What is better than a Bitcoin pump? A FLOKI pump after Elon Musk tweeted another meme! Why is FLOKI once again one of the hottest crypto assets and will SHIB and DOGE follow its example?
The new CEO of Twitter
It was Wednesday when Musk shared a picture of a dog sitting in an office chair signing his new job contract. Floki's new job is as the chief executive officer of Twitter. Musk's dog drove a lot of attention to FLOKI with over 1.2 million likes and more than 87,000 retweets.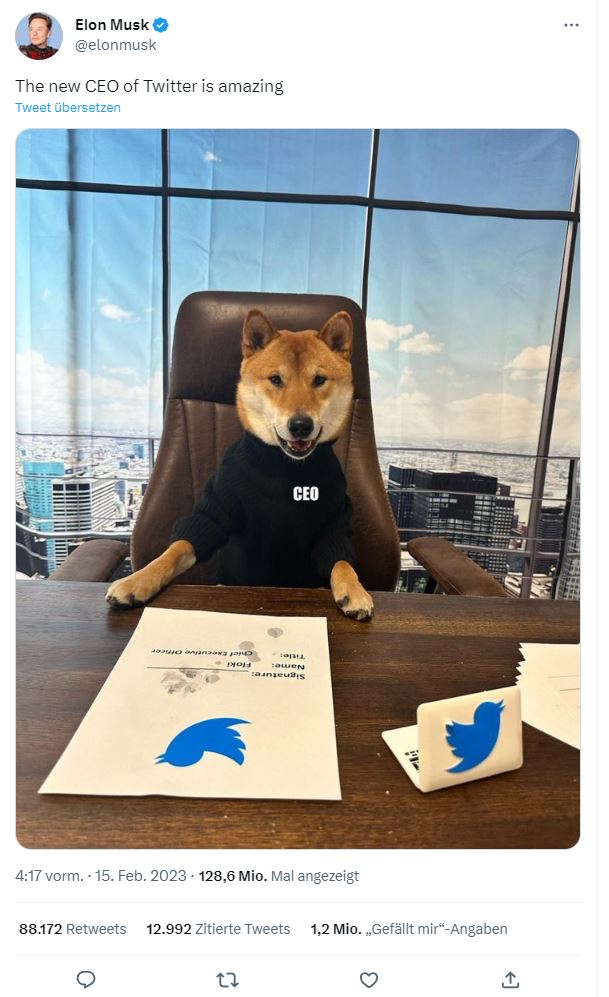 At the same time, the FLOKI team announced another exchange listing. Such a listing is usually a very important event that contributes to the success of a token. More exposure to traders means possible buying pressure and a rising market cap. In this case, FLOKI became available to 27 million traders worldwide.
The crucial point here is that Musk's tweet might be a coincidence and not the driving factor for the rally that followed. In any case, the FLOKI community is more than pumped. Within three days the price rose by almost 200% and at the time of writing the rally has cooled down a little bit.
SHIB and DOGE are still in a waiting position
While FLOKI had a ball this week, SHIB and Dogecoin are still hovering in a waiting position. No tweet was good enough to lift both meme coins to a higher price level and initiate a long-lasting rally. Rumors are still running wild that the Shibarium beta release is right around the next corner. On the other hand, this isn't exactly news as the Shibarium launch is being teased for quite some time.
Dogecoin jumped up about 7% when Musk shared the meme, but no rally followed the initial price movement. Instead, Dogecoin saw a correction immediately on Thursday. It remains to be seen if DOGE as well as other altcoins are being carried to new heights by the most recent BTC rally. Once more the mother of all cryptocurrencies rallied up to a price of over $25,000. However, with a golden cross in the daily chart and a death cross in the weekly, the situation remains ambivalent. Both chart patterns are contradicting each other and indicate a strong trend reversal. With Bitcoin reaching a new yearly high it seems that the bulls are in charge. According to some analysts, we are only out of the woods once the death cross is reversed in the weekly chart.