Floki vikings surely noticed: the sudden rebound in the price of Floki Inu (FLOKI) last Monday, April 24. The reason? The cutest of dog coins got listed on Binance US. The attention of the boss among crypto exchanges gives FLOKI extra legitimacy.
Attentive readers of LiteBit news might have seen along in January that Floki Inu was partnering with Binance Pay. In retrospect, a foreshadowing of the recent listing. Other news on the legitimacy front: earlier this week, Twitter recognized Floki as an organization: it received a gold checkmark.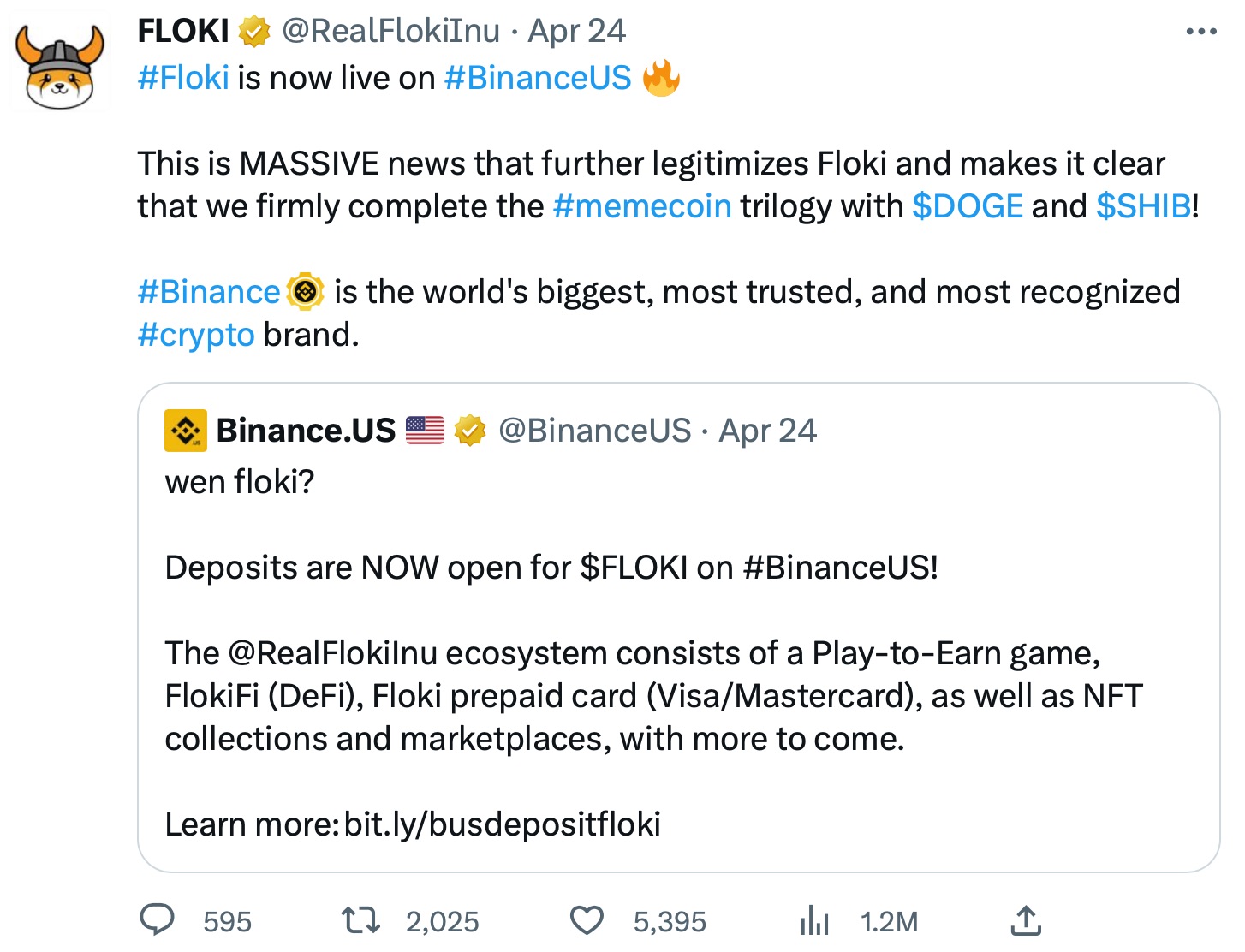 News on other fronts
On the technical front, there was news last week that Floki enabled staking: on the test net, holders can now earn FLOKI. Mainnet will go live soon.
Other news from recent months has to do, first, with the continued development of Floki Inu's play-to-earn strategy game Valhalla and its launch in China. Players of Valhalla can log in with their MetaMask wallet and can earn – not surprisingly - FLOKI.
FLOKI outperforms big brothers
FLOKI has posted 360% price gains since it began Jan. 1, 2023. DOGE has to make do with a paltry 15%, despite Elon doing his best to keep his meme coin at the center of attention. SHIBA also did not do nearly as well at 28%.
After the price surged more than 50% on Monday, FLOKI was even briefly in the top 100 crypto coins measured by total market value. Now that the initial hype after te news has worn off, the increase is still over 25% compared to before Binance's announcement.
Due in part to the aforementioned gaming news of late, Floki has outperformed other crypto dogs: Dogecoin and Shiba Inu. Of course, this is also because the other two dogs are already close to maturity compared to Floki - and as we know, puppies grow the fastest. Incidentally, the Floki Inu team enjoys being in this role of underdog: "We firmly complete the memecoin trilogy."
Measured in market value, Dogecoin is about 30 times larger than Floki Inu and Shiba Inu more than 15 times larger. Floki will have a tough time catching up with these coins. An interesting figure that Floki cites: on Coinmarketcap.com, the community has over 150 thousand followers - and that's more than half of Shiba's. Interesting…