We're not far from Bitcoin Pizza Day, on May 22. The day commemorates the first time BTC was used, in 2010, to buy products in the real world: two pizzas. But from a January 2010 thread on Bitcointalk, it appears that a user wanted to receive 500 BTC in exchange for a picture, predating the legendary pizzas.
In the very earlly days of Bitcoin, users mined it and sent each other BTC as a test or as fun. BTC had no dollar value in the first 12 months. Only when a BTC was worth a fraction of a cent, people started buying stuff with it.
It's no coincidence that self-proclaimed 'Taproot Wizard' Udi Wertheimer is pounding the table about his discovery that the first sale might have been a jpeg. After all, with their NFT minting frenzy he and a few others like Eric Wall and Nick Carter have provoked the 'laser-eyed maxi crowd' among Bitcoiners . These maximalists believe that Bitcoin shouldn't be used for anything other than money: meme coins and NFT's on the Bitcoin blockchain are obnoxious to them. So Udi and co. can't help rubbing it in that they use the holy Bitcoin blockchain to trade silly memes.
With this in mind it would be ironic indeed that the earliest BTC transaction made the exchange of an image possible. More specifically, an image of 1280x960, 'great for a desktop background'. Interestingly, the inventor of Bitcoin, Satoshi Nakamoto was at the time still active on bitcointalk.org and helped with the sale.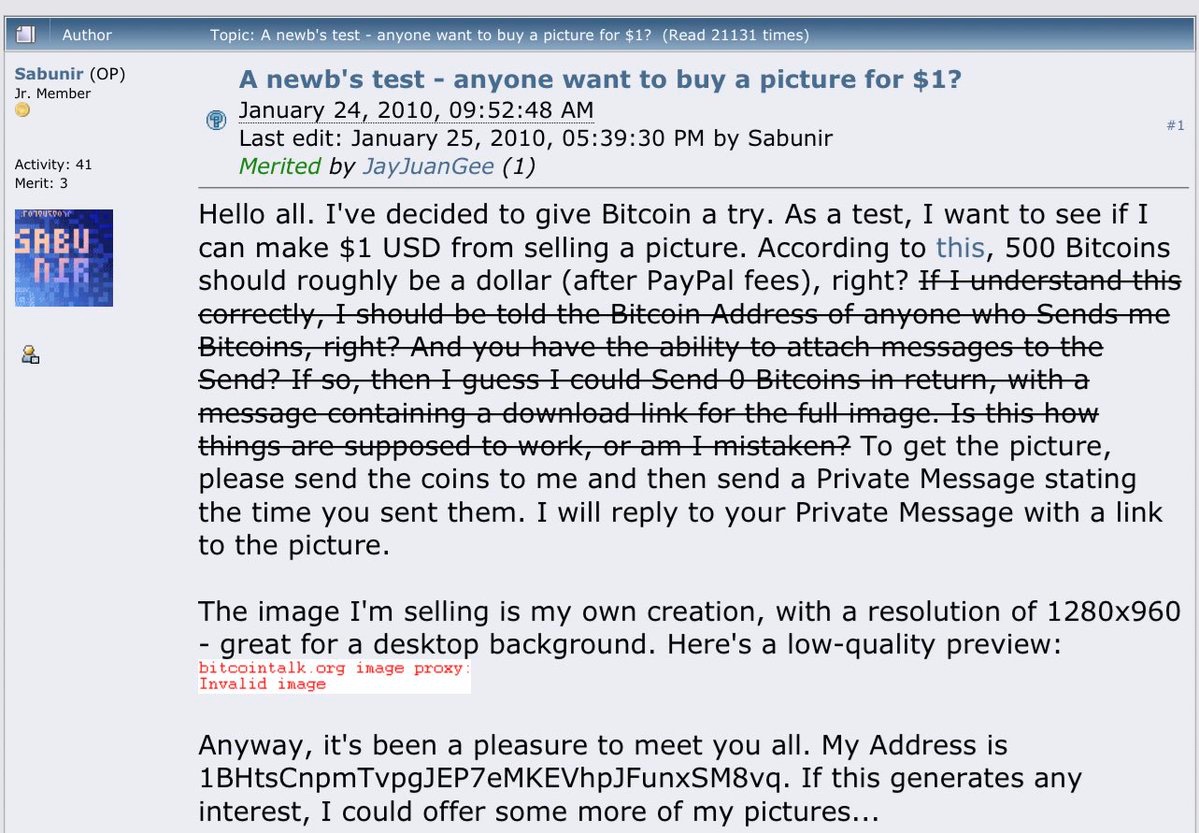 If 500 BTC sounds like a lot of money for a desktop background image, remember that it was worth only around 1 dollar in total...
Of course, selling an image for BTC isn't the same as minting an NFT on the Bitcoin blockchain. So when Udi writes: 'laser-eye cult in absolute shambles', this is tongue-in-cheek. Having said that, there are some real grievances between different Bitcoin camps about what Bitcoin should primarily be: a purely monetary chain or also a 'cultural layer' of information.
The only slight problem with this theory of the first ever jpg traded: only the anonymous user 'Sabunir' can tell if the 500 BTC he indeed received on his address was for the jpeg or as a donation - one of his other chats on bitcointalk mentions a donation too. So maybe the 500 BTC he indeed received were for the donation.
How are Ordinals doing?
The number of Ordinals inscriptions on Bitcoin is still high. The majority of the inscriptions are BRC-20 type inscriptions. BRC-20 is a protocol for creating, minting and trading fungible tokens on Bitcoin. The enormous spike in fees has cooled off a bit though.