On May 17, the Fear & Greed Index hit a level of 8 on a scale of 100. That is its lowest level since mid-March 2020, the days of panic when the first lockdowns were declared. Such a period of fear has historically often proven to be a good buying opportunity. Although there are no guarantees!
The Fear & Greed Index measures market sentiment. People often become overly greedy when prices rise sharply and overly negative when prices are in the red. A score of below 25 means 'extreme fear'. See the correlation in the below graph.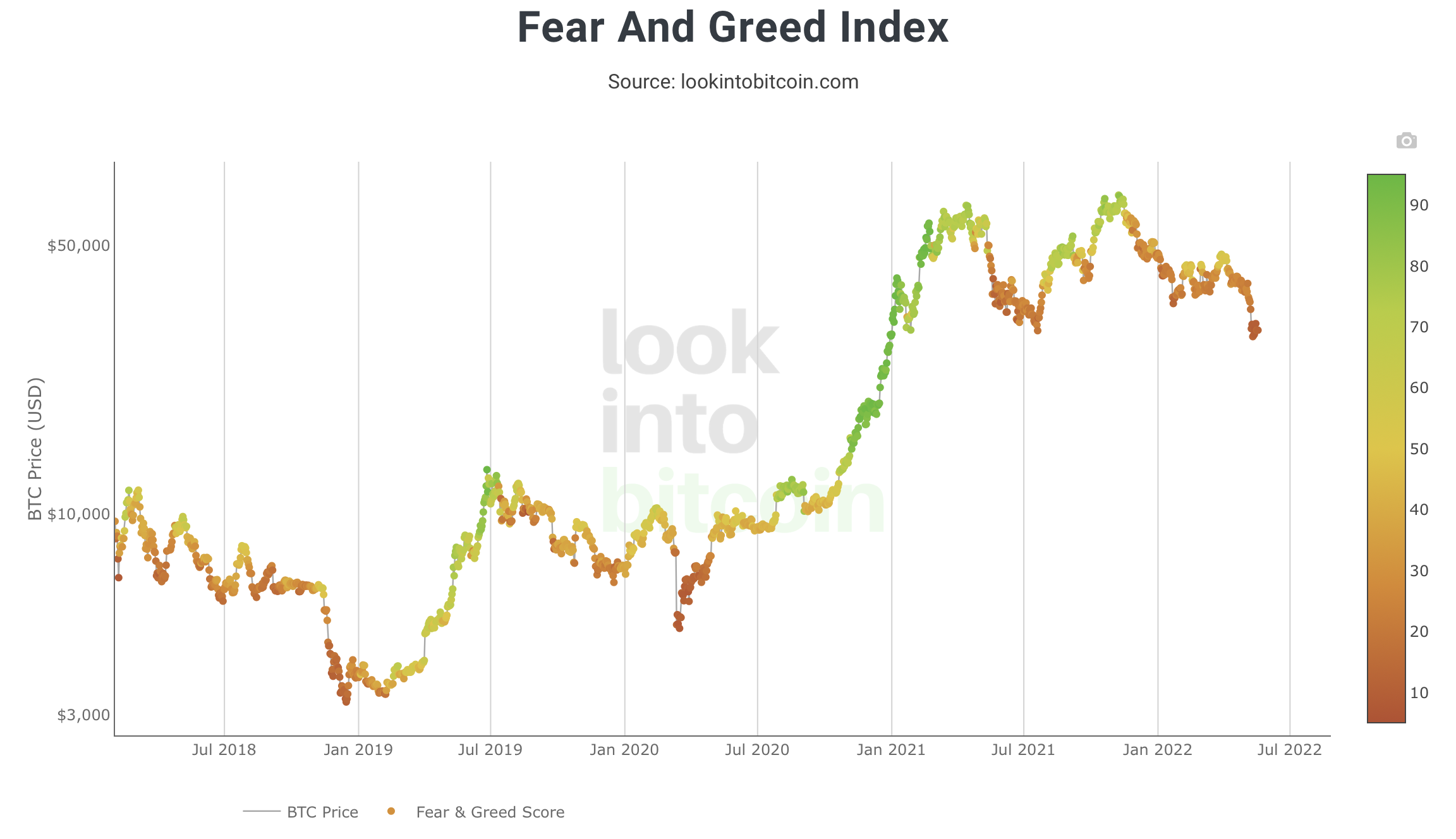 How is the index calculated?
The Fear & Greed index bases its figure on, among other things, sentiment on social media and trends on search engines. But also on technical indicators such as the dominance of Bitcoin. In fearful periods, people flee from altcoins to Bitcoin. BTC dominance then rises: the percentage of the total crypto market value that is taken up by Bitcoin.
A capitulation event?
The deep red numbers of the Fear & Greed index are consistent with the perception that there has been a capitulation in the crypto markets. A capitulation means that investors have lost hope in the future of the markets. That they are no longer going to recoup their investments and might as well sell. Analysts are always very keen on such a moment of capitulation. It may mean that the lowest prices have been reached.
The problem, of course, is that you can only tell in hindsight when fear has bottomed out, just as you can only tell in hindsight when prices have bottomed. 'No bell rings', as the old stock market saying goes. Also, market conditions are very different now than they were in March 2020. At that time, central banks reacted by turning on the money press. Now they are keeping money tight, to curb inflation.
Maintaining perspective
During periods of panic like this, it's good to realize the following. Sentiment in the crypto market is as negative now as it was in March 2020. But the price of Bitcoin is more than seven times higher than it was then! Not to mention the price of Ethereum, which has risen by more than a factor of twenty from its March 2020 low.