The prediction of bearish investors out there hasn't come to fruition. After yesterday's Shapella fork of Ethereum, the price didn't drop. On the contrary: the price pumped. Instead of unstaking and dumping their ETH on the market, there was quite a nice inflow of staked Ether.
According to analytics firm Nansen's dashboard, around 144 thousand Ether have been net withdrawn from staking contracts. That is less than 1% of all staked Ether and roughly one thousandth of all 120 million Ether in circulation. Hardly anything to worry about if you care about potential sell pressure.
Ethereum developers good for their word
Sure, the trickle of Ether being unstaked will continue. There is a waiting line. But at the same time, other investors will feel an incentive to start staking. After all, the staking system is now fully 'de-risked'. Again, the Ethereum developers have proven to be good for their word: the execution of the Shapella fork was again flawless, just like the Merge of last September.
Now that the Ethereum ecosystem is fully operational, investors who had cold feet prior, might want to give it a try. Already in the first 24 hours, Nansen saw short periods where deposits exceeded withdrawals.
ETH price development
It has been nearly a year ago that ETH last was above 2000 dollars: before the Luna crash. How the same price level can feel very different! Since early January, ETH price has climbed from roughly 1200 dollars to 2100: a 75% price gain. With 86% gains, BTC has even outperformed ETH.
Why these price gains? Well, global liquidity is on the rise again, mainly benefiting from the Chinese government pumping money into the system. Also, crypto activity in regions like Hong Kong and Dubai is at fever pitch. Not everywhere,fFinancial and regulatory conditions are as gloomy as in the United States!
An interesting question for the coming months is if ETH/BTC will climb above the range it has been in for over a year, or if Bitcoin dominance will surge. What ETH has going for it, is a finally functioning staking ecosystem and continuing adoption of NFT's. What BTC has going for it, is the narrative of the hardest form of money in a time where the levels of government debt are unsustainable.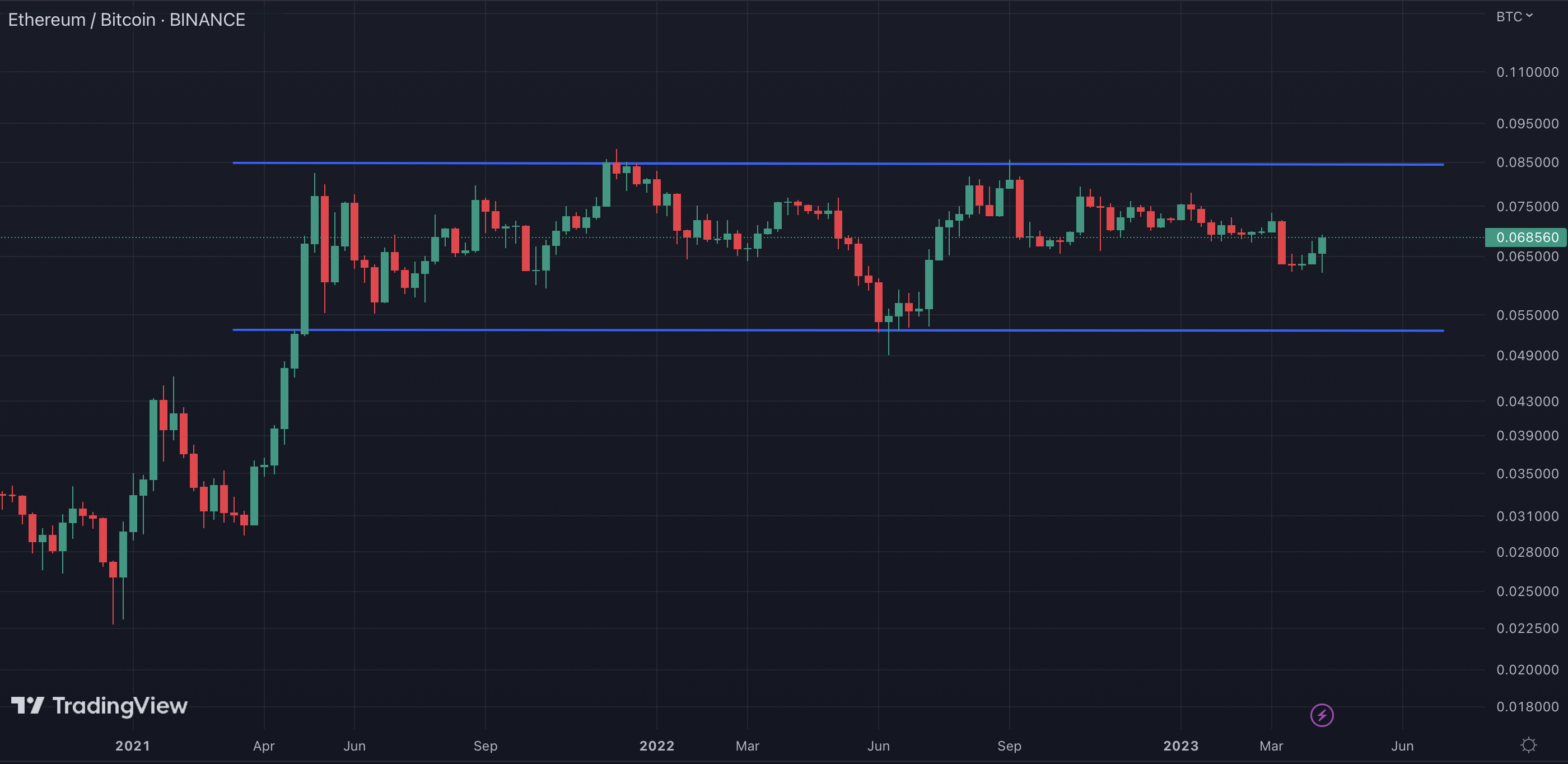 Remarkable forewarning: BTC has already reached a new all-time high as measured in the Argentine peso.