The price of Doge surged with more than 30% yesterday after Twitter replaced its familiar blue bird atop its homepage with the iconic Dogecoin logo. It's obviously not the first time Twitter's CEO Elon Musk promotes Doge. We place the current tweet in perspective of his love affair with the OG meme coin.
Musk's efforts to reform Twitter have met with some criticism. The billionaire entrepreneur seems to enjoy himself with the backlash he gets, welcoming it even. And, like other projects he starts, he seems to sink his teeth in them. It has been more than four years since he first mentioned Doge and he's not letting up!
Musk has in the past admitted he owns Doge, besides BTC and ETH. It's not clear how big his bag is.
Elon's most important tweets about Dogecoin - a timeline
He missed the first hype cycles of 2013 and 2017. His first public mention is from 2019.
April 2, 2019: Elon Musk tweets that Dogecoin "might be my fav cryptocurrency."
The price was then below 0.3 dollar cent.
After more than a year of silence, the pandemic hits and the federal money printer goes brrr. Only in 2020, Elon's fascination with Dogecoin ramps up in earnest.
July 18, 2020: He tweets:
"Dogecoin Standard > Global Financial System."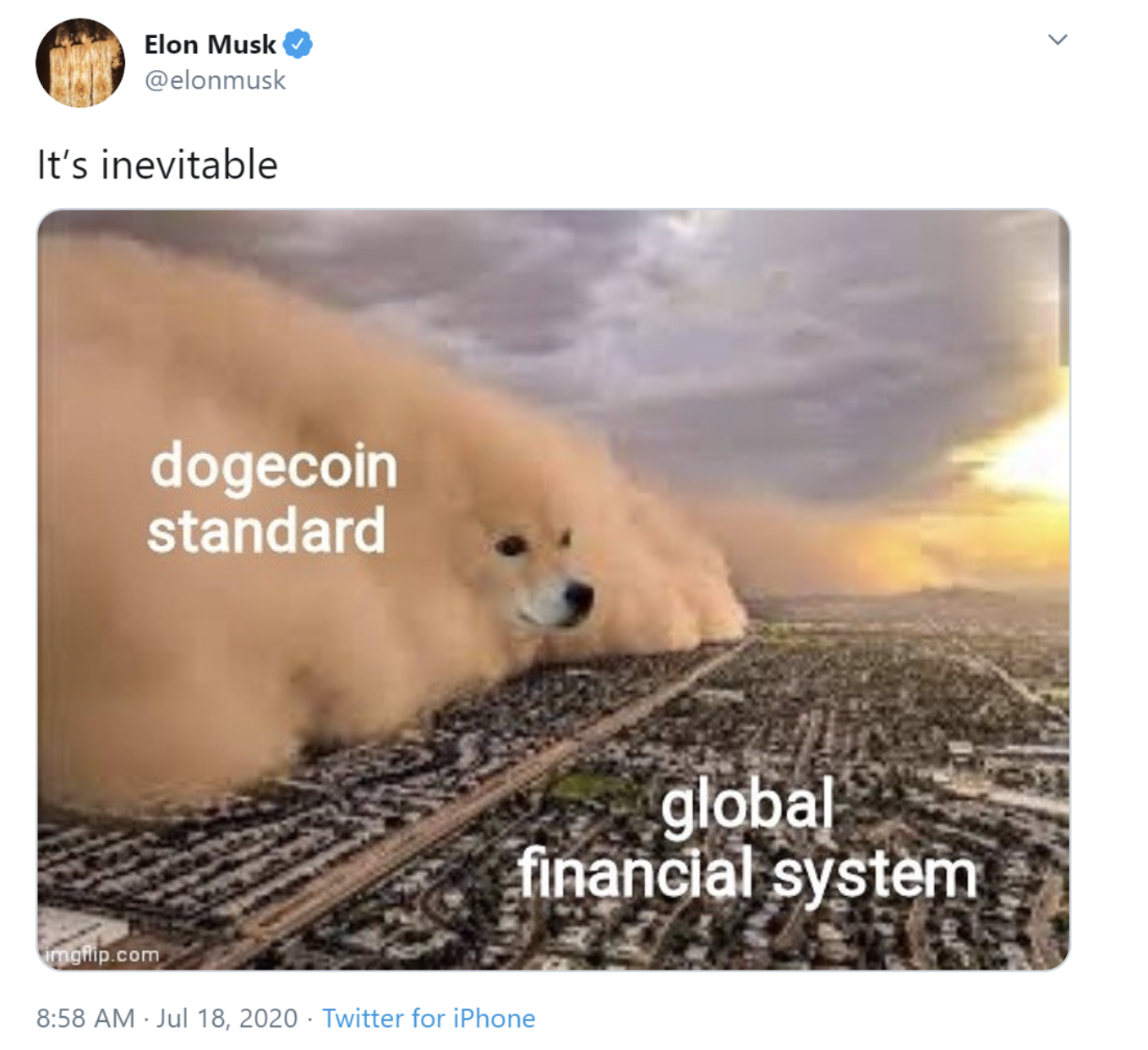 Back then, it is seen as trolling. 'Buying the joke' would have been a good idea though: Doge still traded around 0.3 dollar cents.
In December 2020, bitcoin's bull market kicked off in earnest. It was not yet altcoin season but Musk kicks off his own altcoin season by tweeting on December 20, 2020:
"One word: Doge."
The mania starts and Doge rises ten times higher in the space of a few weeks, from roughly 0.4 cents to 4 cents.
February 4, 2021, Musk tweets, "Doge" and follows up with another tweet:
"Dogecoin is the people's crypto."
The following three months are the mania phase of the altcoin market and Doge leads the charge, pulling off another 10x.
Musk adds fuel to the bull market's fire on April 1st, 2021 with:
"SpaceX is going to put a literal Dogecoin on the literal moon."
An April fools' joke? Maybe, but Elon has pulled off more spectacular stuff.
May 8th 2021 is the top for Doge, around 60 cents. It marks the day that Elon appears on Saturday night live. Dogecoin lovers expect some big announcement, but it's the exact day that the hype fizzles out.
His May 14th, 2021 tweet,
"Working with Doge devs to improve system transaction efficiency. Potentially promising."
...is too late to help. He is ridiculed. After all, are there even developers working on Dogecoin? To be fair, the development activity on Dogecoin has increased since.
Doge and Twitter
Elon doesn't stop tweeting about Doge though, even though the frequency has dropped. Across 2021 he keeps making mention of the original meme coin.
And ever since his takeover of Twitter, he keeps hinting at a crypto payment integration in Twitter. And crypto for Elon of course is code for Doge.
An hour after the (temporary?) logo change of April 3d, Dogefather Elon posted a meme on Twitter.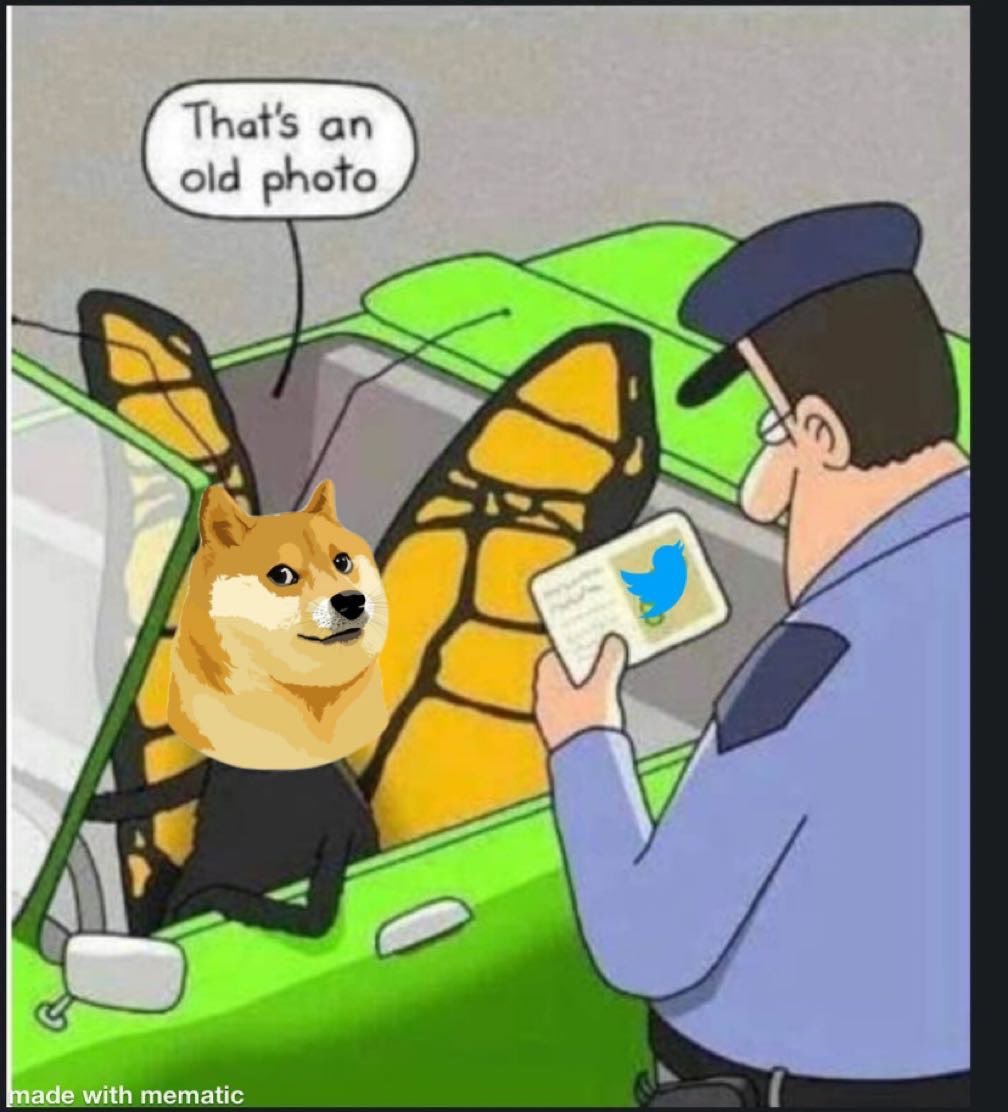 We will see how it all goes but it seems a near certainty that Elon will singlehandedly keep the price of Doge afloat!