The market went fully bearish yesterday when BTC started crashing down to $29.800. Many investors were in disbelief since there was still hope for Bitcoin to stay in its range. But now that the results are in it seems that we have to go through difficult times. Despite the fact that many investors are holding Bitcoin at a loss, a few bold market participants remained bullish and bought Bitcoin during the latest dip.
El Salvador is loading up its bags
President Nayib Bukele was using the sell-off as an opportunity to increase El Salvadores Bitcoin reserve. He announced via Twitter that his country has bought another 500 BTC for an average price of $30.744.
Only hours later he mentioned that he could already sell this investment in profit but revealed that he has no plans to do so. El Salvador is the first country in the world that has adopted Bitcoin as a currency. The country has also planned to build a Bitcoin City and is going to finance this endeavor by issuing Bitcoin bonds.
It is also not the first time that Bukele used the country's treasury to buy Bitcoin. In January it was the last time when he was also active and had the chance to increase El Salvador's BTC reserve at a price level of $36.585. The country holds roughly 2.310 BTC total in its treasury.
Justin Sun is matching the move
Inspired by the power move of President Bukele Justin Sun announced that he is going to match the bid and is also buying 500 BTC. Only that his timing was not as good as Bukele's since Sun paid an average price of $31.031 for his stack.
Many Bitcoiners vowed via social media to do the same and started buying BTC at these low prices. We haven't seen Bitcoin that deep in the 30k area since summer 2021. Many believe that this is a support level that will hold and buy relentlessly despite the fact that Fed is probably moving all the markets down with each FOMC meeting.
Michael Saylor applies for a job at McDonald's
One of the most outspoken Bitcoiners is Michael Saylor. His company already went deep into Bitcoin and MicroStrategy's stock is basically dependent on the success of BTC as the charts clearly show. Saylor has done what investors are usually warned to do. He has put all the eggs in one basket and went full Bitcoin.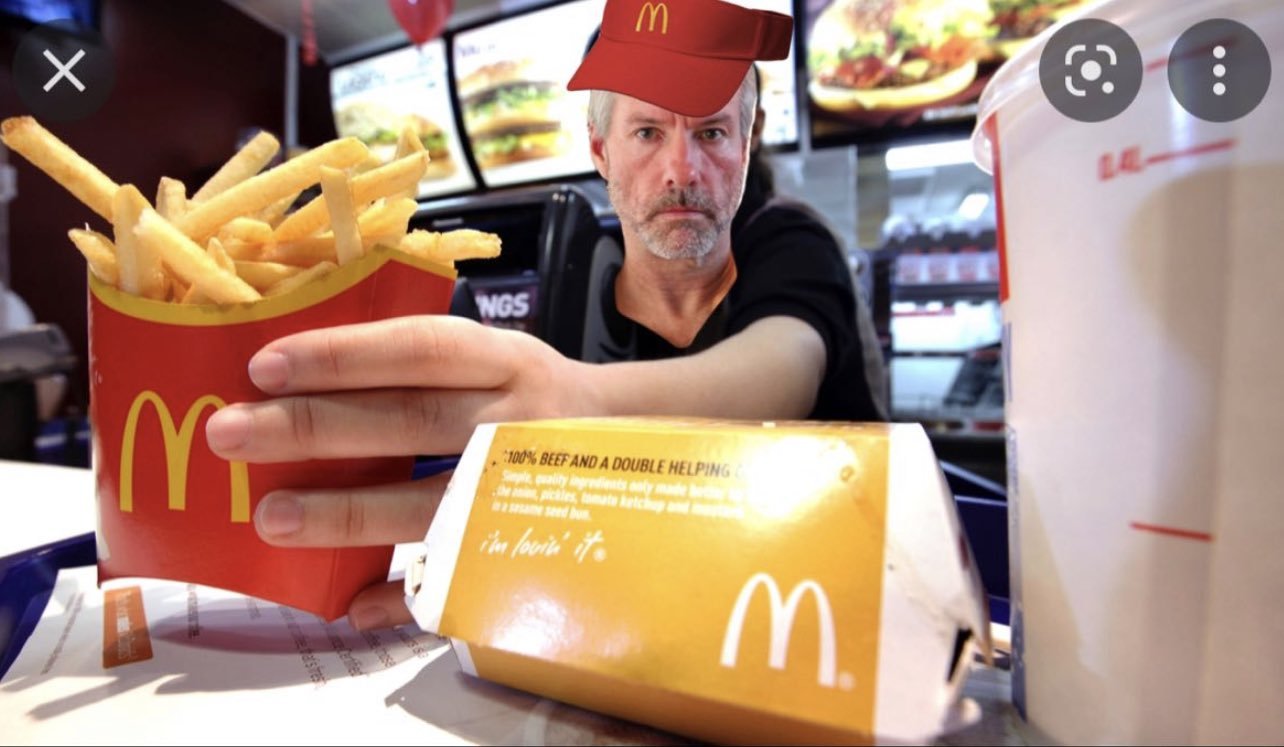 Via Twitter, he showed a good sense of humor by posting memes that he already resorted to during past sell-offs. His company could indeed face huge problems if Bitcoin falls below its average entry price. With BTC moving closer to $30.000 things are getting more and more interesting. The company bought its BTC stack for an average price of $30.700.
Some analysts have already warned that MicroStrategy might be forced to sell its holdings in order to prevent substantial losses. It seems that it was not able to participate in the market when BTC came crashing down. The company is using Dollar-cost average effects and was buying more Bitcoin throughout the past two years.