Stanley Druckenmiller is a soft-spoken, elderly multi-billionaire investor. When he gives his opinion, financial advisors listen. As a macro investor, Druckenmiller doesn't day trade, but views things on a multi-year timeframe. It is his opinion that we might be in for a decade-long sideways market for stocks. But how about crypto?
It's refreshing to sometimes glance at the 100 year timeframe of the stock market. Just to remind ourselves that stock prices don't always go up. Between the mid sixties and the early eighties, for example, they were rather flat.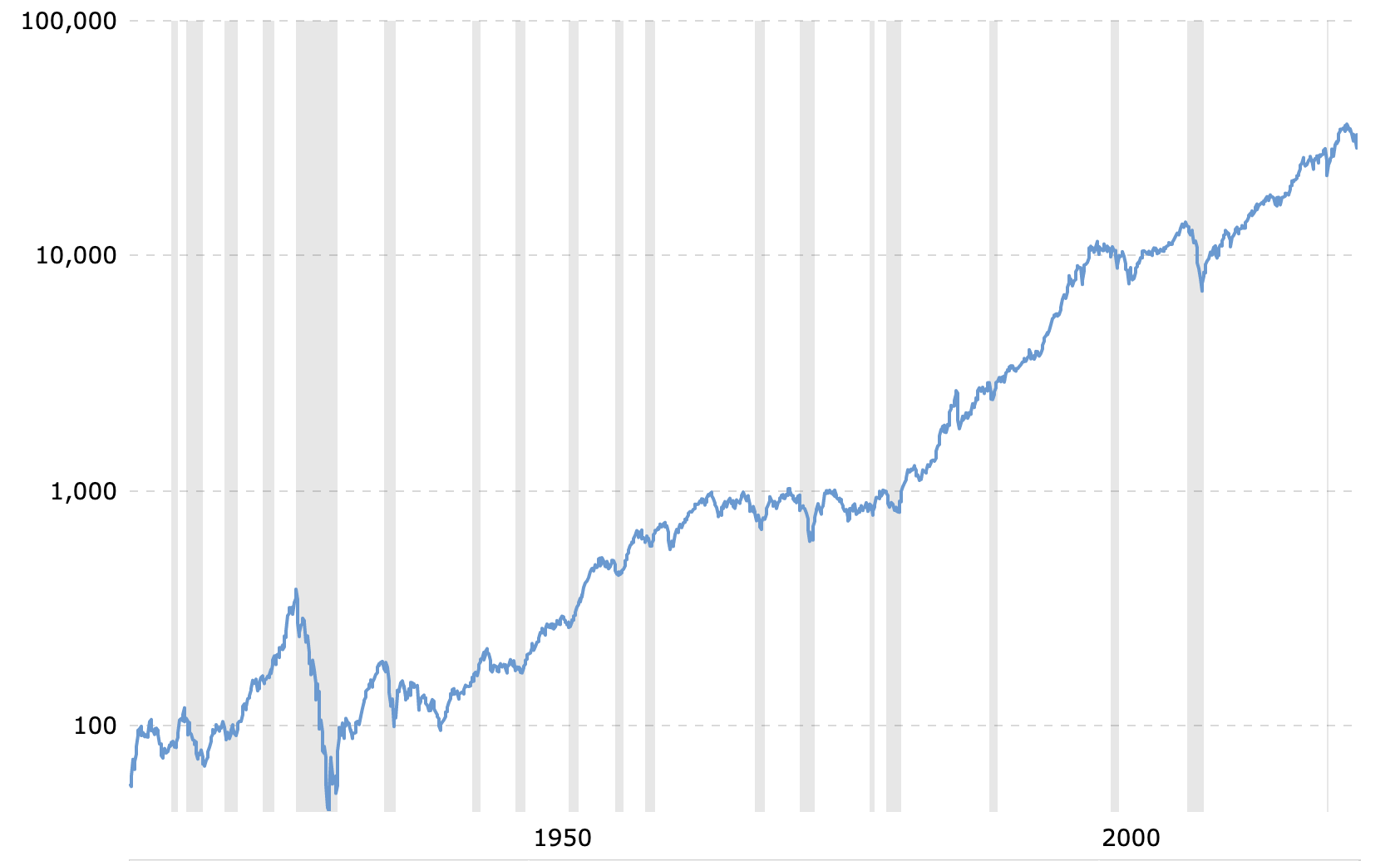 Log scale of the Dow Jones index. Note the flat period in the 60's and 70's
Why does Druckenmiller think we might be in for a similar period?
In recent decades, the world has benefited from productivity gains by outsourcing production to lower wage countries. This trend is reversing. Trade wars and a real war won't help global prosperity, nor stock markets.
Central Banks are raising rates. In the course of decades, interest rates had been pushed to 0 and now Central Banks feel the urge to elevate them, to curb inflation. This is bad for riskier investments like stocks and crypto.
Stocks carrying an artificially high value after a decade of stock buybacks. Instead of investing loans in productivity, it has become common practice for companies to buy their own shares, pushing up the share price and cashing in on bonuses.
Counter arguments
Druckenmiller isn't alone in his analysis. A lot of macro thought leaders share this view. Still, there are opposing views. Against all of the above points one could make a counter argument.
It's not impossible that the Ukrain war will end and global tensions will ease. There are still countries that have cheap labor force available (India?).
It's not unlikely that central banks will have to backtrack on their interest rate hikes.
Sure, stocks were possibly overvalued. But the level of innovation that is happening in sectors like Artificial Intelligence/Robotics, Clean Energy, Genetics, is staggering. There is room for production growth.
What will happen to crypto prices?
The point of innovation brings us to crypto. In recent months, crypto is highly correlated to stocks. Because of a lack of liquidity (fancy word for money floating around in financial markets), prices of everything went down. But this correlation has come on gone in the past. If/when crypto decouples again, crypto prices could well rise again.
Crypto developers are building like never before. Adoption is happening left and right. Unless something like a US government ban is enforced, it is hard to image that crypto will be in a decade long flat market. The rate at which people build and start using this tech, goes just to fast. That might make crypto exactly the sector that people and institutions will flee too, if stock markets indeed will prove to stay flat.
Side note: the 69-year-old, statesman-like Druckenmiller bought Bitcoin in 2020, as one of the first highly respected investors. That's one reason we take his opinions extra seriously!