The CEO of Binance, the world's largest crypto exchange, announced he wants to form an 'industry recovery fund' to help crypto companies overcome possible liquidity crises. The timing of CZ's announcement is no coincidence: after the bankruptcy of FTX, people are concerned about the liquidity of basically every crypto exchange.
After the news, BTC jumped more than 5%. CZ's announcement no doubt alleviated worries of crypto investors that there will be a cascading effect of crypto exchanges getting in trouble. CZ invited 'other industry players with cash' to join.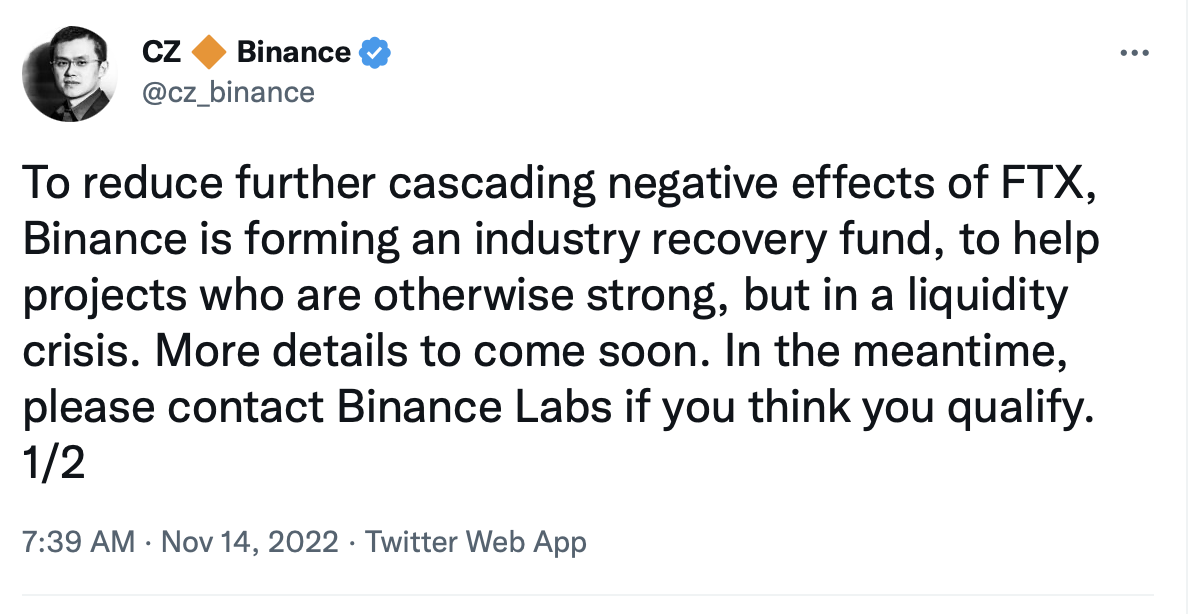 "To reduce further cascading negative effects of FTX, Binance is forming an industry recovery fund to help projects who are otherwise strong but in a liquidity crisis"
It as another remarkable turn in a story that spiraled out of control. First the revelations of FTX' abysmal balance sheet, then the public animosity between CZ and FTX CEO Sam Bankman-Fried... then the bankrun on FTX and its bankruptcy... Then the tentative offer by CZ to try to help rescue FTX, which Binance ultimately withdrew.
With the new proposal, CZ appears to be launching a new offer to limit the damage to an industry of which he is now the leading figure. Earlier, he urged crypto exchanges to publish a 'proof of reserves' sheet.
Crypto veteran industry leaders respond
One of the first big players to publicly voice his support for CZ's fund initiative was Simon Dixon, the billionaire co-founder of BnktotheFuture (BFT). BFT is a company that allows retail investors to buy equity in crypto startups. Dixon is not new to the business of helping failed crypto companies recover. In 2016, he led the successful process of recovery of customer funds of hacked exchange Bitfinex. He is currently also active in drafting a restructuring proposal for bankrupt crypto lender Celsius. In his comment to CZ, Dixon warned: 'Let's make sure we don't centralise the industry too though.'
Another wealthy crypto veteran who voiced support to CZ's tweet was Tron founder Justin Sun.
Just another bailout?
In the Twitter replies by 'normies' we see a lot of support but also criticism here and there. After all, what CZ is proposing, is for this fund to take on the role of a central bank. It would mean that the fund would act in a similar way to the American Central Bank in 2008 when it had to bail out the American banking sector.
A central authority is of course the opposite of crypto's dogma of decentralization. There is a major difference though between the potential fund and a Central Bank. The crypto fund can't just print dollars out of thin air. In this sense, the losses would not be paid by taxpayers - as in the 2008 bailout - but by the crypto companies - and thus ultimately, crypto investors.