On Twitter, you can often hear American crypto companies complaining that the lack of clear regulation is driving businesses offshore. The reasoning is that the financial watchdog the SEC is filing lawsuits left and right, creating uncertainty and discouraging innovation. Now, numbers confirm that there is indeed an exodus ongoing from the US to other countries, albeit a slow exodus.
The numbers come from research platform Electric Capital. From their developer report, it becomes clear that the rate of developers leaving the US is around 2% per year. Is this indeed because of the harsh legal climate? Probably not entirely: the European Union sees developers leave at a rate of 1% per year, and the EU is about to launch a comprehensive package of crypto regulation: MICA. Whereas the United States Congress has not passed laws defining what a cryptocurrency is or legislating how specifically crypto businesses can comply with regulation.
A decentralizing developer base
As crypto projects are all about decentralization of power, it is not a bad thing that the US is slowly losing its lead in developers. After all, who thinks the situation was ideal in 2017, when the US hosted 42% of all 'shady super coders' and Africa hosted 0%? The current figures are 29% for the US and almost 5% for Africa.
To put things in perspective: the estimated total number of developers in crypto in 2022 is 23 thousand. Interestingly, the number of developers across the globe rose with 5%, despite the bad year for prices that 2022 was. Surely a sign that crypto isn't dead!
Some interesting numbers
Let's list some other interesting findings for 2022.
Asia, North America and Europe have a ~30% developer share each.

India saw the fastest growth: from 5% in 2021 to 8% in 2022.

The rest of the share is divided between Latin America (7%), Africa (4%) and Oceania (2%).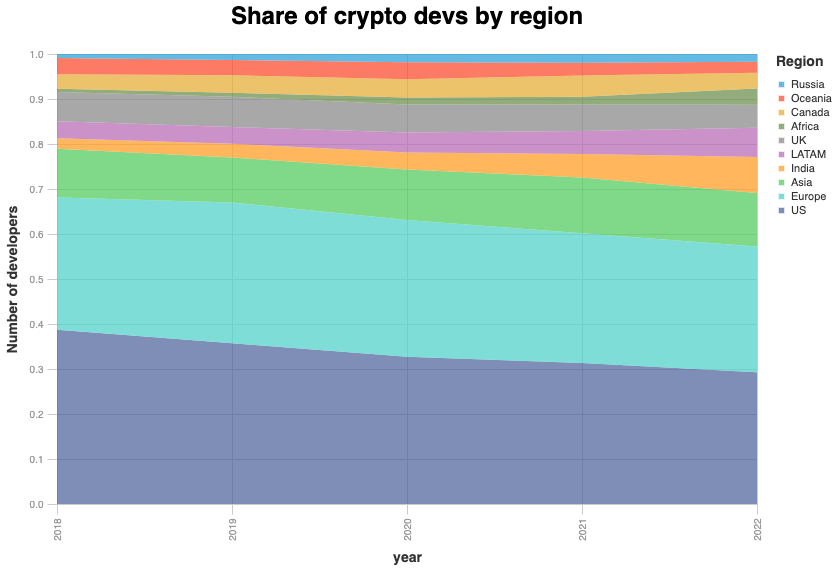 Coinbase launches political campaign
To tip the scales in favor of favorable regulation for the US, American exchange Coinbase has launched a grassroots political campaign, called Crypto 435. It will help American crypto investors understand which politicians are pro and anti crypto and how to influence them.
How was the developer situation a year ago? Read the state of developers in 2021.