The creator of the impressive skull-shaped artwork commissioned by Greenpeace in its fight against Bitcoin mining, has changed his own view. After long talks with experts on Bitcoin mining, he says he no longer thinks mining is a black and white issue: 'I was wrong'.
After the unveiling of the Skull of Satoshi last week, Bitcoiners lamented Greenpeace's (in their view) ill-informed campaign, but lauded the artwork itself. Even though the skull was an attempt to highlight Bitcoin mining's pollution, some Bitcoiners started using it as their social media profile picture.
In the meantime, artist Benjamin Von Wong was bombarded with DM's, trying to talk to him about the nuanced issue that is the environmental impact of BTC mining. Von Wong:
'I made the Skull believing that Bitcoin Mining was a simple black-and-white issue. I've spent my entire career trying to reduce real-world physical waste, and PoW felt intuitively wasteful. Of course, I was wrong. Few things in the world are black and white. Dumb me. '
While it is true that there still are coal plants used for Bitcoin mining, mining is currently one of the most sustainable industries in the world - with an estimated 54% of its power coming from renewable sources (per former climate activist Daniel Batten). It is subsidizing green energy production facilities, and by capturing Methane near oil fields, Bitcoin mining could even become carbon-neutral.
Von Wong: 'I've discovered a whole new world of initiatives that fill me with hope.'
'A phenomenal accident'
Von Wong comes to an interesting conclusion, namely that his Skull is a 'phenomenal accident', representing not what divides but what unites Greenpeace and Bitcoiners.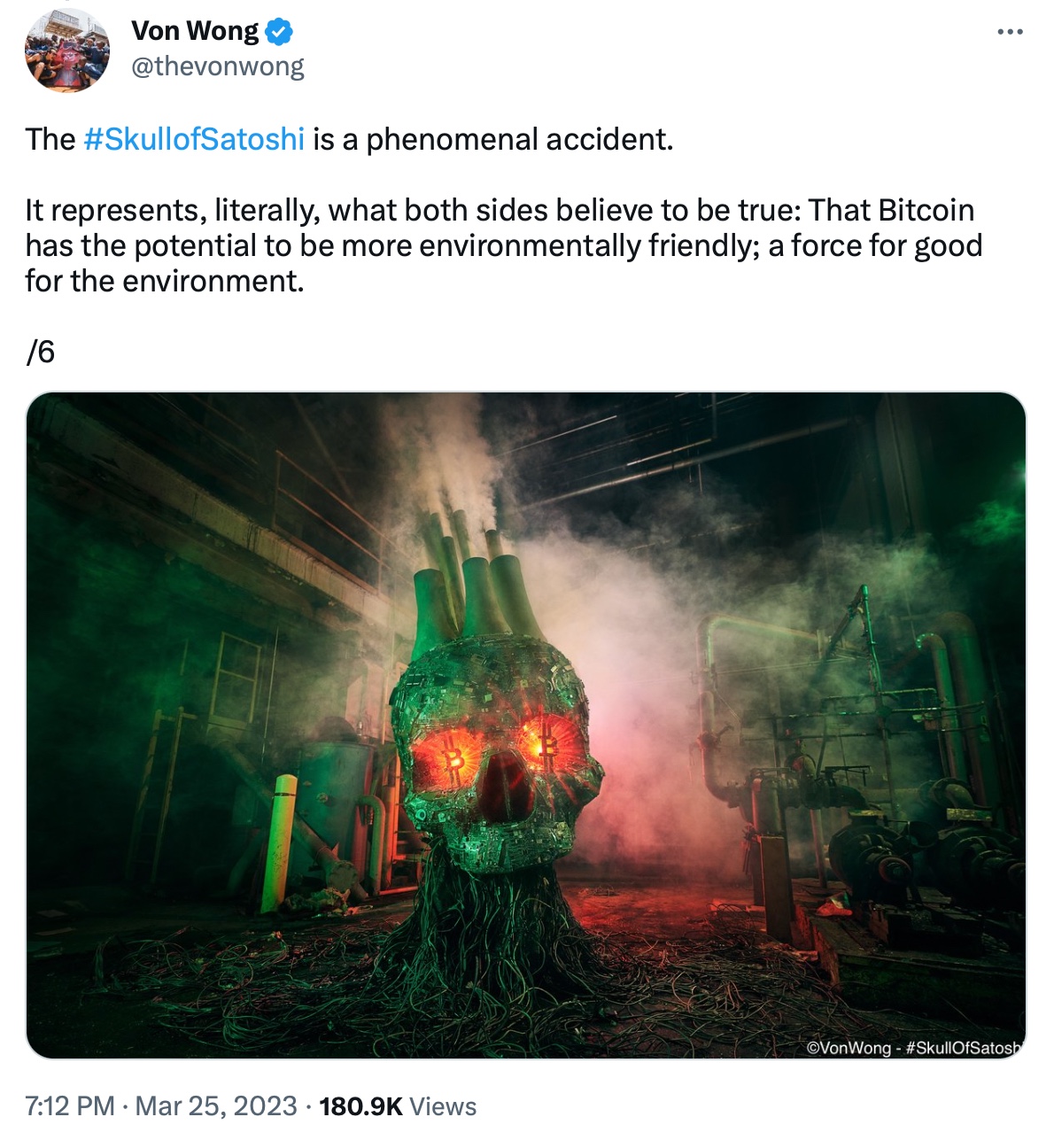 That's a hopeful vision. It remains to be seen how green Bitcoin can indeed become and if greener Bitcoin mining will indeed silence the critics. After all, even a Bitcoin network powered by 100% renewables, will still rub some people the wrong way if they believe that Bitcoin is fundamentally useless as money.
In the meantime, Greenpeace too seems to have slighly pivoted from its attacking stance and embraced dialogue.