How would you feel if your Bitcoin stash plummeted from thousands to a measly 24 within half a year? Probably the same way American Bitcoin miner Core Scientific is feeling now: issuing a bankruptcy warning. Bitcoin mining is a cutthroat business.
Core Scientific is the biggest public Bitcoin miner, accounting for 5% of the worldwide hashrate. The company has halted all debt payments as they expect that cash resources will be depleted by the end of the year. The company also claims that distressed lender Celsius owes them 5.4 million dollars (Core Scientific also provides hosting to other Bitcoin mining companies, which Celsius is takes part in).
It wasn't so long ago that American miners were hodlers. Around the peak of the bull market, they adopted this strategy, believing the Bitcoin price might go higher. As we all know, it didn't. And now, since May/June of this year, miners have been forced to start selling at much lower prices. It shows that even miners can be dead wrong when trying to time the market. Core Scientific sold nearly all their Bitcoin in June. That fits in a pattern across the industry (see graph below).
Profit margins evaporating
In recent months, total hash rate of the Bitcoin network has skyrocketed. Why is mining competition increasing just as prices are falling? Well, it's probably just because of a lag of mining rigs being deployed. A miner's decision to expand could be made in a bull market. But only when the bear market hits, these facilities 'open their doors'.
There are also some conspiracy theory-like explanations for the exploding hashrate. It is possible that mining companies that are still profitable are using this period to push as many competitors over the edge as possible. After all, BTC mining is a zero-sum game. If your competitor goes bankrupt, that means more Bitcoin for you.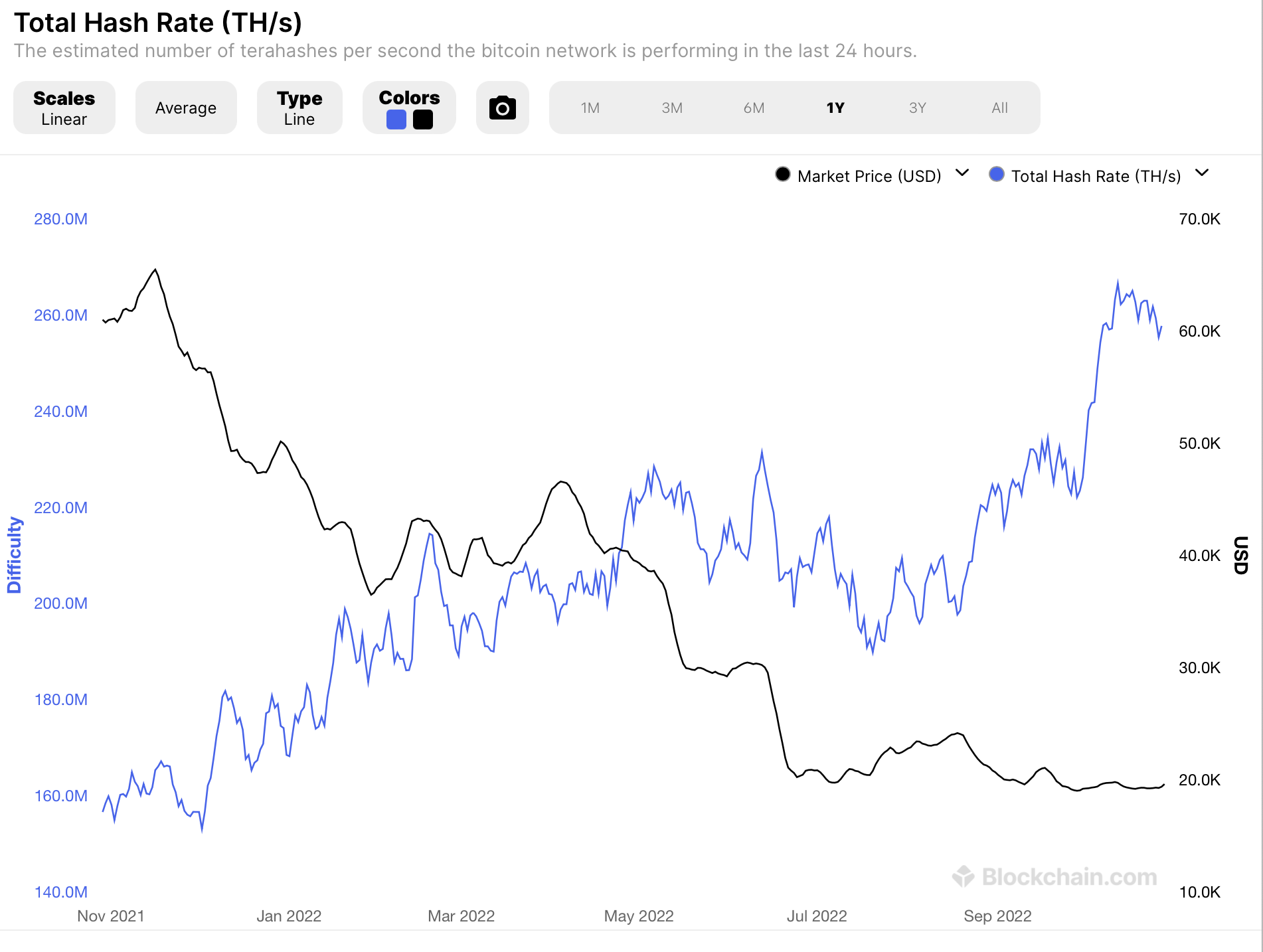 Electricity prices squeeze some harder than others
The timing of the current bull market is extra unfortunate as electricity prices are rising. Variable energy contracts can squeeze some miners harder than others. Some miners still have dirt cheap energy, such as the waste energy from methane emissions in oil fields. Others might still be on fixed price contracts, while others are feeling the pain of higher prices.
Marty Bent ('Bitcoin miners are in a world of hurt right now') made an overview of at what combination of electricity prices and mining equipment the business can still be profitable:
At $0.06 miners are likely slightly profitable.
At $0.08 miners are only profitable with the S19 series and M30S+ model.
At $0.10 the only profitable miner is the S19XP.
Conclusion
Will more bankruptcies follow in the industry? That's likely. From our perspective, that's not necessarily a bad thing. Like any business, mining is supposed to be competitive. As an extra benefit, fierce competition will probably drive mining towards more sustainable forms of energy usage. Sustainable energy or waste energy like methane is generally cheapest.
What does this mean for the Bitcoin price? A scary similar situation to the current one, we saw in 2018. After miners had to capitulate (sell en masse), the Bitcoin price plummeted. But some analysts have pointed out that this capitulation might already be behind us. Like Core Scientific, many miners simply don't have that many BTC left to sell and dump the price.