The Ethereum Merge is expected to take place on September 15. If all goes well, nothing will change for users and holders. But all kinds of interesting games are being played in the background. There is a suspicion that the miners will be continuing the old Ethereum blockchain. If so, what are the implications of two chains running in parallel?
The exact date of the Ethereum Merge is a function of the variable Ethereum hashrate: how hard will there be mining in the coming weeks? Either way, it will happen around mid-September: finally Ethereum will move to a consensus mechanism called proof-of-stake. Energy efficiency is one of the benefits many are waiting for. Except for the miners: they will probably just continue mining the old chain. They will want to squeeze the last bit of value out of their equipment. See, although the old Ethereum is probably worth a lot less after the Merge, the value won't be 0.
Forks from the past
It certainly wouldn't be the first time Ethereum has experienced a hard fork. The most famous and contested hard fork was the one from 2016 of Ethereum Classic (ETC) and current Ethereum. As seen in the chart below from Coinmarketcap, ETC has slowly but surely fallen in value against ETH. It now has only a few percent of Ethereum's value. Indeed, nothing significant has been built on this chain. Still, it's noteworthy that the total market of ETC of this 'ghost chain'is still a few billion dollars!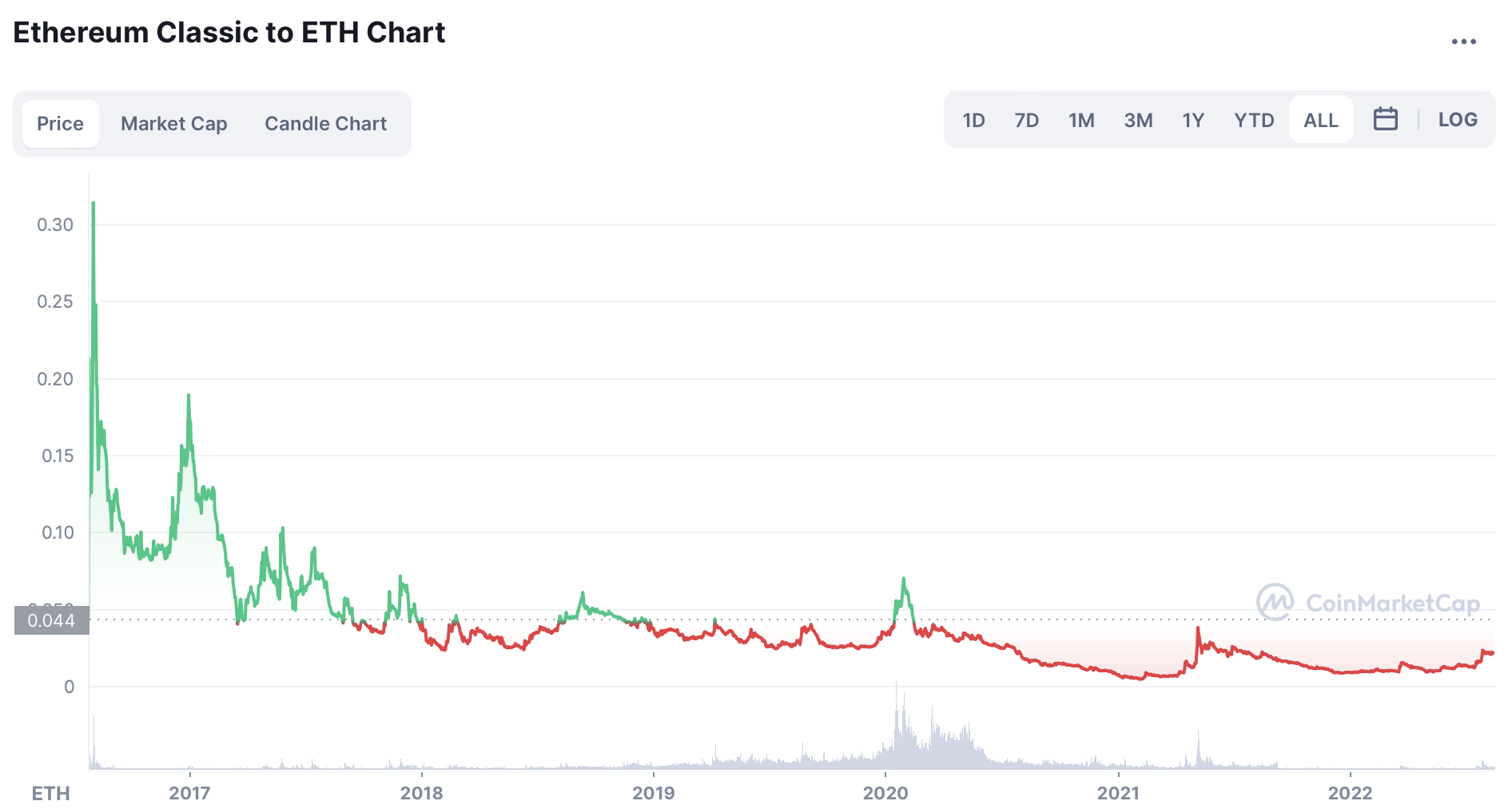 All twin tokens?
There is a whole history of forks in Ethereum. In most cases, the old chain is "left behind": no one looks at it anymore. So that could be different in this case. The fact that a huge ecosystem of tokens and smart contracts 'lives' on Ethereum today also makes this possible fork special. So are those tokens all duplicated? Will your USDC and your NFTs soon live on two Ethereum chains?
Yes, but that does not mean that both will be recognized by - for example in the case of USDC - the company behind it (Circle). The major parties, such as Circle and Chainlink, have already let it be known that they will only recognize smart contracts and assets on the new, proof-of-stake Ethereum. Virtually everyone will move to this new chain, is the expectation.
A possible trade
If the old chain indeed continues to exist, do those POW ETH tokens have a value? Yes they do. And holders of ETH automatically become owners of the forked ETH as well: that is how it goes with all forks. They are a kind of airdrops.
Currently, there is already a market of futures contracts for this highly speculative (because it may never exist) version of Ethereum. The price of ETH POW on the futures market? About $60 at the time of writing. That's not much compared to Ethereum's $1,900. But it's not nothing. And the price may well rise temporarily. The expectation is that the price relative to the 'real' Ethereum will trend towards 0 in the long term.