Not all new crypto coins make it past their infancy: quite a few of them get abandoned within the first few years of their short lives. These failed experiments come in waves, as is shown by analysis from CoinKickoff. Especially 2014 and 2017 were bad years for new coins, at least from the perspective of longevity.
For its research, CoinKickoff used Coingecko data and cross-referenced these with data from Coinopsy, the database that lists dead coins: coins that were once launched but are no longer active. More than 12 thousand coins still exist, but a significant percentage are already abandoned and forgotten. Especially the cohort that was launched pre 2015 has suffered greatly: the majority of those is no longer with us.
How does a coin die? There can be numerous reasons. From outright scams to developers who move on to other projects. But coins can also be delisted and no longer traded anymore. CoinKickoff used as a volume criterion: less than $1,000 in trade volume over a three-month period.
Some important findings:
The average lifespan of new coins is 15 months.

The percentage of launched coins that quickly fail, coincides with the year of a Bitcoin bull market (or the year thereafter). 2014 and 2017 saw massive amounts of launched new coins that failed.

2014 was the year of most failed coins, percentage wise: only 24% still exist. For reference, a higher percentage of coins from 2013 survive (34%).

2017 was the year of most scam coins: 17% (210 out of 1.232 new coins). Since 2019, scams have been much less frequent.

Since 2019, the percentage of died coins is much lower. Just 16 coins have been abandoned since 2020.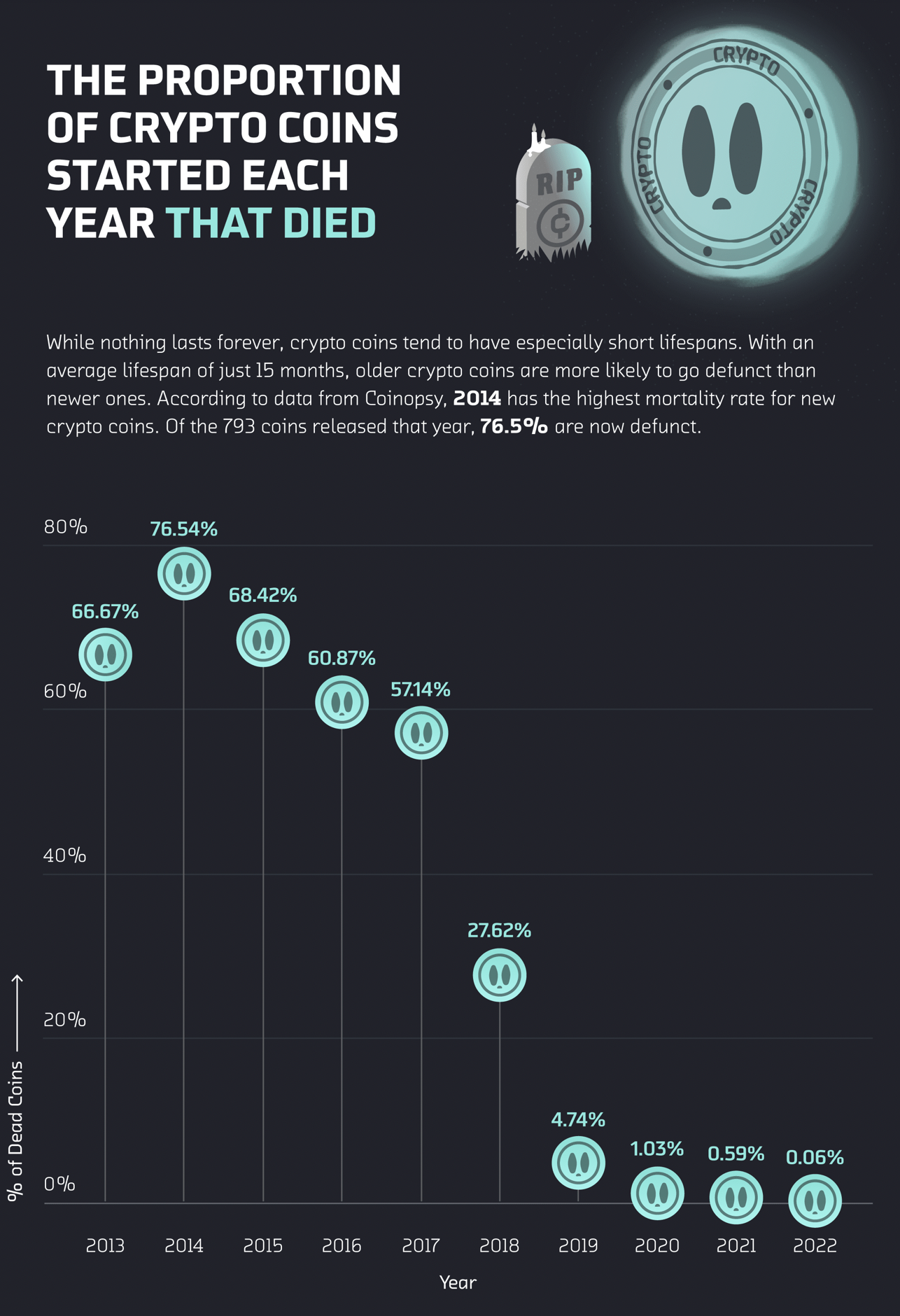 Conclusion
The average life span of a coin is short: only fifteen months. That is especially important to be aware of if you invest in a recently launched coin. On the other hand, if you invest in a coin that has survived its infancy and has reached already let's say the age of five, you'll probably have to worry less about sudden death. Another thing to notice is that the percentage of failed projects seems to be going down. It remains to be seen, of course, what the effects of the crypto crash of 2022 will be.