Bitcoin miners in China accounted for 21.1% of the total global hashrate of Bitcoin in early 2022. This is according to a report by Cambridge Bitcoin Electricity Consumption Index (CBECI). It is noteworthy given that the country banned mining in the summer of 2021.
In the past, the crypto community took announcements by China bans on mining with a grain of salt. On most occasions, the ban didn't really have teeth. But in 2021 the ban appeared to be serious. Chinese miners had to pack up and move elsewhere. In a matter of months, China's hashrate compared to the global sum total dropped from 50% to 0%.
United States have benefited
The hashrate of the Bitcoin network temporarily halved as a result, although it quickly recovered. The United States in particular benefited from the upheaval in the land of miners. The percentage of hashrate in the U.S. has since almost doubled to close to 40%. It is healthy that the hashrate is not too concentrated in one country or region. The situation before 2020 was considered a risk for Bitcoin. At that time, China held about 75% of the hashrate. The graph represents the situation of January 2022.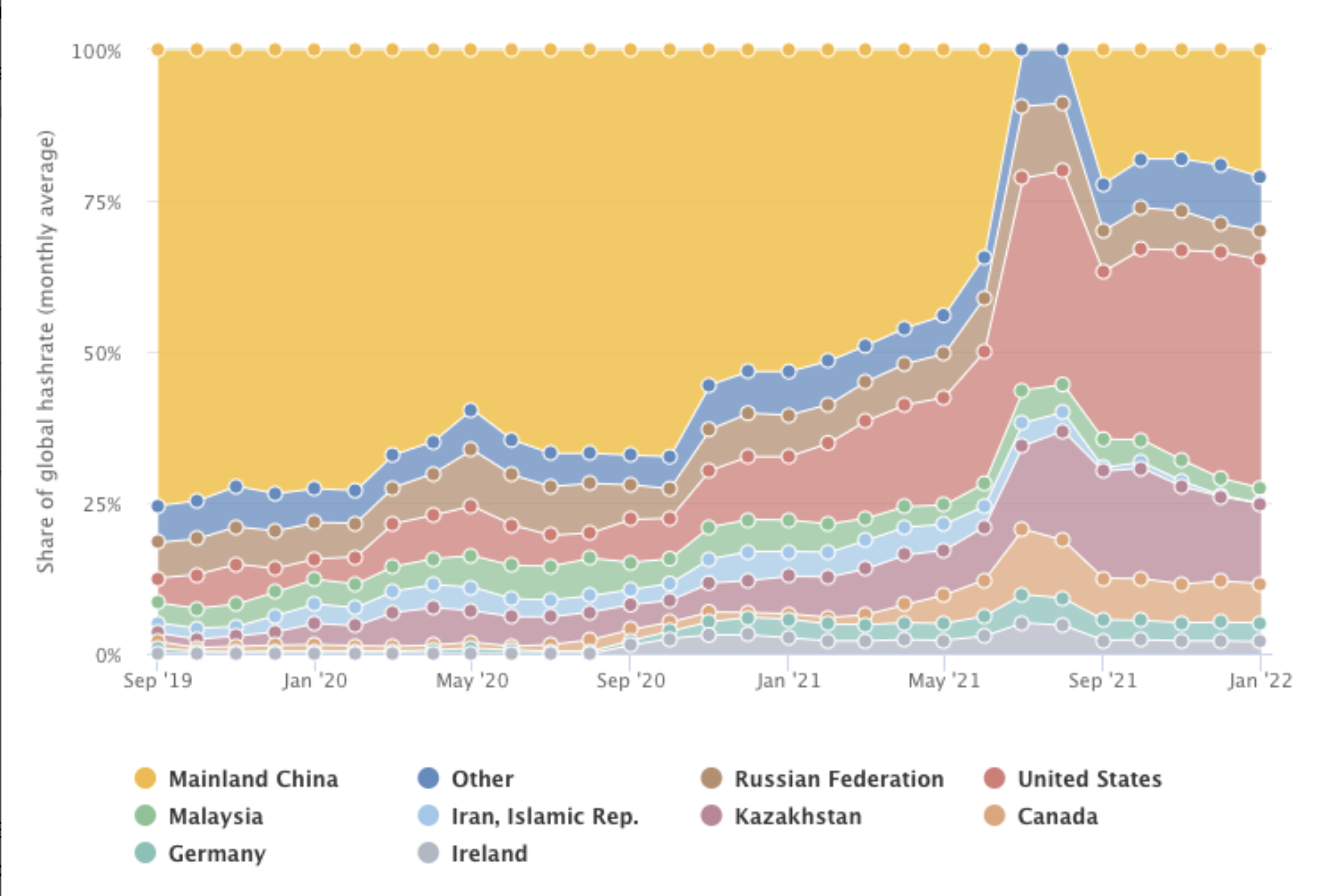 Underground
So CBECI's research shows that miners are still active in China. CBECI's report is based on data obtained in collaboration with four major mining pools: BTC.com, Poolin, ViaBTC and Foundry.
There are no signs that the Chinese authorities have relaxed their stance. So that means the increased mining activity can probably be accounted for by miners who have gone underground. For example, a miner from Sichuan told that he spreads his operations across multiple locations: this way, electricity consumption is less conspicuous. Another way to be less conspicuous is to draw power behind the meter, i.e. directly from the source.
It is also not inconceivable that some bribes are involved here and there. After all, this is an industry in which a lot of money is involved. Perhaps officials here and there are turning a blind eye in exchange for a little 'compensation for trouble'.