The new iteration of ChatGPT, GPT-4, came out mid-March, only three months after the previous GPT-3.5. Everyone is scrambling to figure out how they can benefit from it in their jobs - or be threatened by it. Let's find out if and how one can benefit from its knowledge as a trader/investor.
Version 4 of the insanely sophisticated chat bot launched on March 14 of 2023. With a paid account, you can get access to it. It passes law and medical exams with flying colors, and its capability to create and debug code is impressive.
But can you also use it as a trader and investor? It depends on what you ask it, as will become clear from below examples.
Obviously, we re wading into deep waters here... we don't recommend anyone to take financial advice from ChatGPT, other than as a fun experiment. But here we go.
1. Let it recommend trading strategies
ChatGPT-4 has a knowledge cutoff date of September 2021. So it doesn't know yet that Ethereum switched to proof-of-stake, nor what happened to FTX. That means that in its current form you can't use it for short-term trades. But that doesn't mean it can't be used to spit out some decent knowledge about trading.
When prompting it with the following (example taken from Tascha Che):
"Recommend 3 profitable trading strategy setups for trend following and momentum trading, with an average holding period of 30 days."...
.. it comes back with this answer: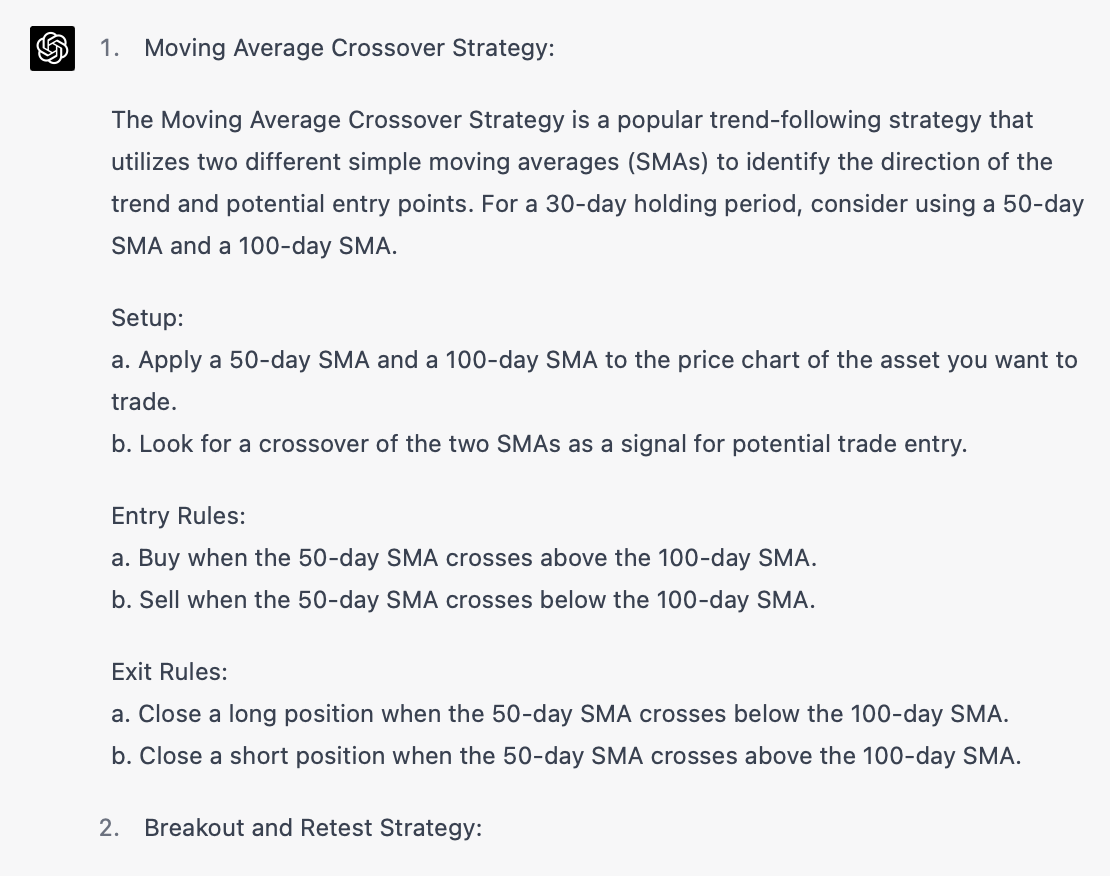 (The answer is much longer: it also discusses how to execute Breakout and retest and a RSI divergence strategy, signs of overbought/oversold). This is good stuff. But note that the periods of 50-day and 100-day SMA are a bit too long for a 30-day holding period.
Conclusion: background knowledge about trading is very decent but not perfect.
2. Let it write Pine Script code for TradingView
Pine Script is a programming language created by trading data analytics platform TradingView to backtest trading strategies. Check out how this trader prompted ChatGPT to create a Pine Script backtest that buys and sells BTC based on Open Interest data pulled from TradingView. He is blown away.
Conclusion: Just... wow for writing script.
3. Let it give investing advice
Inspired by 'HustleGPT', someone's experiment to ask ChatGPT-4 on how to apply 100 dollars to launch an online company, CoinTelegraph coined 'BallerGPT'. They instructed ChatGPT to make as much money in crypto as possible from $100, based on information from a set of linked articles. So, this is a way around the above mentioned limitation that ChatGPT doesn't have recent information. Cointelegraph is now tracking the fund's performance.
Another investor did something similar but focused on the Cosmos ecosystem: the CosmosGPT challenge. Here, it turned out ChatGPT missed essential knowledge about the specifics of for example staking Cosmos.
Conclusion: ChatGPT still has a lot to learn about the mechanics about specific crypto ecosystems.