The DeFi bubble burst this year. The prices of the coins have fallen, and so has the overall value locked up in those protocols. But that doesn't mean the apps stopped working. On the contrary, they kept working flawlessly during the last crash and are still raking in nice transaction fees. Which chains and apps are doing best in this respect?
The metric that is widely used to represent the total value contained in DeFi smart contracts is the Total Value Locked (TVL). The problem with that metric is that it includes the inflated value of speculative new coins. The value of those protocol-specific coins, which were used to generate high DeFi interest rates and thus attract new users, has fallen hard. And so has the TVL.

Now that the dust has cleared, analysts' attention has shifted to which blockchains and apps are actually making revenue, measured in trading fees. Those fees are not always paid out to the holders of the coins (Uniswap does not yet do this, for example). But that doesn't matter: companies that are growing fast usually don't pay dividends either and that is fine by the shareholders. As long as the proceeds are invested in further growth.
Which protocols bring in the most fees?
To use a blockchain or an app built on it, users pay transaction fees. On cryptofees.info there is a list of chains and apps and the fees they bring in. Definitely a list to keep an eye on. Indeed, it is a measure of popularity and viability, this volume of transaction fees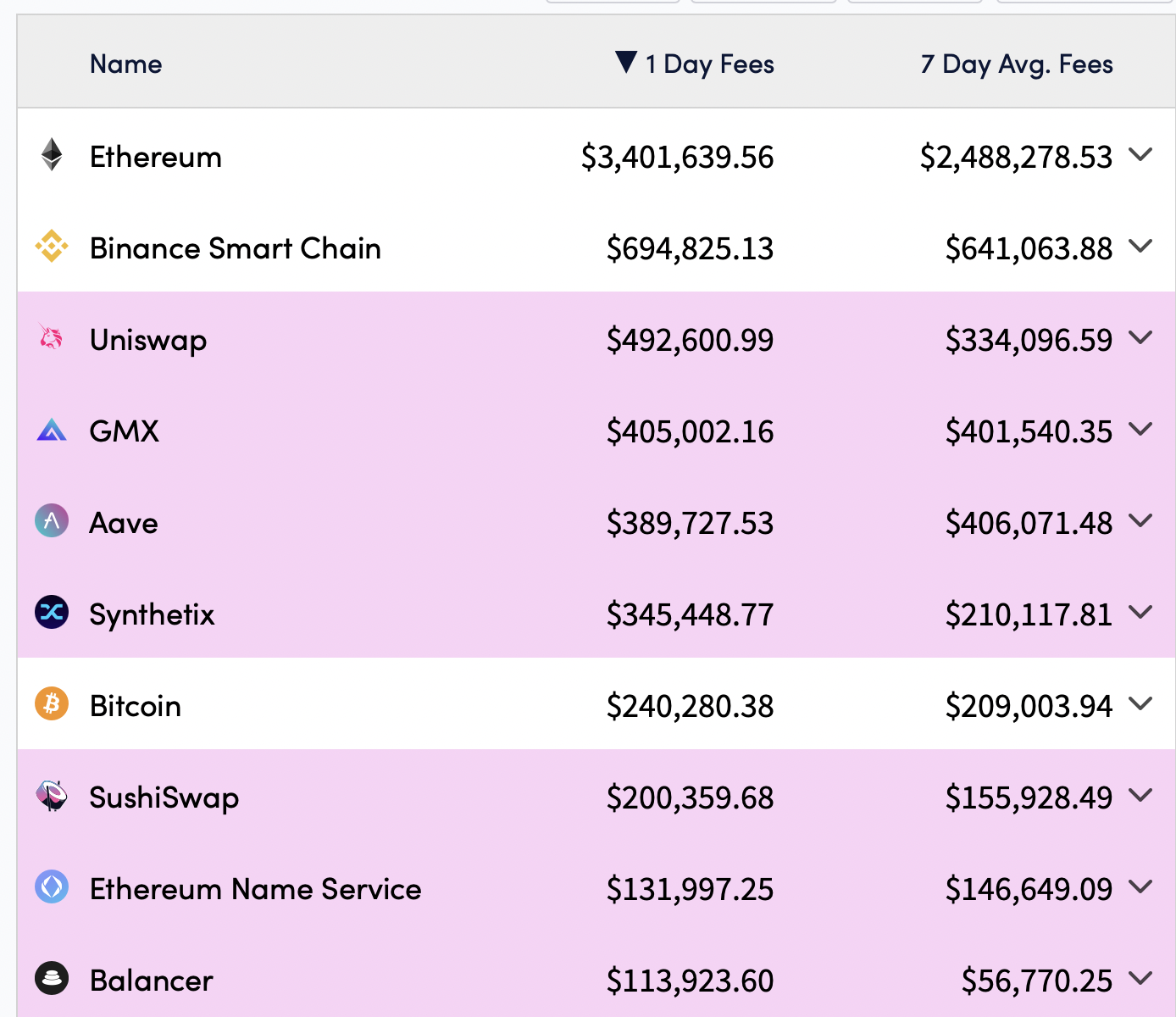 Ethereum is the undisputed king. Users, even in the current bear market, paid an average of 2.5 million in ETH per day this past week. Followed at a distance by... Binance Smart Chain. This is followed by the first trading app: Uniswap (UNI). Sushi is also in the top 10. Bitcoin doesn't make it into the top five, which is thought-provoking....
Conclusion
These kinds of statistics are important to follow at a time when the market is cooling down again and is more rational and less speculative. It then becomes apparent which of the crypto princes still have clothes on. This is not to say that trading fee figures are beatific: memecoins like Dogecoin and Shiba Inu, for example, have much more market value than this list suggests.