When exchange FTX crashed in the second week of November, Solana had a million dollars in cash on there. Hardly a sum to lose sleep over: according to Solana, it's less than one percent of their reserves. But still, the entanglement of FTX and Solana makes one wonder: does this spell insurmountable trouble? Or will Solana pull through, which would imply it is a great time for investors to stack some SOL?
Why has Solana crashed so hard after November 6th? The heart of the matter is that Solana has lost its biggest backer: the Siamese twins that are called FTX/Alameda. Between 2020 and 2021, the Solana Foundation sold a total of 58 million SOL to Alameda, which made Alameda the largest backer of the Solana ecosystem (at the time, more than 10% of all SOL in circulation). Now that this backer is gone, the floor has dropped from underneath Solana. And, vice versa, the Solana Foundation holds a lot of now worthless FTX stocks and FTT tokens.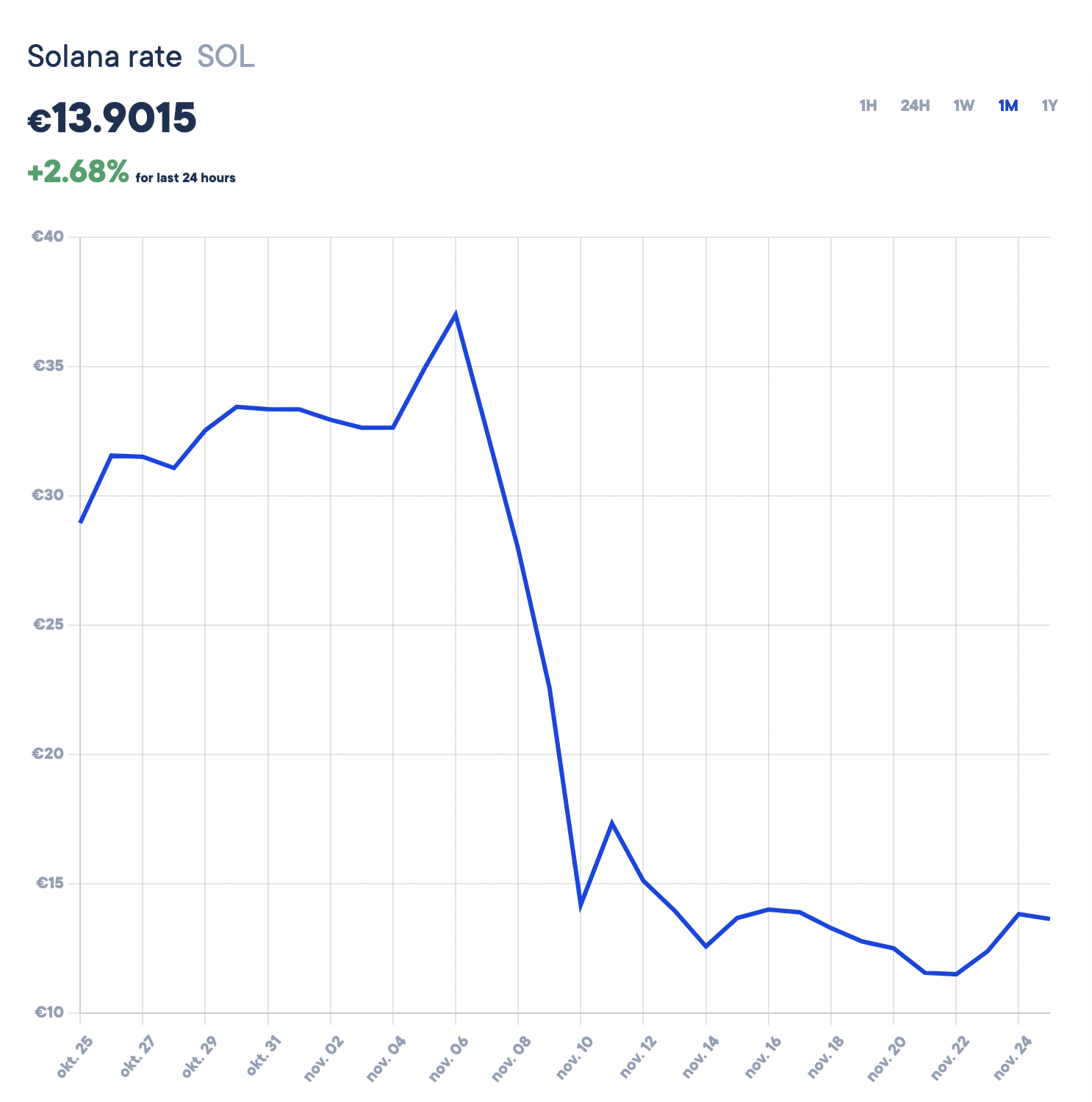 What didn't help the SOL price, was the amount of staked SOL that was set to be unlocked on November 10th. An unfortunate timing. 250 wallets containing of 29 million SOL each could be unstaked and cashed out. Apparently, many stakers did: the price fell over 70% in a few days.
TVL and development dropping
The Total Value Locked (TVL) of Solana is also dropping fast, dropping to 300 million dollars locked up in the Solana DeFi ecosystem - compared to more than 10 billion at the peak of the bull market. Also, the number of commits from developers has dropped in recent months. On the other hand, the Solana Foundation have been able to pull off large 'hackathons', including one earlier this November in Lisbon - ominously called 'Breakpoint'.
Reasons to be bullish
There are reasons to be optimistic, as well. DappRadar recorded almost $133 million worth of Solana NFT sales in September, nearly double the mark from August. Despite recent events, Solana has established itself as consumer oriented chain, for example with their planned launch of a Web 3 phone (Saga), expected in early 2023.
Also important: the community. If you look around on crypto Twitter, you'll see the Solana community hasn't thrown the towel. They are still holding out and they are still bullish. Sure, SOL is down 95% from the highs. But so was Ethereum in 2018. Or Cardano, which went down even more. But both Ethereum's and Cardano's communities stayed strong and ensured not only the surviving but the thriving in the next bull cycle.
Will Solana make it to the next bull cycle? According to the CEO of ByBit, the Solana Foundation with their current amount of cash has a runway of about 2.5 years. That could be enough to pull it through this darkest of hours. Time will tell!