Traders are taking notice: BTC has made a golden cross on the daily chart, traditionally a good indication of a trend reversal from bearish to bullish. It doesn't mean that it's up only from now. But it's another metric that signals the worst of the bear market might be behind us.
A golden cross is the opposite of a death cross. The cross we are talking about charts the 50-day and the 200-day moving average. It 'flashes' when the former crosses the latter to the upside.
Golden crosses on the 50/200 don't happen often. The last time a golden cross happened for BTC was in September 2021. It resulted in a 50% price rally. In December 2021, a death cross marked the end of the bull market. Ever since, we have been in a downtrend and waiting for a golden cross.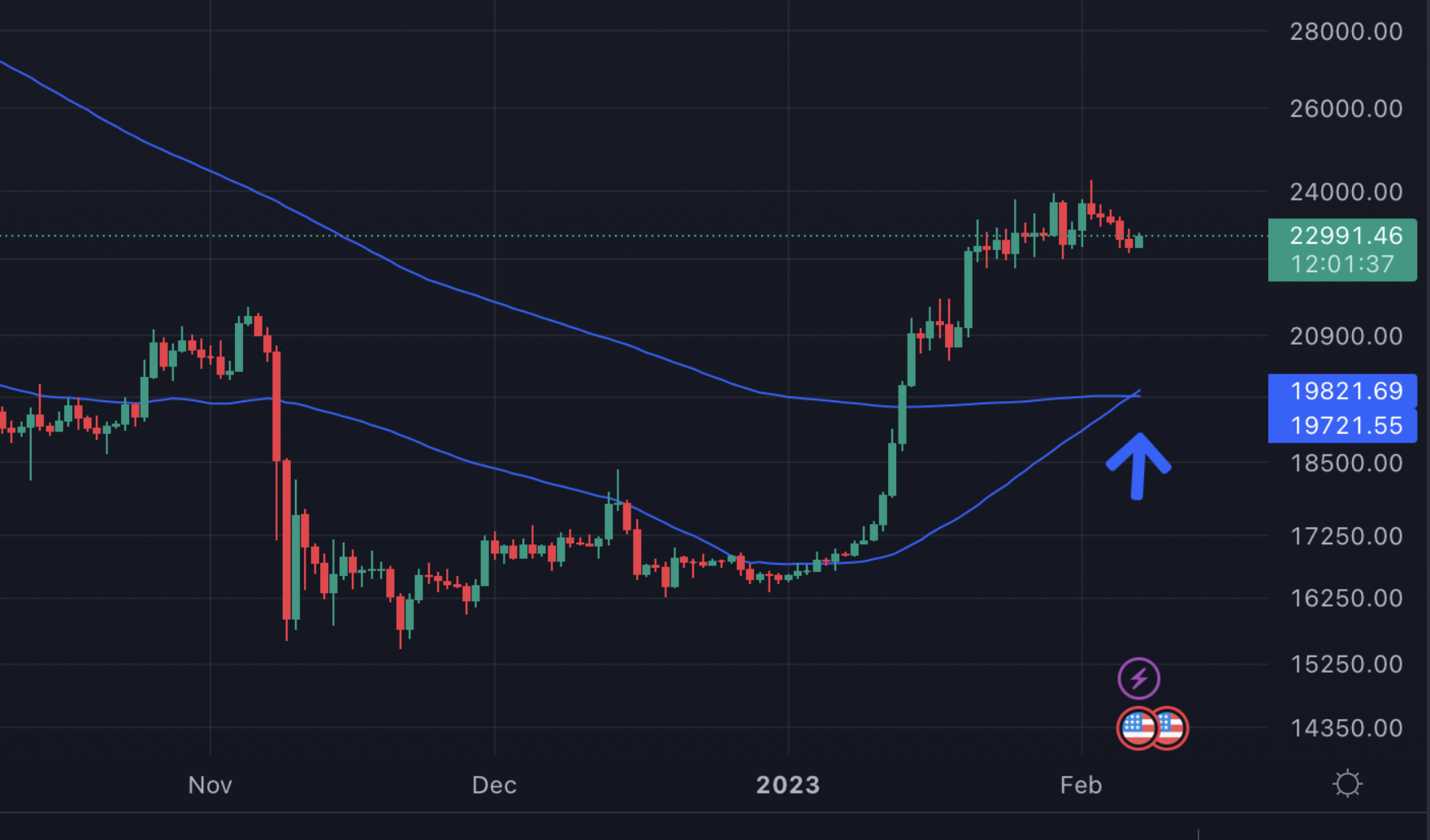 The current golden cross situation looks similar to the one of April 2019. Just like now, in 2019 we witnessed a golden cross after a year plus downtrend. The cross signaled the end of the bear market. Price rallied 200% - only to correct in early 2020.
Other bullish metrics
It wasn't just Bitcoin, also the S&P 500 stock index painted a golden cross, showing once again how much stocks and crypto have been correlated in the recent year.
Bitcoin number of transactions break downtrend
Bloomberg analyst Jamie Coutts laid out some metrics about BTC transaction volume and size. He noted that the number of BTC transactions surged 17.5%, to the highest level since spring 2021.
Why does this matter? It tells us something about adoption. For crypto coins, the total market cap divided by number of transactions somewhat equals price per earnings ratio (P/E) for stocks. The lower this number, the more undervalued the stock or coin. Coutts remarks by the way that the median transaction size is still lower than in the fall of 2022.
Conclusion
A month ago, we speculated the bottom could be in. With a lot of caution, this scenario has become slightly more likely. But traders are still very divided, keeping open the option that this bear market rally isn't breaking the downtrend. They are waiting for the BTC price to break the 200-week moving average as yet another confirmation that the downtrend is past us. That metric is currently around 25.000 dollars or 23.400 euros per BTC.